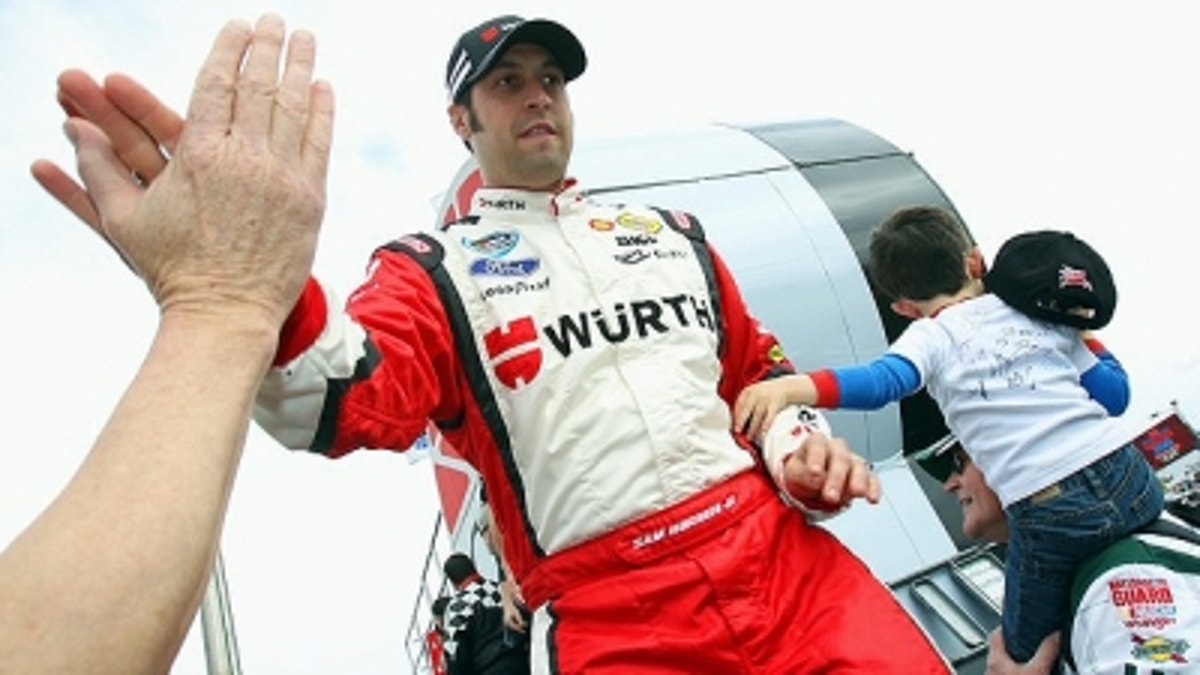 If driver Sam Hornish Jr. and crew chief Greg Erwin make it back to the NASCAR Sprint Cup Series, chances are they'll do it together.
Together, Hornish and Erwin won Saturday's Sam's Town 300 NASCAR Nationwide Series race at Las Vegas Motor Speedway and provided perhaps the most compelling story of the weekend.
Hornish and Erwin have spent time in the Cup series before, and, in Erwin's case, with considerable success. Erwin picked up five victories as Greg Biffle's crew chief from 2007 until Biffle decided he needed a change in the middle of the 2011 season.
As team owner Roger Penske will concede, Hornish was promoted to NASCAR's highest level too early, before he had a chance to gain sufficient experience in the Nationwide ranks. Unlike other drivers who suffered from the too-much-too-soon Casey Atwood syndrome, however, Hornish came to NASCAR as a bona fide star in the IndyCar Series.
Hornish won Indy Racing League championships in 2001, 2002 and 2006. One of his 19 wins in the series was the 2006 Indianapolis 500. But Hornish wanted to succeed in another arena. In 2007, he drove his last full season in IndyCars and competed in nine Nationwide events. Hornish also competed in two Cup races and failed to qualify for six others.
In 2008, Penske promoted Hornish to the Cup series full-time. Three seasons brought but two top-five finishes and left Hornish with an uncertain future when 2011 arrived. With limited sponsorship, Hornish ran an abbreviated Nationwide schedule for Penske in 2011, winning at Phoenix in November.
In 2012, Hornish ran 20 Cup races -- 19 in a fill-in role in the No. 22 car after AJ Allmendinger was suspended and later released for a failed drug test. He also competed for the Nationwide championship for the first time in his career, finishing fourth in the standings.
When Penske decided on a permanent replacement for Allmendinger, however, it was Joey Logano, not Hornish, who got the ride in the No. 22 Ford.
That left Hornish to make another run at the Nationwide title this year, still hoping for another shot at the big time.
Enter Erwin, who had served as Allmendinger's crew chief at Richard Petty Motorsports after leaving Roush Fenway Racing. When he took the Cup ride at Penske before the 2012 season, Allmendinger wanted Erwin as his crew chief. Penske was amenable, but Erwin couldn't extricate himself from his contract with RPM in time to make the move.
Penske remembered Erwin, however, when it came time to hire a crew chief for Hornish. Three races into the 2013 season, it appears that Erwin's engineering background is a perfect match for Hornish's talent behind the wheel. On Saturday, Erwin gave Hornish a dominant car, and Hornish put the car in Victory Lane.
More than that, Hornish and Erwin appear to be a combination where the whole is greater than the sum of the parts.
"I think that Greg and I, although I didn't go to college or through an engineering program, have a lot in common," Hornish said after Saturday's race. "We have had a couple hits the last few years that have made us hungry for things…
"One of the toughest parts about this sport is you have to have the right chemistry with the people around you and if you don't, it will never work. You can try, and that was the problem, instead of me going, 'I am just going to finish 25th today because I can't win,' I was like, 'I will be damned if I don't put this on my back and try to get us to 15th.'
"I got myself in trouble. Now I have a different aspect and outlook on what I need to do to be able to have good days. So I'm not saying I'll never make a mistake again, because we all do, but I'm looking forward to making as few of them as I possibly can."
And if Hornish needs motivation, Erwin will be there. Three races into the season, there's already a sense that their futures are intertwined.
"Coming over to Penske Racing in December like I did and having an opportunity to work with all the people that Roger has assembled over there is kind of amazing," Erwin said. "The way they have made me feel so welcome and have done about anything that I have asked… there has been somebody there to help me out.
"There has been no doubt in my mind since the first day I sat down with this fellow (Hornish) right here that he has his eye on the ball and is going to do just about anything I ask him to do to put this car in Victory Lane."