NNS: Danica Finishes 12th In Darlington Debut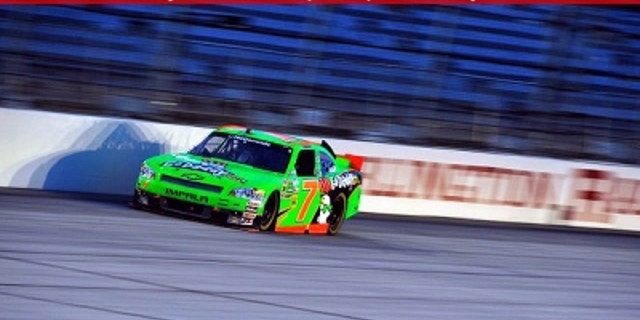 Danica Patrick held her own in her Darlington Raceway debut with a 12th-place finish in Friday night's NASCAR Nationwide Series race.
As Patrick rolled off 15th on the warm-up laps, her crew chief Tony Eury Jr. offered the sage advice, "Race the racetrack." Eury and spotter T.J. Majors were joined by another familiar voice offering tips throughout the evening — Patrick's Sprint Cup owner and three-time champion Tony Stewart.
"I had a lot of voices in my head," Patrick joked after the race. "The ones that said, 'try harder, be braver, no, be smarter, be patient,' but overall it was a decent night."
Patrick maintained her position throughout the event as she acclimated to the nuances of the 1.366-mile egg-shaped oval.
Although she dropped to 17th as the car developed a push in the first 25 laps, with a chassis adjustment and fresh tires on the first pit stop on Lap 37, Patrick found a better feel in her car.
"You're doing a good job racing the track," Majors told Patrick.
"I had a technique that wouldn't slide the tires," Patrick said. "I'm keeping it underneath me."
"It's the most it's turned for me this weekend at the track."
Majors complimented Patrick's improved performance through Turns 3 and 4, "You were a lot better there."
Patrick, who restarted 17th on Lap 51, replied, "I had the momentum down the straightaway, so I used it."
After Lap 65, she said, "I need to be careful on the right rear."
"You'll be fine," Eury replied. "Just work on 1 and 2 down there; that's where you're getting beat."
The No. 7 GoDaddy.com Chevrolet pitted on Lap 93 during green-flag racing but dropped off the lead lap despite holding on to the 15th spot. Majors told Patrick her entry into the corners was improving, but by Lap 100, she had fallen to 16th. Two laps later, the driver appeared surprised that there were 45 laps remaining.
"When the 54 (Kurt Busch) goes by you, I want you to pay attention to what he's doing," Eury said. "He's probably the best one out there."
Over the next 10 laps, Majors told Patrick to let the faster drivers pass her.
"See how high they're running off the corner," Stewart said. "You need to work on that tomorrow night."
By Lap 122, just 12 cars remained on the lead lap. Patrick was running 15th when Kurt Busch slammed the frontstretch wall five circuits later. The No. 7 team elected to take the wave around, and Patrick returned to the lead lap for the restart on Lap 133. The fifth caution, triggered by Brendan Gaughan on Lap 137, allowed Patrick to pit for fresh tires for the final run with 18 cars on the lead lap.
"Alright, those tires are pumped up," Eury said. "You have a slight adjustment. You'll have some comfort and be ready to go, because there'll only be like six laps to go. Just like Texas, elbows up."
Then the fireworks started.
Joey Logano slammed into the back of race leader Elliott Sadler with five laps remaining in the race and punted the No. 2 Chevrolet into the wall just past the start-finish line to ignite the sixth caution and force the race into overtime.
"Go low, go really low," Majors radioed to Patrick. "One outside there, slowly merge up there. . . . One outside there; . . . they're going to put us where we go here. I'll get you lined up."
"If I lost spots, I'm sorry," Patrick replied. "But I saw Elliott turn sideways up there. I didn't lock them up, but I lifted then I got passed by one or two. I didn't know what was going to happen, but I saw it starting."
Patrick restarted 11th but was passed by veteran Joe Nemecheck when the race went green and finished 12th.
"Very proud of you, girl," Eury said. "You done good."
"Good job guys," Patrick radioed from the pits. "Sorry I couldn't get us a top 10 there."
Patrick moved up one position to 10th in the driver points. The JR Motorsports No. 7 car is currently 17th in the owner points after nine races.
"We got a lap down there with the long green-flag run," Patrick said. "We made stops, but the car was a little tight to start and a little on the loose side after that. But then we got tires at the end and, if we could have only had a longer run, I think we could have really taken advantage of it. But it was a good finish at the end."