NL West: Giants bolster bullpen with Melancon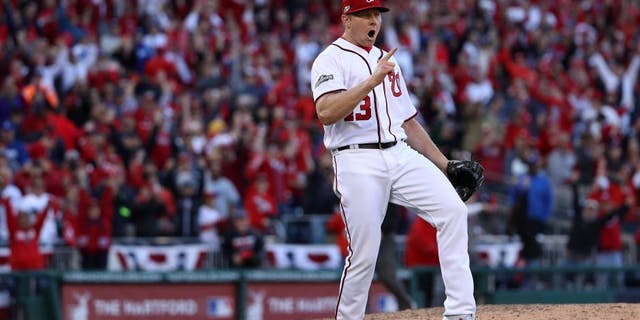 SAN FRANCISCO (AP) -- The San Francisco Giants' even-year demise came down to a shaky bullpen that had been oh so reliable in the club's World Series championships of 2010, '12 and '14.
So while last offseason was spent spending big to boost the rotation with front-line starters Johnny Cueto and Jeff Samardzija to join Madison Bumgarner and Co., general manager Bobby Evans went to work this offseason on finding the right person to pitch the ninth inning. Closer Mark Melancon landed a $62 million, four-year contract in December.
"It was the total package, in my opinion," he said.
That's exactly how the Giants felt.
"This was our No. 1 need," manager Bruce Bochy said.
Melancon has saved at least 30 games in each of the past three seasons, recording a majors-best 51 in 2015. He went 47 for 51 in save opportunities in 75 relief appearances last season with Pittsburgh and Washington, tied for second-most saves with Baltimore's Zach Britton and the Los Angeles Dodgers' Kenley Jansen.
He got some important positive feedback about the Giants from Pittsburgh teammate Ryan Vogelsong, who pitched for San Francisco.
"I would have to say Ryan was very open on how much he liked the Giants' organization," Melancon said. "He never had a bad thing to say. That was without me prying him because I had no idea this would come up. It speaks volumes and initiated my excitement once I found out they were in the picture and they were excited about me."
NEW LOOK: The Giants have some familiar faces who have earned the chance to fight for roster spots out of spring training -- former outfielder Michael Morse and popular local product Jimmy Rollins. Both players received minor league contracts this winter.
ROOKIES TO WATCH: South Korean infielder Jae-gyun Hwang will provide intrigue at spring training and add depth at third base.
THEY'RE SET: The Giants have two great options at third base in Eduardo Nunez and Conor Gillaspie.
Nunez dealt with a strained right hamstring late in the season and couldn't start the four-game NL Division Series loss to the Chicago Cubs. Second baseman Joe Panik looks to stay healthy after he was limited to 127 games last year and dealt with a concussion after a back injury derailed his 2015 season.
Nunez batted .288 with 16 homers and 67 RBIs between the Twins and Giants, hitting .269 with four homers, 20 RBIs, nine doubles and three triples in 50 games for San Francisco.
Gillaspie became an unlikely September and playoff star in Nunez's place.
He hit a three-run homer off Jeurys Familia in the ninth inning of a 3-0 wild-card win at New York. Gillaspie's catch over the railing and into the photo well in Game 162 against the Dodgers will be remembered, too.
THEY'RE NOT: Bochy isn't sure what to expect with the departures of three key relievers who were part of the three title teams -- Santiago Casilla, who rejoined the Oakland Athletics across the bay, Javier Lopez and Sergio Romo.
San Francisco blew 32 saves, including nine in September. Five relievers combined to squander Game 4 of the NL Division Series against the eventual champion Cubs, who scored four runs in the ninth inning to win 6-5.
"There's no question, when you have three guys that become free agents from your bullpen like Lopez and Romo, Casilla, that's a lot of experience to miss and not that they're not going to be back," Bochy said. "They're not with us right now, and that's something you do miss."
ON DECK: Right-hander Matt Cain has been limited to 43 starts over the past three seasons because of injuries, so he will be determined to have a great spring to build momentum for the season.