NL West Fantasy Baseball News: Grandal, Kendrick to return for Dodgers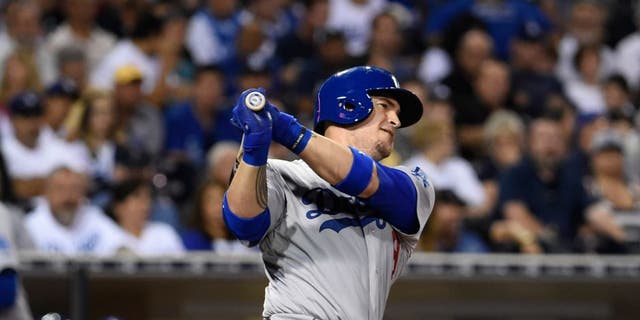 The Padres play every day this week, while their fellow NL West squads are all off on Monday.
Arizona Diamondbacks
Socrates Brito started two of the three weekend games in center field - homering on Sunday - while Chris Owings got a start at shortstop on Sunday. That's the way to use your entire roster, Chip Hale!
A.J. Pollock is not expected to return during the regular season. While this outlook could change, don't be stubborn about keeping one DL spot reserved for Pollock. Cut him as soon as you need the space.
Rubby De La Rosa pitched a relief inning on Saturday, but will make his next scheduled start on Wednesday.
After one week, SS Jean Segura leads the D-backs with three homers and two stolen bases. #FantasyMVP
Colorado Rockies
SS Trevor Story hit his fifth and sixth home runs of the season on Friday, and his seventh on Sunday. WHAT ABOUT SATURDAY, TREVOR? WHAT ABOUT SATURDAY?
After a couple of dismal starter outings, Chad Bettis allowed just one run in seven innings on Sunday. Bettis is the Colorado starter to own if you must have one, but better to stream him on the road (obviously).
Jake McGee has saved two games already. Remember when you drafted him among the bottom third of closers, and were worried about how things were going to work out? McGee is really good.
Los Angeles Dodgers
Here's one more reminder that C Yasmani Grandal (forearm) and 2B Howie Kendrick (calf) will be activated in time for Tuesday's home opener. However, manager Dave Roberts said last week that Grandal wouldn't play on Tuesday night. The fantasy analyst writing this article had Grandal ranked as a top-six catcher, in case you forgot.
OF Carl Crawford is on the DL due to a sore back. Look for a Scott Van Slyke/Trayce Thompson platoon in left field.
I was out with some friends Friday when Ross Stripling got pulled from his no-hit bid in the eighth inning. A couple of them agreed that Stripling should have insisted to Roberts that he remain in the game. Telling the manager to get lost in his first major league game might not have gone so well for Stripling, IMO.
San Diego Padres
The Padres finally scored some runs over the weekend, but had some bad injury news. SP Tyson Ross was placed on the DL with shoulder inflammation. The team called the move "precautionary," and hopes that Ross can return to the mound as soon as April 21.
3B Yangervis Solarte is on the DL due to a hamstring strain. Adam Rosales filled in on Sunday, and should get most of the starts in Solarte's absence. He's better than nothing, NL-only owners.
Matt Kemp hit three home runs over the weekend, giving him 19 homers (with a 1.039 OPS) in 75 Coors Field games.
The Padres have a 3:05 p.m. ET start at Philadelphia on Monday, with Andrew Cashner starting. Make sure to set your lineups early.
San Francisco Giants
The Giants head to Coors Field for a three-game set starting on Tuesday. You should avoid Jeff Samardzija, Jake Peavy and Matt Cain in weekly fantasy lineups.
You might see Madison Bumgarner make some pinch-hitting appearances soon.