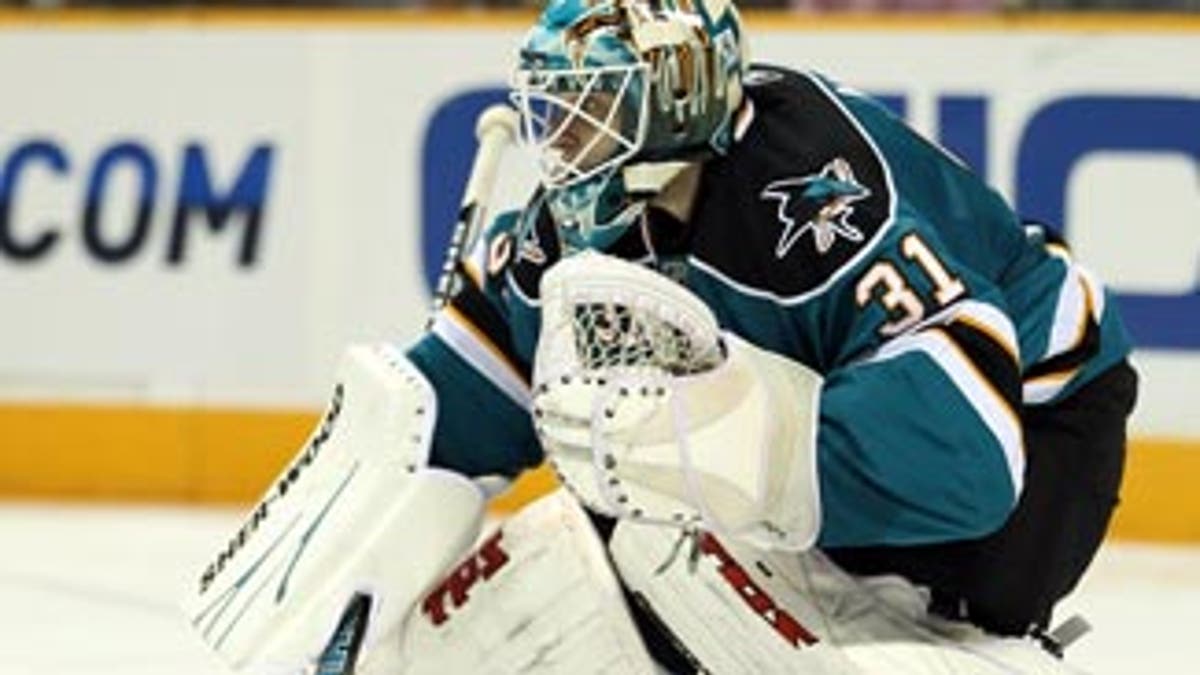 CHICAGO – They've battled head-to-head almost the entire time they've known each other, only now Antti Niemi and Corey Crawford are wearing different sweaters.
After competing against each other for two years as goalies in the Chicago Blackhawks organization, Niemi and Crawford now find themselves thriving this season starting for different NHL teams.
Niemi signed with the San Jose Sharks last summer as a free agent -- after beating Crawford for a roster spot and leading the Blackhawks to the Stanley Cup. His departure, prompted by the Hawks' salary-cap woes, opened a roster spot in Chicago for Crawford – who spent the previous five seasons with the American Hockey League's Rockford IceHogs.
Now, they're both excelling in the NHL and will face each other for the second time this season when the Blackhawks host the Sharks on Monday night at the United Center (8 p.m. Versus, TSN2) in another big Western Conference showdown.
"You look back a couple of years ago and at the start of last year, both guys were probably in a comparable position," Blackhawks coach Joel Quenneville said. "Both guys have done alright with where they're at, when they get the chance to play. I'm more worried about Corey now doing the job and it seems like he's improving as we're going along."
The same can be said for Niemi, who has already beaten Crawford head-to-head once this season and is 3-0 against his former team – with a 2.00 goals-against average and .933 save percentage.
Niemi has spearheaded the Sharks' surge up the standings, which started in earnest in mid-January, following a six-game losing streak. Since that skid, Niemi has started every game – Monday's will be his 25th straight – and has given San Jose a chance to win on a nightly basis.
He also earned the NHL's second "Star of the Month" award for February along with a lucrative four-year contract extension from the Sharks while continuing a quest to prove skeptics wrong.
"I wanted to show I was able to play more games as a starting goalie, for sure," Niemi said of his personal goal to start this season, after Chicago allowed him to become an unrestricted free agent. "I wanted to prove myself."
Crawford knows the feeling, after getting small tastes of the NHL but always getting sent back to Rockford until this season. Last season, it was Niemi who stood in Crawford's way – after a heated competition in training camp ended with Crawford going to the IceHogs and Niemi eventually ascending to stardom.
This season, Crawford made the roster as veteran Marty Turco's backup before surpassing him and becoming the starter. He's flown under the radar for most people, but his 26-13-5 record, 2.30 GAA and .917 save percentage in 44 games is almost identical to Niemi's 26-16-5, 2.39 and .918 in 48 games.
The way Niemi looks at it, their in-house competitions with the Blackhawks and IceHogs made them both better.
"We came along together, especially in Rockford, and we were battling a lot in a couple of training camps for playing time and who was going to make the big club," Niemi said following San Jose's skate on Monday. "You had to play well to get what you wanted. It was tough, but I think it made us grow up a little sooner."
Also helping Niemi grow was not getting re-signed by the Blackhawks. It took him awhile to adjust to a new team and new system in San Jose, but now he's fitting in perfectly in teal.
"If you think about his path here … he wins a Cup, he gets a chance to celebrate, (and then) … what Cup-winning goaltender has gone to arbitration and then become an unrestricted free agent not knowing where he's going?" Sharks coach Todd McLellan said. "He enters a new organization late in the summer along with another goaltender that's new. So, the 'feel-out period' was enormous for him. Now he's starting to settle in and making a difference."
It's starting to feel similar to last season, only with a different set of faces and a different uniform. The Sharks (83 points, third in the Western Conference) are rallying around the 27-year old Niemi, who shut them down in last season's conference finals.
"If anybody (in the United Center) understands his makeup, it would be the players in the Chicago room," McLellan said. "We're getting the same thing from him that I'm sure they got (last year). When he puts the equipment on and gets out there with his teammates, our guys play for him as much as they play with him. I really believe there's a difference."
Sharks forward Ben Eager, who played with Niemi in Chicago last year, knows exactly what McLellan means. After being traded to the Sharks mid-season by the Atlanta Thrashers, Eager wasn't surprised to see Niemi doing well in San Jose.
Likewise, he's also not shocked to hear about Crawford's success.
"He's been up and down a bit for the last few years, but he's been ready for the last few years," Eager said of Crawford. "It's great to see him getting the opportunity to be the No. 1 guy."
Niemi wasn't just handed the No.1 job with the Sharks, either. He had to win a head-to-head battle against fellow free-agent signee Antero Niittymaki first.
And the similarities don't end there between Crawford and Niemi.
Both were schooled by Blackhawks goaltending coach Stephane Waite. Both have big bodies and eat up a lot of space. Both are good with their pads and try to force attackers to aim high. Both are quiet, intensely even-keeled and driven.
"They're both easy-going guys, but once they get into the net they're super competitive," Eager said. "They compete every night and make big saves."