Nico Hernandez guarantees U.S.'s first Olympic medal in boxing since 2008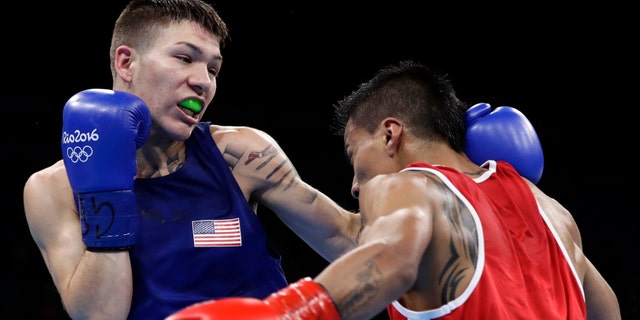 NEWYou can now listen to Fox News articles!
The time has finally come for an American boxer to get back on the Olympic podium.
Kansas-based fighter Nico Hernandez is guaranteed to win at least a bronze medal in Rio after getting a unanimous decision victory over Ecuador's Carlos Quipo in a light-flyweight quarterfinal on Wednesday. He could still get the gold or silver as well.
He will become the first American to medal in the boxing tournament since 2008.
"It feels great," Hernandez told reporters after his fight, according to the Wichita Eagle. "Me and my team have been working since we were little, and now we finally got to a big stage. We've come out here to change USA boxing."
On Wednesday, Hernandez won 29-28 on all three cards and leaped in the air when the decision was read. Quipo dropped to his knees in stunned disbelief, losing the third round 10-9 after the judges scored it 19-19 through two.
Hernandez was coming off an upset win over the No. 2 seed in the light flyweight bracket, Vasilii Egorov of Russia.
Hernandez's road to Rio had been tough and miraculous as his run has been since arriving to Brazil. The 20-year-old failed in his first two attempts at making the Olympic team before finally qualifying in March.
But he almost didn't even try at one point.
Two years ago, Hernandez's former training partner and friend Tony Losey – a talented light-heavyweight – died in a workplace accident. Grieving, Hernandez quit boxing because his dream of competing alongside his friend in Brazil had ended.
However, in a moment of enlightenment, Hernandez decided to go to Brazil and honor of his friend.
"[He's] always with me," Hernandez said after Wednesday's victory, according to the Los Angeles Times. "My brother, he'd be so happy right now."
He added: "I know he's with me here in spirit. I know he's happy up there. He's smiling right now."
On Friday, Hernandez faces Uzbekistan's Hassanboy Dusmatov. A win would place him in the finals and in reach of the gold medal and a loss would guarantee him the bronze.
But's it's the gold he promised Losey.
"My focus was to come in and get the gold medal," he told reporters. "So I won't be satisfied until I get the gold medal."
The U.S. team is a surprising 5-1 at the Olympics with one more fight Wednesday night. The nine-man American team won only five fights in London and failed to bring home any medals for the first time ever.
If Hernandez takes home the gold, it will be the first for the United States in this weight class since the 1984 Los Angeles Olympic Games.
The Associated Press contributed to this report.
Like us on Facebook
Follow us on Twitter & Instagram