Nick Foles showing off his limited scrambling skills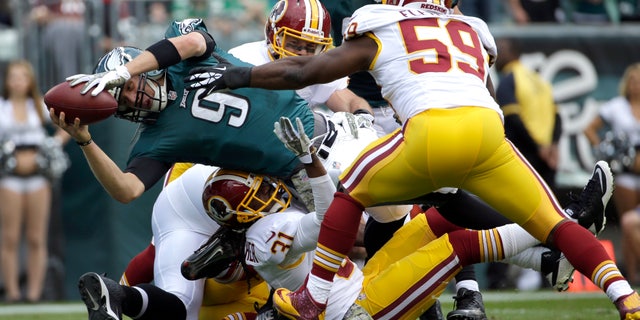 PHILADELPHIA – Nick Foles threw seven touchdown passes in one game and outran RG3 in another.
Is there anything Foles can't do?
OK, that's exaggerating a bit. But the second-year pro is having quite a season for the first-place Philadelphia Eagles (6-5).
Foles' passing skills are obvious. He tied an NFL record shared by Peyton Manning and five other quarterbacks by throwing seven TDs at Oakland two weeks ago. He leads the NFL with a passer rating of 128.0, and he has 16 TD passes to zero interceptions.
Oh, by the way, coach Chip Kelly still hasn't named him the starter. Kelly won't make that official until Michael Vick is cleared to return from a hamstring injury.
The biggest surprise so far has been Foles' scrambling ability. While he's clearly not as fast or elusive as Vick, he's been effective. In Sunday's 24-16 victory over Washington, Foles had a career-high 47 yards on nine carries. Robert Griffin III had 44 on 10 carries.
"It's fun going out there running and getting the feel for it because it is something different," Foles said. "I feel like week to week I'm getting more and more comfortable with it. It's really helping us get first downs and before long they will really have to account for me and it will open up."
Foles ran a 40-yard dash in 5.14 seconds at the 2012 scouting combine, the slowest time for a QB in the last four years and slower than some offensive linemen. Once Kelly arrived with his up-tempo offense that requires a mobile QB to run the read-option, Foles was an afterthought. He couldn't possibly be a fit for Kelly's system, right?
Vick won the QB competition in training camp and played well until he got hurt. Foles, on the other hand, has been extraordinary since filling in.
"I think it's all about flexibility in what we do in terms of it's always based on personnel," Kelly said. "I think anybody that's smart at what they're doing is going to cater their offense to what they do. I think the best example in this league is John Fox. When he had Tim Tebow, he ran one offense and they did a hell of a job and went to the playoffs. Then he had Peyton Manning and the offense changed. He didn't ask Peyton Manning to do what Tim Tebow was doing, but he didn't ask Tim Tebow to do what Peyton Manning did."
"If you have a guy who is more of a runner, and I had some of those guys in my career at Oregon, we feature more quarterback runs. You have somebody who is more of a thrower, you feature more throws. You have a guy that can do both, that puts more stress on the defense. But it has to be catered to who is pulling the trigger."
The 6-foot-5, 243-pound Foles will never be considered nimble, but he worked on his speed in the offseason by doing various drills to improve foot work and strengthening his legs.
He doesn't outrun many defenders, but he knows how to take advantage when he sees a running lane. He's also a former basketball player, which helps him make quick decisions with the ball.
"Nick is a good decision-maker," Kelly said. "If he can get what he can, then get down, not take a big hit, obviously that's what we want. He needed to do that to help us out in some situations."
Foles has 89 yards rushing on 13 carries in the last two games, excluding four kneel-downs for minus-4 yards. He got his second TD rushing against Washington, showing some athleticism with a spin move near the goal line to complete the 4-yard run.
"He's doing a good job of pulling it down when he needs to," wideout Jason Avant said. "That's great for any quarterback. It's so hard for defenses, especially when your quarterback is considered not mobile. The defense wants an extra man in coverage, and it makes you leave (a defender) out of coverage to spot (the quarterback). He's doing a great job and hopefully it continues."
___
AP NFL website: www.pro32.ap.org
___
Follow Rob Maaddi on Twitter: https://twitter.com/AP_RobMaaddi