'Nice guy' Fowler won't change in Ryder Cup matches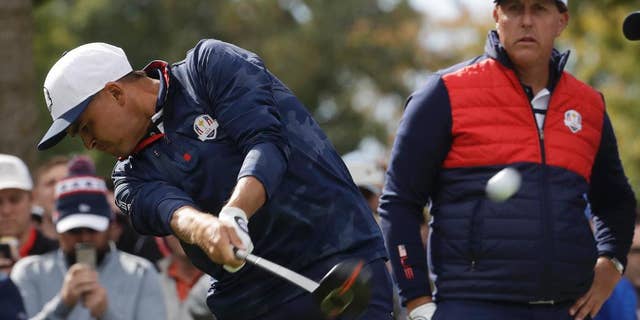 NEWYou can now listen to Fox News articles!
CHASKA, Minn. – The first question Rickie Fowler was asked at the Ryder Cup was as good an indication as any of how his year has gone.
"Can you talk a little about facial hair in golf and your view of it?"
Fowler is one of golf's "it" boys, part of young generation of tour players who hang out and vacation together and are as knowledgeable about fashion as they are about flop shots. They're masterful at brand-building and are all over social media. They're comfortable in the spotlight, engaging and almost always in demand, even when they don't win consistently, which is another way of summing up Fowler's rocky season.
He won in January at Abu Dhabi against a field that rivaled most PGA Tour events. A month later, he blew a two-shot lead in Phoenix with two holes left and lost in a playoff to Hideki Matsuyama and his tableau for the rest of his year was set. Fowler subsequently blew leads in Charlotte and New York, making him 0 for 4 when he held the 54-hole lead on tour and eventually costing him both an automatic qualifying berth for the Ryder Cup and a slot in the season-ending Tour Championship.
It was a stunning reversal of fortunes, considering the momentum Fowler was building. He finished in the top five of all four majors in 2014, and won twice — including The Players Championship, golf's unofficial "fifth major" — only a year ago. Part of that skid could be the result of fatigue, especially the last two months or so, when Fowler traveled to Rio de Janeiro for the Olympics and wound up playing on the road eight out nine weeks.
"I'm feeling better about the game, having those two weeks off than I would have getting ready for the ... Tour Championship," he said. "I was able to go relax, rest, recover and then use the week to practice.
"I'm rested and ready to go," he added a moment later. "That was big for me after the summer we had."
Somewhere in between, Fowler found time to grow a mustache in solidarity with pal Justin Thomas that they dubbed "playoff 'staches." When his postseason bid fell away, Fowler planned to leave on the facial hair "to support J.T. through the playoffs." But then he had to film a video, and off came the mustache.
While Fowler and his pals have eschewed the intimidation tactics and cut-throat approach to competition that was part of so many of the tool boxes the last generation carried around, the temptation to do so could prove tempting this weekend. The Ryder Cup is easily the most partisan event in the gentlemanly game, especially since Europe has won the last three and eight of the last 10. And almost on cue, some Europeans have already turned U.S. captain Davis Love's description of his squad as "the best team, maybe, ever assembled" into a rallying cry.
Fowler insists he won't take the bait.
"It doesn't change for me. I may not be able to talk for everyone, but I don't feel that anyone is acting any differently toward each other, whether it's between team or opposing teams," he said. "It's an accomplishment just to be here."
This will be Fowler's third try and some validation is in order. He was a captain's pick this year and in 2010 and has yet to win a match in four-ball, foursomes or singles, losing three and halving three others.
"I don't think there's any trick to it," he said. "At the end of the day, you've just got to go out and beat those other guys."