NHLN-U.S. to broadcast Caps-Bolts game Wednesday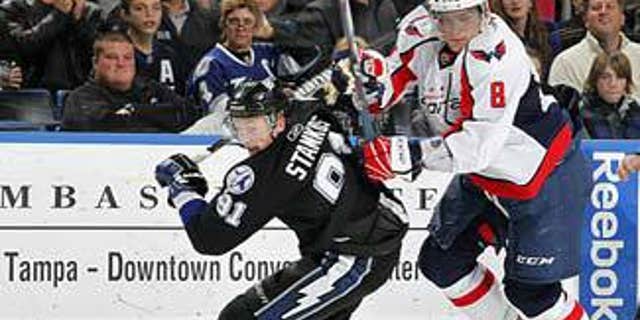 NHL Network-U.S. announced Tuesday morning that it will carry Game 4 between the Capitals and Lightning Wednesday night. The puck drops between Washington and Tampa Bay at 7 p.m. ET.
Game 4 should prove to be a pivotal -- and potentially series-clinching matchup -- as the Lightning have shocked the Caps by taking Games 1 and 2 at the Verizon Center. Game 3 will be played Tuesday night at the St. Pete Times Forum, which could result in Washington getting back into the series or Tampa Bay taking an almost insurmountable stranglehold on the Eastern Conference's top seed.
The Lightning, who have won five straight playoff games after overcoming a 3-1 deficit against Pittsburgh in the first round this postseason, have not been to the Conference Finals since their Stanley Cup-winning season in 2004. The Capitals have not reached the third round since winning the Eastern Conference title in 1998. Washington, which has never won the Stanley Cup, was swept by the Detroit Red Wings in the Final that year.