NHL unveils new adidas uniforms for all teams for 2017-18 season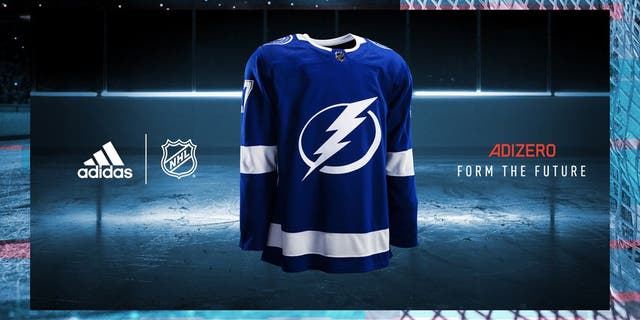 NEWYou can now listen to Fox News articles!
TAMPA BAY (June 20, 2017) -- The National Hockey League (NHL) and adidas today unveiled the new ADIZERO Authentic NHL jerseys and uniforms for all 31 NHL teams, including the Tampa Bay Lightning, which will make their on-ice debut with the 2017-18 season.
At the forefront of innovation, design and craftsmanship, the new ADIZERO Authentic NHL jersey takes the hockey uniform system and hockey jersey silhouette to the next level by redefining fit, feel and lightweight construction.
-- Lighter -- Featuring new cresting materials and construction technology, the ADIZERO Authentic NHL jersey reduces crest weight by up to 46 percent in order to deliver a new jersey that is up to 19 percent lighter when compared to the current NHL Jersey.
-- Cooler -- The ADIZERO Authentic NHL jersey features adidas Clima technology in each of the jersey fabrics to deliver breathability and enhanced performance. Combining moisture management technology and a streamlined silhouette to maximize air flow circulation with materials that are up to 133 percent more permeable than fabrics currently used on ice allows athletes to be cooler.
-- Stronger -- Constructed for durability, the ADIZERO Authentic NHL jersey fabrics are up to 27 percent stronger in burst testing and up to 72 percent tougher in abrasion testing compared to the current NHL jersey.
Specifically for Tampa Bay, the Lightning's home jersey remains relatively unchanged, with the lone exception being the removal of the laces from the neckline. Tampa Bay has chosen to stick with the same lettering and numbers, opting against the perforated look some teams have adopted. The Lightning are expected to unveil their new road jersey at an exclusive Season Ticket Member event on Friday evening during the NHL Draft.
"The Lightning are extremely excited to join the rest of the National Hockey League this evening in unveiling our new adidas home jersey," Lightning Chief Executive Officer Steve Griggs said. "adidas' revolutionary technology will bring a more modern look and elite-level performance to our athletes, as well as an aggressive price point for our fans who want to purchase an authentic jersey through retail."
New adidas home and road jerseys will be available for pre-ordering starting this Saturday, June 24, exclusively at Tampa Bay Sports locations inside AMALIE Arena and International Plaza in Tampa. Jerseys are expected to arrive in store, and for online purchase, prior to the team's pre-season opener in September and will retail for $179.99, considerably less than recent years.
"Specifically created for elite performance, we've designed the ADIZERO Authentic NHL jerseys to deliver advanced innovation and technical design for the world's best hockey players," said Dan Near, Head of adidas Hockey. "We build products for the creator athlete. Our mission is to help athletes perform better and we look forward to making our on-ice debut this season with the new Lighter, Cooler, and Stronger adidas Hockey ADIZERO Authentic NHL jerseys."
"We're excited for the fans and players to see the innovation and performance features that adidas put into creating the new jerseys," said Brian Jennings, NHL Chief Brand Officer & Executive Vice President. "To play at their highest levels, the game's greatest players require the best technology and design available, and these adidas jerseys set a new benchmark for performance gear."
"Adidas is a brand recognized worldwide for innovation and technology investment, creating constant innovation in high performance apparel," said NHLPA Chief of Global Business Strategies, Sandra Monteiro. "The Players are excited to partner with adidas, creating a new milestone in hockey apparel, bringing edge, innovation and premium design to the game, specifically focused on their performance."
** IMAGES FOR ALL 31 TEAMS ARE AVAILABLE HERE: http://news.adidas.com/US **
Join the conversation on Twitter and Instagram via @adidasHockey, @adidasca, @NHL, @TBLightning and https://www.facebook.com/adidas/#FormTheFuture.