NHL star Alex Ovechkin announces social movement in support of Vladimir Putin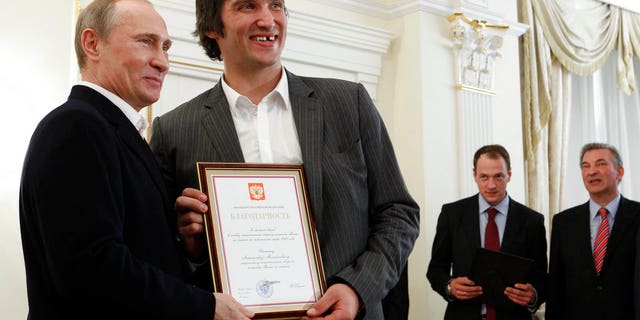 NEWYou can now listen to Fox News articles!
Ice hockey superstar Alex Ovechkin took to social media Thursday to announce his support of Russian President Vladimir Putin ahead of next year's election.
The Washington Capitals captain wrote on Instagram, alongside a photo of him and Putin, that he wants to "unite and show all a strong and cohesive Russia!" by creating a social movement in favor of Putin.
The three-time NHL MVP began his post by saying that while awards and prizes are great, "in hockey, as in any business, the team is more important for victory."
"Today I wish to announce that I am creating a social movement called Putin Team," Ovechkin wrote after he said he has "never concealed my relationship with our President, always openly his supporter."
"Being part of this team makes me proud and it's similar to the feeling you get when you put on a Russian national team jersey, knowing that the whole country is rooting for you," the NHL great said.
RUSSIA'S VERSION OF PARIS HILTON RUNS FOR PRESIDENT AGAINST PUTIN
Ovechkin, who is from Moscow, is a forward on the Russian National Ice Hockey Team. His announcement of "Putin Team" comes five months before Russia's presidential election.
Putin, who hasn't announced if he plans to run for reelection, has a strong Russian support base. A Pew Research Center Survey from June 2017 found 58 percent of Russians have confidence in their leader.