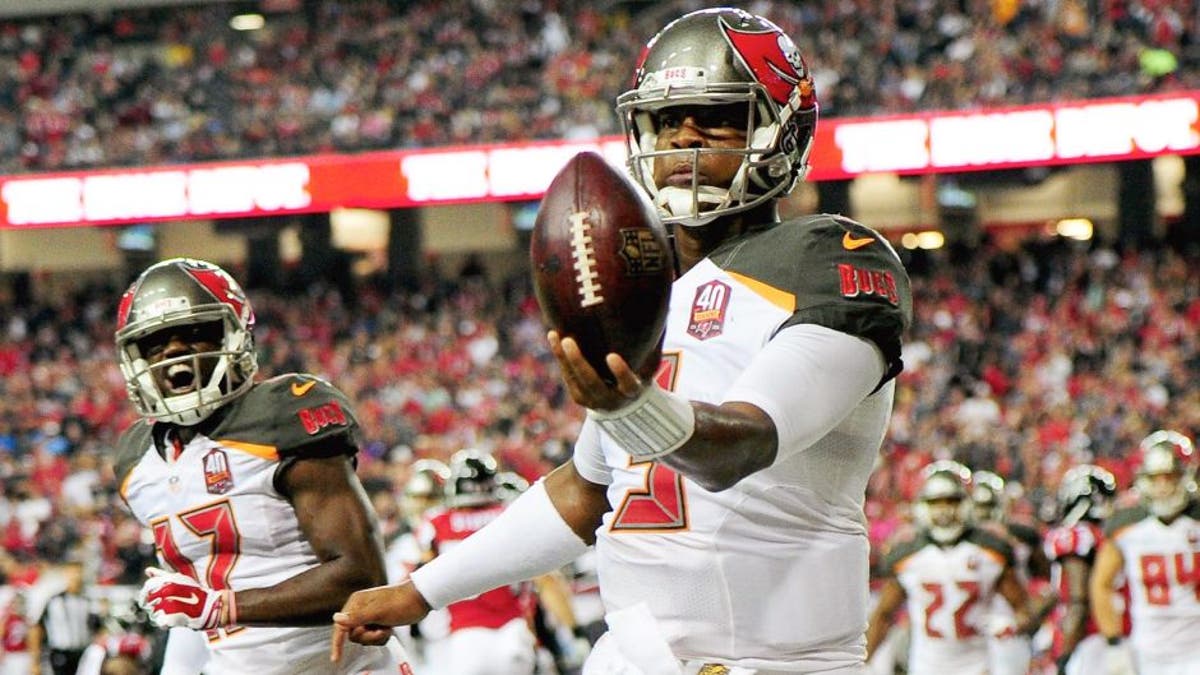 The first day of the Buccaneers' 2015 training camp didn't start off as planned. Instead of Tampa sunshine and a glorious unveiling of the Jameis Winston Era, the Buccaneers were forced to move their practice to the University of South Florida facility because of torrential rains. Put away the welcome wagon. Instead, pack the bags. Board the buses. Field trip.
Not the best start to what was supposed to be the dawn of a new day.
Already behind the 8-ball, the team could have taken a mulligan on the session. Instead, Jameis Winston, named the Week 1 starter days earlier, did something every coach dreams of seeing. He got the first-team offense out there on the field right away, got under center, and looked the part from the get-go. Despite the weather and the hassle, they got a practice in. A real one.
In the coming days, the rain cleared, and Winston revealed something the coaches weren't quite expecting. He'd already learned coordinator Dirk Koetter's playbook, front to back, over the summer. Whatever play was called, Winston nodded, checked something at the line, and ran it with precision.
The Buccaneers coaches tried to contain their enthusiasm. The verbiage, something different from what he'd used at Florida State, was already nailed, down pat. He was walking around the facility, tied to the hip of quarterbacks coach Mike Bajakian, using it like it was his first language. No one could deny that this was Winston's team, and he'd yet to take an NFL snap.
Fast forward to Week 1, and there were reasons for concern. He struggled mightily, the Buccaneers got blown out at home, and both the local and national media brought out the pinatas for quarterback, head coach, and front office. Second overall pick Marcus Mariota outplayed him, plain and simple.
"Confidence has never been a thing for me. I love being confident. I'm always going to be confident. This is just one game, I always can bounce back,'' Winston said after the loss to Tennessee. "This is not the end of the world, but we have to get better, we have to keep improving -- that's the main thing. Obviously, the first game is the game that you see how you were in the preseason, what type of team are you, and we were not that type of team."
The next week, the Buccaneers beat the Saints in New Orleans. It was Tampa's first win in the Superdome since 2011.
Knockdown. Get back up. It's been the theme of Winston's rookie season.
The Buccaneers were up 24-0 after two quarters in Washington two weeks ago. They lost the game 31-30. A horrendous collapse. Blame could have been dispensed everywhere. The defense. The special teams. The play-calling. Yet, there was none of that. Instead, Winston responded by leading the Bucs to a 23-20 win in overtime in Atlanta on Sunday, a place they'd lost 56-14 just a season ago.
The Buccaneers are now 2-1 in the division, have won both their games in Atlanta and New Orleans, and if not for some special teams' miscues in Houston and that horrendous fourth quarter collapse in Washington, they'd be 5-2 and the Belle of the NFL's Ball.
The book on The Jameis Winston Era is far from being completed, but the writing so far has been promising. Those who expected him to be a problem off the field have thus far been mistaken. And those who thought he'd have issues on it haven been proven wrong, as well.
The Bucs have already surpassed their win total from a season ago, and Winston now has 10 passing touchdowns this season, tying former first-round pick Josh Freeman for the second-most passing touchdowns by a Buccaneers rookie. Through just seven games, his 1,648 passing yards are the fourth-most ever by a Buccaneers rookie. And historically, since 2000, Winston's passer rating of 85.6 is the fifth-best by a rookie quarterback through eight weeks of an NFL season. But it's the off-the-field, in-the-locker room stuff the Bucs brass is impressed by most.
Winston carries himself like a veteran and his elder teammates -- no nonsense guys like Logan Mankins and Vincent Jackson -- have not only embraced it, but have empowered him to be that guy in the locker room. Watch this pregame speech he gave last week. Watch how he responds to interceptions or sacks. Watch him this week versus the Giants.
Jameis Winston isn't lighting the NFL on fire just yet, but he's doing something every young quarterback needs to before he blossoms into a great one. He's bouncing back and getting better week to week. The Buccaneers are thrilled with him, and seven games into the season, the fan base is, too. He's won over the locker room. And for rookies, that's often the hardest battle of all.
WEEK 9 CHEAT SHEET TRIVIA: Only two players in NFL history have had 45-plus yard runs in four consecutive games. Todd Gurley and who else?
***
And now, on to the picks.
Week 8 Record: 11-3
2015 Overall Record: 67-52
THURSDAY NIGHT
Cleveland at Cincinnati: The Bengals keep on winning and with Vontaze Burfict now back in the lineup for the first time since early last season, the unit continues to get better and better. Even with the excitement that might come from Johnny Manziel under the bright lights, I don't see the Browns coming into that building and winning on a Thursday night in back-to-back years.
The Pick: Bengals 28, Browns 13
Green Bay at Carolina: Aaron Rodgers doesn't have bad games too often, and he certainly doesn't have back-to-back bad games on national television. But this Carolina defense is no joke, and after watching the Panthers come back from the brink of disaster Monday night, I like their mettle. All roads were supposed to go through Lambeau in the NFC. Perhaps it's Charlotte, after all. I'm rolling with my 2015 MVP, Cam Newton.
The Pick: Panthers 23, Packers 21
Miami at Buffalo: The Bills have had a bye week to prepare and are in that "Do or Die" part of the season. Are you a playoff team or not? I think the Cameron Wake injury is more than merely a blip on the Dolphins' 2015 season. It's a crusher. The Bills crowd will be worked into a frenzy with the Fish in town.
The Pick: Bills 24, Dolphins 17
Oakland at Pittsburgh: It's one thing to handle the Jets at home. It's another to go into Pittsburgh and win. I'll be in attendance for this one, and if the Raiders are the team I think they are -- young, talented, built with strong leadership and an ability to overcome more than a decade of ineptitude -- they win this game. This wouldn't be some sort of cosmic payback for the "Immaculate Reception," but it certainly would be something.
The Pick: Raiders 24, Steelers 23
Washington at New England: I've been writing it for weeks and have actually caught a bit of flak from readers for it, but I'm downright amazed watching the Patriots' offensive game plan change week to week -- so dramatically, too -- and yet the results be so consistent, regardless. I've asked around, and yes, several teams with head coaching vacancies will be knocking on Josh McDaniels' door this year. At the rate this season is going, they just may have to wait until after the Super Bowl.
The Pick: Patriots 31, Redskins 20
Tennessee at New Orleans: Ken Whisenhunt put all his eggs in the Marcus Mariota basket in April, and then got to coach him a whopping five times before being shown the door. If you ever needed a further reminder of how crazy a world the NFL is, there you go. I don't see Mariota -- or any of the Titans -- suddenly lighting it up under Mike Mularkey. This isn't Dan Campbell and Oklahoma drills. See you at the NFL Draft in April, Titans fans. The first hour of it.
The Pick: Saints 34, Titans 20
Jacksonville at New York Jets: Amazing to think in a division where they've been the ugly step sister for years, it's Jacksonville's Gus Bradley who might have the most secure gig in the AFC South. Ryan Fitzpatrick's health concerns me. I think it's a Jags win and the end to a lot of early season Jets optimism.
The Pick: Jaguars 22, Jets 17
St. Louis at Minnesota: Have run game. Have defense. Will travel. The Rams are built to last, and in a day and age of big offense and 52-49 shootouts, they're one of the few teams that would rather win 10-6. Minnesota may be off to the quietest 5-2 start in NFL history, and as much as I love the thought of Adrian Peterson upping his game to silence the "Todd Gurley is the best running back in the league" chatter this week, I've got the young Rams winning another one.
The Pick: Rams 23, Vikings 20 (OT)
Atlanta at San Francisco: The Vegas point spread moved 5 points on this one after Colin Kaepernick was benched for Blaine Gabbert. I've seen a lot of quarterbacks. None showed me less in 27 career starts than Gabbert. And yet, I can't fault the 49ers for going in this direction. From what I'm told, there was some thought this was going to happen last week, but the team didn't want to throw him to the wolves against that salivating St. Louis defense. Rough times in San Francisco these days.
The Pick: Falcons 27, 49ers 16
New York Giants at Tampa Bay: How about this Buccaneers rookie class? Beyond Winston, there's rookies Ali Marpet and Donovan Smith on the offensive line, and Kwon Alexander is in line for Defensive Rookie of the Year. The Bucs have been oddly worse at home than on the road under Lovie Smith. This would be a signature win.
The Pick: Buccaneers 26, Giants 20
Denver at Indianapolis: The dominoes are starting to fall in Indianapolis. First one out the door? Offensive coordinator Pep Hamilton, who was handed his walking papers on Tuesday. Feels like this is just the start and it's going to get worse before it gets better with Peyton Manning coming to town on Sunday.
The Pick: Broncos 34, Colts 23
SUNDAY NIGHT
Philadelphia at Dallas: Greg Hardy played his best game as a Cowboy on Sunday, the offensive line has created holes for Darren McFadden in back-to-back weeks, and there was very little from the Seahawks receivers on Sunday. If the Cowboys could have gotten a little more from their quarterback position versus Seattle, they'd still only be a game out of first place. I know this all sounds like a Pollyanna description of what might have been a painful watch for the viewer, but I can't count Dallas out of this. Five straight losses. 2-5 record, and a listless offense. This is the week, folks. The 'Boys find a way to stop the bleeding.
The Pick: Cowboys 20, Eagles 17
MONDAY NIGHT
Chicago at San Diego: Jay Cutler vs. Philip Rivers was at one time one of the best rivalries in the game. Now it kind of feels like that movie "Grudge Match" where Stallone and DeNiro are shadow boxing for a weak box office opening. I know the 'Bolts are better at home than on the road, but they're just so darn banged up. I think Cutler beats his old rival, as much as this feels like an 80s sitcom reunion show.
The Pick: Bears 33, Chargers 27
Reader Email of the Week:
Peter,
Another NFL trading deadline passed with very little action. I get the feeling there's always a lot more TALK than ACTION when it comes to the NFL and trades. It sells, though, right? People click on articles when big names are mentioned in trades, whether true or not. Also, I'm not sure if you're a fantasy football owner, but I traded Russell Wilson and Keenan Allen on Monday afternoon for DeAngelo Williams and Tavon Austin. On Tuesday, it was announced that Allen was out for the season. Now, everyone in my league thinks I knew something others didn't and that the trade should be voided. Both sides agreed to it on Monday. What do you think is the right way to go about this? I honestly had no idea about Allen's injury status.
Victor,
Montclair, New Jersey
Victor,
You're right on with your point about the NFL trading deadline. A lot of talk, no action, as usual. As for the second part of your email, there are honestly one or two things in life I care less about than this situation of yours. Sorry, bud.
WEEK 9 CHEAT SHEET TRIVIA ANSWER: Steven Jackson is the only other player in NFL history to have 45-plus yard runs in four consecutive games.