NFL teams view free agent Colin Kaepernick as starting quarterback, report says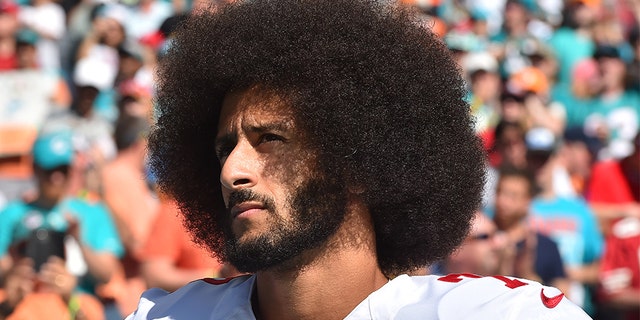 NFL teams reportedly view embattled free-agent quarterback Colin Kaepernick good enough to be a starting quarterback in the league.
Kaepernick, who has not started a game since the 2016 season with the San Francisco 49ers, is viewed as a quarterback that still can be a starter in the NFL, Pro Football Talk reported Monday, citing internal team documents unearthed in the collusion case against the league.
The former standout created controversy in 2016 when he decided to kneel for the national anthem in protest of racial injustice in the U.S. He failed to sign with a new team in 2017 and so far in 2018 despite throwing 16 touchdown passes and completing 59 percent of his passes in his last season with the Niners.
Kaepernick filed a grievance against the NFL in October, claiming owners colluded with each other to keep him out of the league for good.
Some have claimed previously that Kaepernick wasn't good enough to be a starter. The Daily Caller also reported that Kaepernick even had turned down a contract on purpose to help leverage a better deal.
The Seattle Seahawks have been one of the few teams interested in Kaepernick. Coach Pete Carroll said in April that the team would be open to signing him, despite reports of the team snubbing him over his failure to clarify whether he would continue to kneel for the national anthem.
"We're still battling on all fronts, on all guys. We're still looking at guys and evaluating. There are still free agents we're looking at and in that the process just continues," Carroll said. "We've gone through the information gathering and we have a pretty good feel for where we are. It's ongoing. We're not done with that decision at all."