NFL team hired private investigator to track Odell Beckham Jr. as trade rumors swirled: report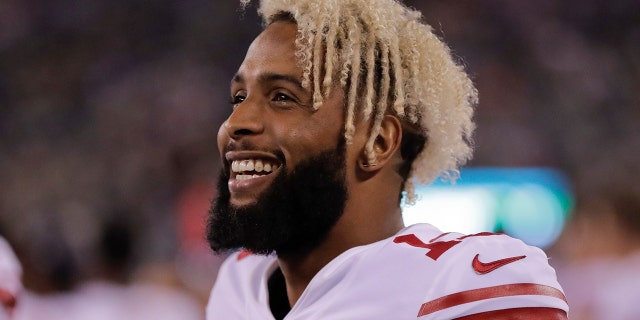 NEWYou can now listen to Fox News articles!
The New York Giants made Odell Beckham Jr. the highest-paid wide receiver on Monday, but before a pen was put to paper, the team was open to trading him -- one franchise reportedly went as far as to hire a private investigator to track the superstar.
Last March, Beckham appeared on the front page of the tabloids after he was seen on video with an aspiring model, pizza and what appeared to be a blunt. The woman in the video has denied Beckham was doing drugs.
When the Giants opened the doors for offers on their stud receiver, one team wanted to do their due diligence, ESPN reported.
The team wasn't identified, but at the time the Los Angeles Rams and the San Francisco 49ers were two franchises with reported interest in Beckham.
The private investigator's report didn't set off any alarms, according to ESPN.
The Giants ended up keeping Beckham and signed him to a five-year, $95 million deal with around $65 million guaranteed.
In his first four seasons, Beckham has caught 313 passes for 4,424 yards and 38 touchdowns.
Beckham has not played in any of the Giants' three preseason games as new coach Pat Shurmur has taken a very cautious approach with the catalyst to his offense coming off his first major professional injury.
Fox News' Samuel Chamberlain contributed to this report.