NFL reportedly investigating Bengals LB Vontaze Burfict for controversial hit vs. Patriots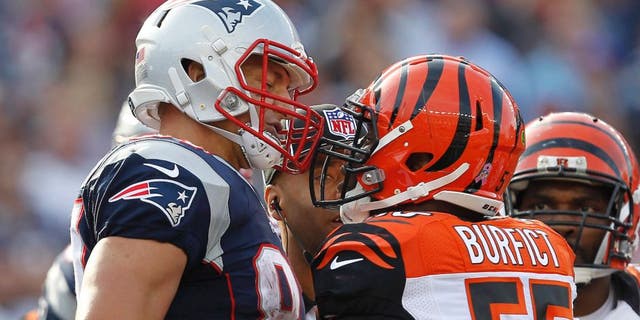 Cincinnati Bengals linebacker Vontaze Burfict has a long history of being a borderline dirty player. He was suspended three games to start this season for his vicious helmet-to-helmet hit on Antonio Brown in last year's postseason game against the Steelers, but it seems he hasn't learned.
On Sunday against the New England Patriots, Burfict tackled tight end Martellus Bennett low, even though Bennett didn't have possession of the ball. The hit didn't sit well with Rob Gronkowski, who came to his teammate's defense by getting in Burfict's face.
There's no doubt this was an unnecessary hit by Burfict, and one that could have seriously injured Bennett. Considering the nature of the play and Burfict's history, it will likely land him with a significant fine, according to NFL Network's Ian Rapoport.
While he may not be suspended for it, Burfict should learn his lesson sometime soon. At least he apologized to Bennett, who called it a "low" hit.
Burfict had eight tackles and one sack in the Bengals' 35-17 loss to the Patriots on Sunday, giving him 21 tackles on the year.