NFL Quick Hits: Optimistic outlook for Texans' Foster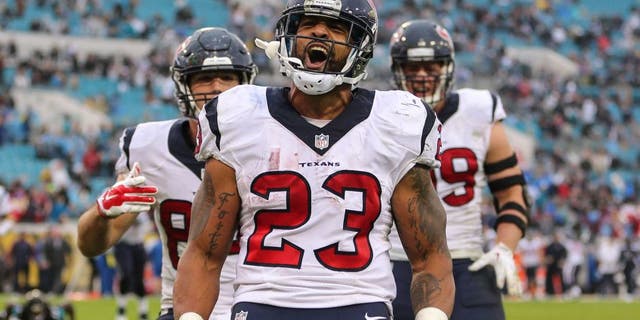 Click here to play FOX Fantasy Football
Texans head coach Bill O'Brien said Monday that he had no update on Arian Foster's timetable to return from groin surgery. However, Houston Chronicle beat writer John McClain said on Sirius XM Fantasy's Football Diehards show that he believes Foster will not need to be placed on the "injured reserve/designated for return" list that requires an eight-week absence. McClain said that Foster is likely to "miss a minimum of four, maybe five or six, but not eight" games.
This doesn't change too much from a rankings standpoint, as the timing of Foster's return is still a moving target. I bumped him up from RB30 to RB27, and would now feel more confident about grabbing him in the middle of Round 6. There's risk involved, but things look better than they did a couple of weeks ago.
In other news ...
Jameis Winston looked pretty good in Monday's game against the Bengals. So did RB Doug Martin, who ran six times for 59 yards. WR Mike Evans left with a hamstring injury, but it doesn't sound serious.
Here's an interesting item from the Green Bay Press-Gazette naming the "five Packers most impacted" by Jordy Nelson's season-ending injury. Davante Adams is the obvious choice, but rookie Ty Montgomery could get time in the slot.
The Texans have named Brian Hoyer as their starting quarterback. Yes, this is boring news, and Hoyer is a low-ranked fantasy QB. However, those worried about DeAndre Hopkins' production should note that in five full games with Hoyer in Cleveland, WR Josh Gordon caught 31 passes for 427 yards and a touchdown. Every situation is obviously different, but Hopkins can get his share, even with a game manager like Hoyer.
Rams RB Todd Gurley (knee) has been cleared to begin practicing, but his status for the season opener is still TBD. WR Brian Quick (shoulder) looks like he'll be ready to play this week.
Reggie Wayne "likely won't be anything more than a secondary option" for the Patriots, according to the Boston Herald. Before you consider drafting Wayne, make sure to read that note again.
Ravens RB Lorenzo Taliaferro will miss several weeks due to a sprained knee ligament, per MASNSports.com. Rookie Buck Allen is now one Justin Forsett injury away from a big role. The same story notes that rookie WR Breshad Perriman (knee) still isn't practicing.
Ronnie Hillman has moved ahead of Montee Ball on the Broncos' depth chart. Condolences to all those who drafted Ball in the first round last season.
Question for DFS players: If the Giants' injury situation doesn't dramatically improve, isn't Tony Romo a ridiculous Week 1 bargain ($7,300) as DraftKings' 10th most-expensive QB?
Redskins QB Robert Griffin III (concussion) was back on the practice field Monday. His status for the next preseason game is TBD.
Jaguars RB T.J. Yeldon (finger) will get first-team reps in Friday's game.
Per the Raiders' website, RB Latavius Murray showed "good vision and the ability to make subtle moves through creases in a phone booth" at training camp. A PHONE BOOTH!
Bears WR Alshon Jeffery (calf) is still day to day. Fortunately for fantasy owners, head coach John Fox has a history of being forthcoming and loquacious about injuries, so we'll surely get some great insight soon on Jeffery.
Chris Johnson "seems to have the edge" on being the Cardinals short-yardage back? Really?
I'll be posting here on Tuesdays and Fridays moving forward, with additional posts from the FOXSports.com fantasy team as news warrants.