NFL Quick Hits: Falcons' Coleman "ready to rock"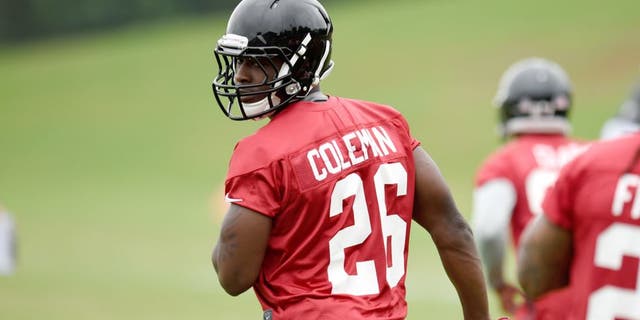 NEWYou can now listen to Fox News articles!
Falcons' head coach Dan Quinn said Thursday that rookie RB Tevin Coleman is expected to make his preseason debut on Saturday at Miami. Coleman, like teammate Devonta Freeman, has been battling a hamstring injury all month. Freeman's status for Saturday is unclear.
The injury situation has stalled what was expected to be an interesting position battle, but if Coleman has a good game this weekend, it could go a long way toward making him the Falcons' feature back, with Freeman playing a change-of-pace role. I've been stubborn in my support of Coleman, leaving him ranked at RB21. His current price tag (per the ADP on Fantasy Football Calculator) is a late seventh-round pick, where he'd be a fine selection.
In other news ...
Steelers WR Martavis Bryant is reportedly facing a four-game suspension for violating the NFL's substance abuse policy, and Ryan Fowler took a look at the fantasy impact. I'll move Bryant down to WR33, and Markus Wheaton up to WR43.
Panthers head coach Ron Rivera had this to say Wednesday about WR Devin Funchess: "The thing we're waiting for is for Devin to be healthy and get him out on the football field. He runs a lot of the same type of routes (as Kelvin Benjamin). He's almost as imposing a target as Kelvin and the biggest thing with him is the confidence that he plays with as he develops." The key phrase is runs a lot of the same type of routes. Same position (X receiver), plenty of targets.
KICKER ALERT: With Patrick Murray struggling, the Bucs have signed former Bronco Connor Barth.
Ravens head coach John Harbaugh said Thursday that WR Breshad Perriman's knee injury is "slower healing" than expected, and added that there's no timetable on Perriman's recovery. Ugh.
Not that this is fantasy-relevant, but Texans backup QB Ryan Mallett missed Thursday's practice because he overslept. That's no way to impress your coach after losing a starting job.
The Bills will start EJ Manuel at quarterback on Saturday. Unlike with most teams, this decision probably doesn't give us a clue as to who will be the Week 1 starter.
Bills RB LeSean McCoy is still rehabbing a hamstring injury, but they're hoping he'll be ready for the season opener.
Browns backup QB Johnny Manziel will miss the final two preseason games due to a sore elbow.
Raiders RB Roy Helu has been back at practice this week after missing time with a hamstring injury. Helu looks to be the third-down back, with the potential to earn a bigger role. I really like Latavius Murray, but the guy has 82 NFL carries, so it's not like we can count on a 1,200-yard season.
Redskins QB Robert Griffin III (concussion) has been cleared to play against the Ravens on Saturday. Hopefully, his line will protect him a bit this week.
Bucs WR Mike Evans (hamstring) won't play for the rest of the preseason, but should be ready for Week 1.
See you back here Tuesday morning, or sooner if news warrants. Good luck in your drafts this weekend!