NFL players respond to president's concerns about kids playing football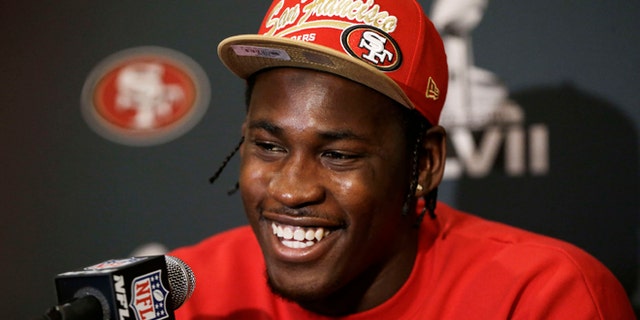 NEW ORLEANS – Unlike several players at the Super Bowl, Baltimore Ravens safety Ed Reed agrees with President Obama that football needs to be made safer. Reed wants to be part of the solution, too.
The 11-year veteran and one of the most respected players in the NFL said Monday at the Super Bowl that Obama's comments questioning the safety of the game are on target. Reed added he'd like to be someone "to help work it out."
"I am with Obama," Reed said after learning of the president's concerns about parents allowing their sons to play football. "I have a son. I am not forcing football on my son. If he wants to play it ... I can't make decisions for him. All I can do is say, 'Son, I played it so you don't have to.' ''
Reed, a nine-time Pro Bowler, believes football's medical system is broken.
"We've got some leaks in it that need to be worked out," he said. "Every medical training room should be upgraded; training rooms can be a lot better.
"When you've got the president talking about it, you got something."
Reed's opinion was far from the majority among Ravens and San Francisco 49ers asked about Obama's comments as they prepared for Sunday's Super Bowl. Teammate Joe Flacco said no one forced football on him or anyone else in the NFL.
"This is something we chose to do," the quarterback said. "When you talk about little kids doing it, they are not having the collisions we have in the NFL."
49eres All-Pro linebacker Aldon Smith was among several San Francisco players who doesn't see anything wrong with their kids playing football.
"It's not like we signed up and thought we were going to play tennis," Smith said. "It's a physical game. Everybody plays hard. And guys get hit sometimes. That's what we all know coming into the game. We all signed up for it.
"We came out to play football."
Guard Alex Boone was adamant that football has to be "physical," while adding he believed the league and the players association were attempting to make the game safer.
"If he wants to play, he can play. He can do whatever he wants," Boone said of having a son pursue footballs. "With little kids, you don't really have to worry about them that much. But as you get older, you have to understand the game better.
"I think the NFL is doing a great job with that right now with the little kids, try to teach them now, young, so that they understand. But, it's just football. It's going to be physical."
While acknowledging he's a football fan, Obama told The New Republic he's concerned about the violent nature of the sport -- enough so that if he had a son, he'd think twice about allowing him to play.
"I think that those of us who love the sport are going to have to wrestle with the fact that it will probably change gradually to try to reduce some of the violence," he said.
"In some cases, that may make it a little bit less exciting, but it will be a whole lot better for the players, and those of us who are fans maybe won't have to examine our consciences quite as much."
49ers cornerback Tarell Brown called football "a dangerous sport," but not one he would dissuade anyone from trying.
"I can understand what President Obama is saying, but at the same time, the league is putting in things (for safety)," Brown said. "It is a physical game if you are passionate about it and are trained the right way."
But Reed isn't sure everyone is being trained properly, or cared for adequately.
"I felt like I played the game as safe as possible," he said. "I even tell the guys that they have to take care of their bodies, take care of themselves. If you take care of that, it will take care of you."
San Francisco coach Jim Harbaugh joked about allowing his son Jack, now 4 months old, to follow in his footsteps; Harbaugh was an NFL quarterback for 14 seasons.
"If President Obama feels that way, then (there will) be a little less competition for Jack Harbaugh when he gets older," said Harbaugh, whose older brother John coaches the Niners' opponent, the Baltimore Ravens. "That's the first thing that jumps into my mind, if other parents are thinking that way."