NFL players mulling new anthem protests 'to spite' league over planned crackdown: report
NEWYou can now listen to Fox News articles!
Some NFL players are reportedly planning new protests during the national anthem "just to spite the NFL" in wake of the league's new anti-kneeling policy that was announced Wednesday.
The players, who weren't planning on demonstrating during the national anthem this season, said they were looking for way to "skirt" the new NFL rules, Sports Illustrated reported Thursday.
Other players were debating whether to stay in the locker room or go out on the field to make a "different on-field gesture," NFL.com reported. It's unclear what kind of gesture the players were thinking of making.
Last season, some players decided against taking a knee and instead raised a fist in the air or locked arms with teammates during the anthem. In some cases, team owners -- such as Dallas Cowboys owner Jerry Jones -- joined in demonstrations, even if they involved kneeling.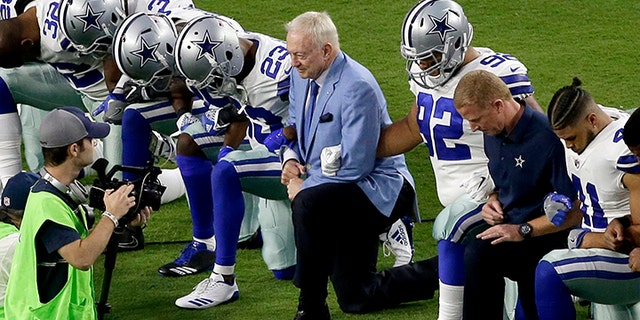 Players making the protests have stressed that they seek to draw attention to police mistreatment of blacks and other minorities. But opponents of the protests have said that the playing of the anthem is the wrong time, arguing that such demonstrations are disrespectful to U.S. service members.
The NFL announced earlier this week that teams would be fined if players or other personnel failed to stand and show respect for the "Star-Spangled Banner" and the American flag. Players and other personnel could choose to stay in the locker room during the playing of the song, but it would result in a fine.
President Donald Trump, who had railed against the NFL about the protests during the national anthem, applauded the league Thursday, saying team owners "did the right thing" and that players who don't stand for the anthem "shouldn't be in this country."