NFL player Zay Jones back home after arrest for bloody, naked brawl with brother in LA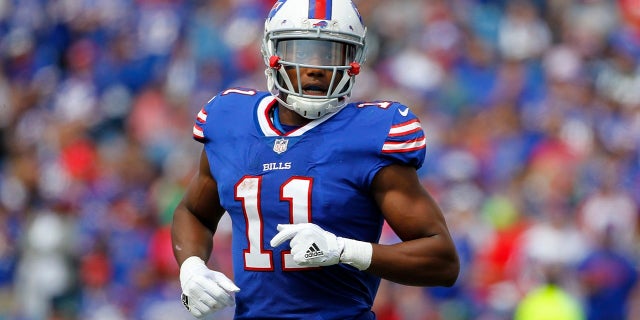 Buffalo Bills receiver Zay Jones was home Wednesday after his Monday night arrest in Los Angeles following a naked, bloody argument with his brother, Minnesota Vikings receiver Cayleb Jones.

Zay was with family and is going to be fine, father Robert Jones said Wednesday.
Online jail records showed Zay, 22, whose legal name is Isaiah Avery Jones, was released after being held Tuesday on $20,000 bail.
Officers were called to a disturbance in downtown Los Angeles, where Zay was found Monday, "breaking glass doors and windows." He was arrested on suspicion of felony vandalism, police said.
The Bills player's arrest was first reported by TMZ, which posted a video showing a nude Zay pushing Cayleb in what appeared to be the hallway of an apartment building.
Cayleb on Wednesday tweeted, "I am my brother's keeper."
Prosecutors did not immediately file a case against Jones and have asked police to further investigate the matter, the district attorney's office said.
Jones' agent, Zeke Sandhu, did not immediately respond for comment. Sandhu also represents Cayleb.
The Bills said in a statement Tuesday night that they were aware of an incident involving Jones and were still gathering information.
Zay and Cayleb's father, Robert Jones, is a former NFL linebacker who won two Super Bowl championships with the Dallas Cowboys during his 10-year career.
Zay was the first of Buffalo's two second-round picks in 2017 after completing a prolific college career at East Carolina. He set an FBS record with 399 career catches and broke the single-season reception mark with 158 catches in his final season.
But the production didn't carry over into his rookie NFL season, as he finished tied for the third receiver spot on the team with 27 catches and fourth with 316 yards.
Zay's production tailed off over the final month, when he had just two catches for 25 yards. Following the season, Jones revealed he played part of the year with a torn labrum and had surgery to repair the injury in January.
The Associated Press contributed to this report.