NFL mock draft: We make every pick for all seven rounds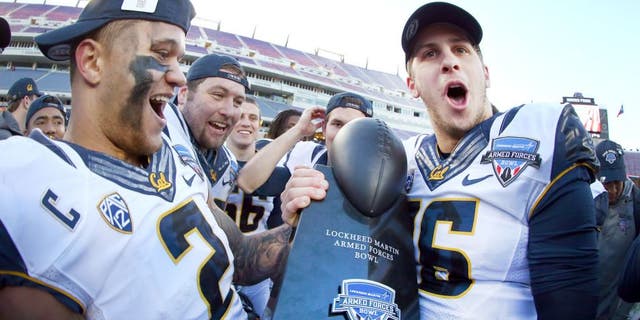 It's our favorite time of year. Time for the seven-round mock draft.
You know the drill. It's very ambitious, quite ridiculous, and just one heck of a good time.
Check it over, see what I have your team doing, then hit me with your thoughts on Twitter @Pschrags or email me at PeterSchrager@gmail.com.
We'll have a last-minute, first-round-only mock coming Thursday.
1. Los Angeles (7-9): Jared Goff, QB, Cal
As of now, Goff, and not Wentz, is the man for the Rams. The first true freshman to start a season opener at Cal since World War II, Goff will be the future face of the franchise in the NFL's second biggest media market, too. No mountain's too big for this kid. A slight frame, but good arm strength, good feet, and smart-decision making.
2. Philadelphia (7-9): Carson Wentz, QB, North Dakota State
The rumor is that the Eagles really wanted to draft Marcus Mariota a season ago and didn't offer enough to get him. They will get their guy this time around. Wentz may not be the starter on Day 1 in Philly, but that's OK. Neither was Donovan McNabb when he went second overall; current head coach Doug Pederson was under center for Philadelphia's first seven games in 1999.
3. San Diego (4-12): Laremy Tunsil, OT, Ole Miss
I've heard the Chargers have looked long and hard at Ronnie Stanley here, too. Jalen Ramsey and Joey Bosa could be immediate impact guys, but Tunsil's the pick. The Chargers won't overthink this. Protect the money, Philip Rivers.
4. Dallas (4-12): Ezekiel Elliott, RB, Ohio State
I know Dallas' top three pass rushers from a season ago all have issues or won't be there at the start of the 2016 season. And I know the Cowboys defensive backfield can use another young game-changer. But I'm still hearing Elliott. Dallas takes a huge swing and gets a running back that I've been told by an NFL GM is the best, "most sophisticated" prospect at the position to enter the league since Adrian Peterson.
5. Jacksonville (5-11): Jalen Ramsey, DB, Florida State
Gus Bradley's already added Malik Jackson, Prince Amukamara, and Tashaun Gipson, and gets Dante Fowler back to his defense this year. Ramsey is the top defensive player on many teams' boards this year. The Jags rebuild their defense in one offseason.
6. Baltimore (5-11): Ronnie Stanley, OT, Notre Dame
Stanley's the rare prospect in this draft class that could have been a top-10 pick a season ago and decided to come back to school for another go at a title in 2015. He's a premier left tackle in this class and an underrated run blocker. Great for what Baltimore needs.
7. San Francisco (5-11): Joey Bosa, DE, Ohio State
The 49ers have a great need for a pass rusher, and if Bosa is on the board at No. 7, they may just go for it. Bosa's not J.J. Watt, but he's as disruptive a pass rusher as there is in this draft. A wildcard to consider, here? Paxton Lynch.
8. Cleveland (3-13): Paxton Lynch, QB, Memphis
The Browns trade out of the No. 2 spot, pick up a haul, and still get their quarterback. I'm a lot higher on Lynch than most, and I get the feeling a few teams are too. Cleveland could be one of them. At 6-foot-7 and with good feet and a strong arm, he'd be a perfect fit for what Hue Jackson's looking to do. And if he can sit for a bit behind Robert Griffin III -- all the better.
9. Tampa Bay (6-10): DeForest Buckner, DE, Oregon
The Bucs cleaned up a year ago with the best rookie class in all of football. GM Jason Licht nailed it on the team's first four picks. If the Draft shook out this way, I can't see the Bucs passing on Buckner. He's 6-foot-7 with the biggest hands at the combine. He'd be an ideal fit next to Gerald McCoy on that Tampa Bay defensive line.
10. New York Giants (6-10): Leonard Floyd, OLB, Georgia
I keep hearing that the Giants' front office and coaching staff has a place in their hearts for Floyd. For all the additions the Giants made on defense, they still need an outside linebacker who can come off the edge.
11. Chicago (6-10): Jack Conklin, OT, Michigan State
The Bears need to address a lot of holes during this year's draft. Defense, defense, defense may seem like the top priorities, but Conklin sure would help solidify an offensive line that's been a shuffling deck the past few years.
12. New Orleans (7-9): Sheldon Rankins, DT, Louisville
Rankins was the biggest defensive star of the Senior Bowl and fulfills a real need for New Orleans. They are going defense. Rankins would make a whole lot of sense.
13. Miami (6-10): Eli Apple, CB, Ohio State
The Dolphins would love to get their hands on Ezekiel Elliott, but if he's not available and the 6-foot-1 Apple is there, this could be the guy. Tall, press corner. Good fit for what Vance Joseph is looking to do.
14. Oakland (7-9): Vernon Hargreaves, III, CB, Florida
Perhaps the most polished pure cornerback in the draft, the Raiders would scoop Hargreaves up if he slipped to No. 14. Oakland missed out on the Janoris Jenkins sweepstakes and got Sean Smith a few days later. Hargreaves could solidify the defensive backfield either as the starter or the No. 3 with this one.
15. Tennessee (3-13): Josh Doctson, WR, TCU
Marcus Mariota's their franchise quarterback and there's been some nice games out of Kendall Wright and Dorial Green-Beckham. But Doctson's something else. He's the top wide receiver on my board, and one that could be Mariota's go-to guy for years to come.
16. Detroit (7-9): Shaq Lawson, DE, Clemson
The Lions are under new stewardship with former Patriots staffer Bob Quinn in the saddle. New England was always big on the best player on their board, especially if he roamed the defensive line. Lawson trained with former Falcons defensive end Chuck Smith this offseason and can do some real damage. Good fit here, lining up opposite of Ziggy Ansah.
17. Atlanta (8-8): Darron Lee, OLB, Ohio State
It's a big draft for Atlanta. Lee can do it all, and in a world of undersized linebackers finding their place --€" and more --€" on an NFL defense, he could fit the prototype. Talented kid from a great program who'd help the Falcons right away.
18. Indianapolis (8-8): Taylor Decker, OT, Ohio State
Boring pick? Maybe. But the right one. Decker could work with Anthony Costanzo and the two of them could protect the most important asset in the league, Mr. Andrew Luck.
19. Buffalo (8-8): Myles Jack, LB, UCLA
Jack's a wildcard. I know his knee is a major concern for some teams, while others say it doesn't bother them as much. He'd be the perfect fit in Rex and Rob Ryan's defense, and I can imagine them doing flips if he slipped this far. Again, Jack could go top-five or second round. Seriously.
20. New York Jets (10-6): Jarran Reed, DT, Alabama
Started just about every game the past two years as a 3-4 DE for Alabama. Reed can plug the run, but also get to the quarterback. He can bench press 500 pounds and was the alpha dog on an alpha dog defense. "Snacks" Harrison is with the other team in East Rutherford and Muhammad Wilkerson's days in green could be numbered. The Jets reload on the D-line.
21. Washington (9-7): Ryan Kelly, C, Alabama
Kelly's the best interior lineman in this draft and could go as high as the top 15. I don't see the Redskins, who picked up a cornerback in Josh Norman for a cool $15 million a year a week ago, would let him slip past them on Thursday.
22. Houston (9-7): Karl Joseph, S, West Virginia
I'm told by a lot of folks around the NFL that Joseph is a first-round pick. Houston would be a great fit. Their safety position could use a kickstart. Joseph, coming off an injury, could be electric.
23. Minnesota (11-5): Laquon Treadwell, WR, Ole Miss
Treadwell's 4.65 40-yard dash time is a little bit of an eyesore, but better wide receivers have run slower times. Teddy Bridgewater isn't throwing many deep balls, anyway. The Vikings scoop him up if he's there.
24. Cincinnati (12-4): Corey Coleman, WR, Baylor
With Marvin Jones and Mohamed Sanu now gone, Cincinnati needs to find a number 2 for A.J. Green in this year's draft. The godson of 14-year NFL player Ray Crockett. A speed burner who scored 20 touchdowns in 2015. 5-10, 195 pounds, and a perfect complement to the No. 1. Coleman scored 20 touchdowns for the Bears in 2015.
25. Pittsburgh (10-6): William Jackson III, CB, Houston
I'm told the Steelers had a great dinner with Jackson after his Pro Day, one that included Kevin Colbert, Mike Tomlin, and defensive backs coach Carnell Lake. The Steelers need a corner. If Jackson's there, I like it.
26. Seattle (10-6): Le'Raven Clark, OT, Texas Tech
Talented player with a high ceiling. The Seahawks are going to look to rebuild an offensive line that got beat up last year in the playoffs. Clark's a late 1, early 2. I like him here.
27. Green Bay (10-6): Andrew Billings, DT, Baylor
If Billings slips to 27, the Packers would be awfully pleased. With B.J. Raji out, Billings could step in. A record-setting powerlifter who can stuff the run. Missed some time with an ankle injury. Could be a great fit in Dom Capers' 3-4.
28. Kansas City (11-5): Robert Nkemdiche, DT, Ole Miss
Nkemdiche was invited to the draft and I expect him to go in the first round. The off-the-field concerns are real question marks for teams, but he won't be the first defensive lineman in NFL history with a troubled past. Andy Reid can make it work.
29. Arizona (13-3): Noah Spence, OLB, Eastern Kentucky
There are off-the-field questions. I can't imagine a better locker room and coaching staff than this one. Spence has no shortage of talent and was one of Urban Meyer's top recruits before leaving Ohio State. GM Steve Keim has the golden touch. This would make a whole lot of sense.
30. Carolina (15-1): A'Shawn Robinson, DT, Alabama
Not particularly an area of need, but this team doesn't draft on need. Robinson's one of those hog-molly types GM Dave Gettleman can't resist. Do they need corners? Probably. Safeties? Sure. But they'll go best player on the board.
31. Denver (12-4): Connor Cook, QB, Michigan State
Cook slips to 31 and the Broncos take him. Until they have another veteran quarterback on the roster, I can't see them taking any other position in the first round.
NOTE: New England has no first-round pick.
32. Cleveland: Will Fuller, WR, Notre Dame
33. Tennessee: Reggie Ragland, LB, Alabama
34. Dallas: Christian Hackenberg, QB, Penn State
35. San Diego: Kevin Dodd, DE, Clemson
36. Baltimore: Emmanuel Ogbah, DE, Oklahoma State
37. San Francisco: Cody Whitehair, OG, Kansas State
38. Jacksonville: Jason Spriggs, OT, Indiana
39. Tampa Bay: Keanu Neal, S, Florida
40. New York Giants: Germain Ifedi, OT, Texas A&M
41. Chicago: Chris Jones, DT, Mississippi State
42. Miami: Su'a Cravens, S/LB, USC
43. Tennessee: Vernon Butler, DT, Louisiana Tech
44. Oakland: T.J. Green, S, Clemson
45. Tennessee: Kamalei Correa, OLB, Boise State
46. Detroit: Artie Burns, CB, Miami
47. New Orleans: Michael Thomas, WR, Ohio State
48. Indianapolis: Derrick Henry, RB, Alabama
49. Buffalo: Vonn Bell, S, Ohio State
50. Atlanta: Hunter Henry, TE, Arkansas
51. New York Jets: Shon Coleman, OT, Auburn
52. Houston: Sterling Shepard, WR, Oklahoma
53. Washington: Kenny Clark, DT, UCLA
54. Minnesota: Bronson Kaufusi, DE, BYU
55. Cincinnati: Mackensie Alexander, CB, Clemson
56. Seattle: Shilique Calhoun, DE, Michigan State
57. Green Bay: Jihad Ward, DE/DT, Illinois
58. Pittsburgh: Christian Westerman, G/C, Arizona State
59. Kansas City: Kendall Fuller, CB, Virginia Tech
60. New England: Joshua Perry, LB, Ohio State
61. New England: Joshua Garnett, OG, Stanford
62. Carolina: Jaylon Smith, LB, Notre Dame
63. Denver: Austin Johnson, DT, Penn State
64. Tennessee: Brandon Shell, OT, South Carolina
65. Cleveland: Jonathan Bullard, DE, Florida
66. San Diego: Nick Vannett, TE, Ohio State
67. Dallas: Maliek Collins, DT, Nebraska
68. San Francisco: Dak Prescott, QB, Mississippi State
69. Jacksonville: Ronald Blair, DE, Appalachian State
70. Baltimore: C.J. Prosise, RB, Notre Dame
71. New York Giants: Sean Davis, CB, Maryland
72. Chicago: Jordan Jenkins, OLB, Georgia
73. Miami: Kenneth Dixon, RB, Louisiana Tech
74. Tampa Bay: Evan Boehm, C/OG, Missouri
75. Oakland: Yannick Ngakoue, DE/OLB, Maryland
76. Tennessee: Max Tuerk, C/OG, USC
77. Cleveland: Braxton Miller, WR, Ohio State
78. New Orleans: Miles Killebrew, S, Southern Utah
79. Philadelphia: Nick Martin, C/G, Notre Dame
80. Buffalo: Austin Hooper, TE, Stanford
81. Atlanta: Isaac Seumalo, C/OG, Oregon State
82. Indianapolis: Cyrus Jones, CB, Alabama
83. New York Jets: Kyler Fackrell, LB, Utah State
84. Washington: Kenyan Drake, RB, Alabama
85. Houston: Quinton Jefferson, DT, Maryland
86. Minnesota: Hassan Ridgeway, DT, Texas
87. Cincinnati: Avery Young, OT, Auburn
88. Green Bay: Tyler Boyd, WR, Pittsburgh
89. Pittsburgh: Denver Kirkland, OT/OG, Arkansas
90. Seattle: Devontae Booker, RB, Utah
91. New England: Xavien Howard, CB, Baylor
92. Arizona: Javon Hargrave, DT, South Carolina State
93. Carolina: Deandre Elliott, CB, Colorado State
94. Denver: Ron Thompson, OLB/DE, Syracuse
95. Detroit: Caleb Benenoch, OT, UCLA
96. New England: Joe Dahl, OG, Washington State
97. Seattle: Kentrell Brothers, LB, Missouri
98. Denver: Jerald Hawkins, OG/OT, LSU
NOTE: Kansas City forfeited its second-round pick
99. Cleveland: Joe Haeg, OT, North Dakota State
100. Cleveland: Carl Nassib, DE, Penn State
101. Dallas: Dadi Nicolas, OLB, Virginia Tech
102. San Diego: Adam Gotsis, DT, Georgia Tech
103. Jacksonville: Ricardo Louis, WR, Auburn
104. Baltimore: Zack Sanchez, CB, Oklahoma
105. San Francisco: Aaron Burbridge, WR, Michigan State
106. Chicago: Nicholas Kwiatkowski, LB, West Virginia
107. Miami: Reed Odhiambo, OG, Boise State
108. Tampa Bay: Deion Jones, OLB, LSU
109. New York Giants: Leonte Carroo, WR, Rutgers
110. Los Angeles: Keyarris Garrett, WR, Tulsa
111. Detroit: Paul McRoberts, WR, SE Missouri State
112. New Orleans: Charles Tapper, DE, Oklahoma
113. Los Angeles: Adolphus Washington, DT, Ohio State
114. Oakland: Tyler Matakevich, LB, Temple
115. Atlanta: Justin Simmons, S, Boston College
116. Indianapolis: Scooby Wright, LB, Arizona
117. Buffalo: Kevin Hogan, QB, Stanford
118. New York Jets: Deandre Houston-Carson, S/CB, William & Mary
119. Houston: Rashard Higgins, WR, Colorado State
120. Washington: Travis Feeney, OLB, Washington
121. Minnesota: Tyler Ervin, RB, San Jose State
122. Cincinnati: Dillon Lee, LB, Alabama
123. Pittsburgh: Jayron Kearse, S, Clemson
124. Seattle: Deon Bush, S, Miami
125. Green Bay: Jerell Adams, TE, South Carolina
126. Kansas City: Blake Martinez, LB, Stanford
127. Chicago: Alex Collins, RB, Arkansas
128. Arizona: Jack Allen, C, Michigan State
129. Carolina: Jordan Howard, RB, Indiana
130. Baltimore: Tyvis Powell, S, Ohio State
131. Green Bay: Vadal Alexander, OT/OG, LSU
132. Baltimore: Nick Vigil, ILB, Utah State
133. San Francisco: Antonio Morrison, LB, Florida
134. Baltimore:
135. Dallas: Matt Judon, LB/DE, Grand Valley State
136. Denver: Dean Lowry, DE, Northwestern
137. Green Bay: Will Redmond, CB, Mississippi State
138. Cleveland: De'Vondre Campbell, LB, Minnesota
139. Buffalo: Terrance Smith, LB, Florida State
140. Tennessee: Sheldon Day, DT, Notre Dame
141. Cleveland: Eric Striker, LB, Oklahoma
142. San Francisco: Joseph Thuney, OG, North Carolina State
143. Oakland: Wendell Smallwood, RB, West Virginia
144. Denver: Tajae Sharpe, WR, UMass
145. San Francisco: Kolby Listenbee, WR, TCU
146. Jacksonville: Alexander Lewis, OT, Nebraska
147. Miami: James Cowser, DE, Southern Utah
148. Tampa Bay: David "D.J." Reader, DT, Clemson
149. New York Giants: Jeremy Cash, S, Duke
150. Chicago: Chris Mayes, DT, Georgia
151. Detroit: Juston Burris, CB, NC State
152. New Orleans: Cody Kessler, QB, USC
153. Philadelphia: Brandon Williams, CB, Texas A&M
154. Oakland: William Henry, DT, Michigan
155. Indianapolis: Joel Heath, DT, Michigan State
156. Buffalo: James Bradberry, CB, Samford
157. Denver: Clayton Fejedelm, S, Illinois
158. Washington: Connor McGovern, OT/OG, Missouri
159. Houston: DeAndre Washington, RB, Texas Tech
160. Minnesota: Graham Glasgow, OT, Michigan
161. Cincinnati: Kelvin Taylor, RB, Florida
162. Kansas City: Pharoh Cooper, WR, South Carolina
163. Green Bay: Nile Lawrence-Stample, DT, Florida State
164. Philadelphia: Anthony Zettel, DT, Penn State
165. Kansas City: Matt Ioannidis, DT, Temple
166. Houston: Sterling Bailey, DE, Georgia
167. Arizona: Dominique Robertson, OT, West Georgia
168. Arizona: Cardale Jones, QB, Ohio State
169. Detroit: Tavon Young, CB, Temple
170. Arizona: Joe Schobert, LB, Wisconsin
171. Seattle: Tyler Marz, OG/OT, Wisconsin
172. Cleveland: Matt Skura, C, Duke
173. Cleveland: Silverberry Mouhon, DE, Cincinnati
174. San Francisco: Kyle Murphy, OT, Stanford
175. San Diego: Thomas Duarte, TE/WR, UCLA
176. Cleveland: Willie Beavers, OG/OT, Western Michigan
177. Los Angeles: Kevin Byard, S, Middle Tennseee
178. San Francisco: Ben Braunecker, TE, Harvard
179. San Diego: Roberto Aguayo, K, Florida State
180. Minnesota: John Theus, OT, Georgia
181. Jacksonville: Cole Toner, OT, Harvard
182. Baltimore: Daniel Lasco, RB, California
183. Tampa Bay: Prince Charles Iworah, CB, Western Kentucky
184. New York Giants: Kenny Lawler, WR, California
185. Chicago: Brandon Allen, QB, Arkansas
186. Miami: Geronimo Allison, WR, Illinois
187. Washington: Chris Moore, WR, Cincinnati
188. Philadelphia: Jimmy Bean, OLB/DT, Oklahoma State
189. Dallas: Jacob Brendel, OG/C, UCLA
190. Los Angeles: Jason Fanaika, DE, Utah
191. Detroit: Pearce Slater, OT, San Diego State
192. Buffalo: Romeo Okwara, LB, Notre Dame
193. Tennessee: Halapoulivaati Vaitai, OT, TCU
194. Oakland: Tyler Higbee, TE, Western Kentucky
195. Houston: Daryl Worley, CB, West Virginia
196. New England: Taveze Calhoun, CB, Mississippi State
197. Tampa Bay: LeShaun Sims, CB, Southern Utah
198. San Diego: Harlan Miller, DB, Southeast Louisiana
199. Cincinnati: Connor Wujciak, DT, Boston College
200. Green Bay: Josh Ferguson, RB, Illinois
201. Jacksonville: Jalen Mills, S, LSU
202. Detroit: Trenton Matthews, S, Colorado State
203. Kansas City: Marquez North, WR, Tennessee
204. New England: Trevor Davis, WR, California
205. Arizona: Ryan Smith, CB, North Carolina Central
206. Chicago: KeiVarae Russell, CB, Notre Dame
207. San Francisco: Tyrone Holmes, OLB, Montana
208. New England: Victor Ochi, DE/OLB, Stony Brook
209. Baltimore: Jake Rudock, QB, Michigan
210: Detroit: Darius Latham, DT, Indiana
211: San Francisco: Aaron Green, RB, TCU
212: Dallas: Derrick Kindred, S, TCU
213: San Francisco: Joe Gore, OT, Clemson
214: New England: Keenan Reynolds, QB/RB, Navy
215: Seattle: Glenn Gronkowski, FB, Kansas State
216: Dallas: Landon Turner, OG, North Carolina
217: Dallas: Jalen Richard, RB, Southern Miss
218: Buffalo: Zac Brooks, RB, Clemson
219: Denver: Terrell Lathan, DE, TCU
220: Pittsburgh: Brandon Doughty, QB, Western Kentucky
221. New England: Joel Stave, QB, Wisconsin
222. Tennessee: Drew Ott, DE, Iowa
223. Cleveland: Keith Marshall, RB, Georgia
224. San Diego: Roger Lewis, WR, Bowling Green
225. Seattle: Cassanova McKinzy, LB, Auburn
226. Jacksonville: Dominique Alexander, LB, Oklahoma
227. Miami: Devon Cajuste, WR, Stanford
228. Denver: Bryce Williams, TE, East Carolina
229. Pittsburgh: Kyle Carter, TE, Penn State
230. Chicago: Trae Elston, S, Ole Miss
231. Miami: Jordan Lomax, S, Iowa
232. Washington: Eric Murray, CB, Minnesota
233. Philadelphia: Kalan Reed, CB, Southern Miss
234. Oakland: David Onyemata, DT, Manitoba
235. New York Jets: Darius Jackson, RB, Eastern Washington
236. Detroit: Vernon Adams, QB, Oregon
237. New Orleans: Ian Seau, OLB, Nevada
238. Atlanta: Jatavis Brown, LB, Akron
239. Indianapolis: Lawrence Thomas, DE, Michigan State
240. Minnesota: Malcolm Mitchell, WR, Georgia
241. New York Jets: Rashard Robinson, CB, LSU
242. Washington: D.J. White, CB, Georgia Tech
243. New England: Anthony Brown, CB, Purdue
244. Minnesota: Drew Iddings, DE, South Dakota
245. Cincinnati: Nelson Spruce, WR, Colorado
246. Pittsburgh: Ray Robertson-Harris, DE, UTEP
247. Seattle: Antoine Williams, LB, Georgia Southern
248. Green Bay: B.J. Goodson, LB, Clemson
249. Kansas City: David Mims, CB, Texas State
250. New England: Antwaun Woods, DT, USC
251. Philadelphia: Jason Whittingham, LB, Utah
252. Carolina: Bralon Addison, WR, Oregon
253. Denver: Stephen Anderson, RB, California