NFL executive: 'The Vikings can't hold Green Bay's jock'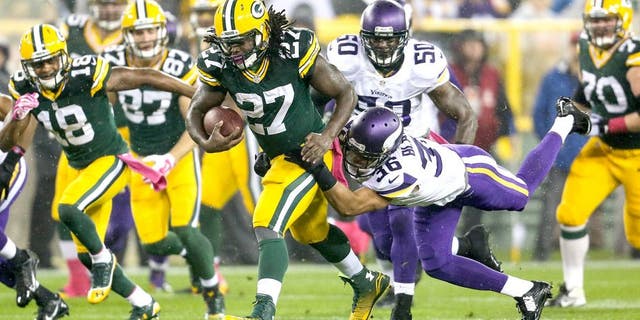 NEWYou can now listen to Fox News articles!
The Green Bay Packers are going for a fifth straight NFC North title in 2015, and there's not a lot of competition in the division to stop them.
The Chicago Bears got off to an 0-3 start in a rebuilding year under John Fox, who's in his first year with the team. Jim Caldwell, who's in his second year with the Detroit Lions, has his team off to an 0-3 start, too. The Packers are 3-0, so the Bears and Lions are both long shots to catch Green Bay.
The Minnesota Vikings, however, have overcome a season-opening loss to win their next two games in methodical fashion. Still, one unnamed NFL executive told Bob McGinn of the Journal Sentinel that the Vikings don't have a real chance.
"It's a one-horse race," the scout said, per the Journal Sentinel. "The Vikings can't hold Green Bay's jock."
The Packers don't face the Vikings for the first time until Week 10; the rematch is in Week 17 at Lambeau Field. The scout expects the second meeting to be meaningless, as he told the Journal Sentinel that Green Bay will clinch the division with five games to spare.
The anonymous personnel man told the Journal Sentinel that much of Green Bay's fortunes are dependent upon quarterback Aaron Rodgers and linebacker Clay Matthews, going so far as to say the Packers would be "screwed" without them.
A lot can change before these two NFC North teams face each other; we'll see if the Packers still have a stranglehold on the division when they play the Vikings in November and again January.
MORE NEWS: Want stories delivered to you? Sign up for our NFL newsletters.