NFL division winners and playoff seeds: Peyton Manning, Broncos will be staying home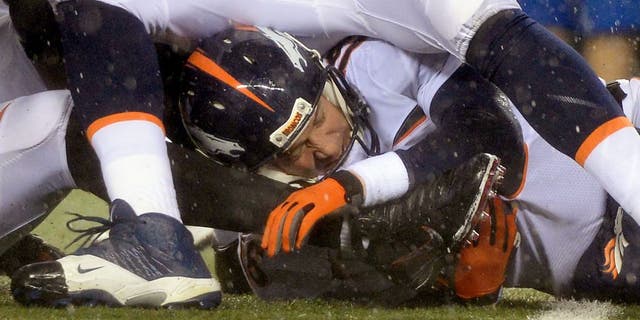 NEWYou can now listen to Fox News articles!
As kickoff of the NFL season approaches, FOXSports.com will preview how the year will play out, from the regular-season standings to round-by-round postseason predictions. Today, we start with the division winners and playoff seeds in parentheses. When you're done, feel free to let us know what you think about our picks.
AFC EAST
1. New England (1), 11-5: New England's preseason play outside of the quarterback position was far from perfect. But with Tom Brady no longer having to serve his four-game "Deflategate" suspension, the Patriots are once again unquestionably the team to beat during the 2015 season.
2. Miami, 9-7: This is the best team talent-wise that Joe Philbin has fielded since becoming Miami's head coach in 2012. A brutal schedule also looms with six of the first nine contests on the road and home games against Indianapolis and New England to end the season.
3. Buffalo, 7-9: It's the typical Rex Ryan team entering the season -- looking great on defense and suspect on offense because of uncertain quarterbacking.
4. New York Jets, 7-9: Sorry, Jets fans. Ryan Fitzpatrick isn't a playoff-caliber quarterback.
AFC NORTH
1. Baltimore, 10-6 (2): A franchise that squandered the chance to upset New England in last year's divisional round of the playoffs has the makings of launching another deep postseason run.
2. Pittsburgh,10-6 (5): Pittsburgh's ability to score oodles of points will help carry a defense being retooled under new coordinator Keith Butler.
3. Cincinnati, 10-6 (6): Barring a rash of injuries like the ones that ruined last season, there is no excuse if Cincinnati doesn't make the playoffs and win at least one game. This 2015 Bengals are that deep and talented.
4. Cleveland, 5-11: There is too much uncertainty on offense to reasonably expect Cleveland's playoff drought to end after 13 seasons.
AFC SOUTH
1. Indianapolis, 10-6 (4): As much offensive firepower as the Colts have, it's hard to feel too good about their Super Bowl chances with that defense.
2. Houston, 9-7: The Texans have all the signs of being a sleeper playoff contender thanks to the J.J. Watt-led defense.
3. Jacksonville, 5-11: The Jaguars are inching closer to respectability but aren't quite there yet.
4. Tennessee, 3-13: Rookie quarterback Marcus Mariota already has given Titans fans hope for the future. The problem is the current reality that Tennessee fields a roster sorely lacking other blue-chip talent.
AFC WEST
1. Kansas City, 10-6 (3): A nasty defense combined with an improved offense following the offseason signing of wide receiver Jeremy Maclin translates to Kansas City's first AFC West crown since 2010.
2. Denver, 9-7: A bold prediction: This will be the first squad that quarterback Peyton Manning has ever played on where the defense is markedly better than the offense.
3. San Diego, 8-8: Like the rest of the NFL's middle class, this is the type of team that can finish anywhere between 7-9 and 10-6.
4. Oakland, 5-11: The Jack Del Rio era gets off to an OK start, which marks progress for the Raiders.
NFC EAST
1. Dallas, 10-6 (2): Uncertainty about the running game and secondary minus DeMarco Murray and Orlando Scandrick makes me believe the Cowboys won't match last season's 12-4 record. But they are still the team to beat in the NFC East.
2. Philadelphia, 10-6: While I'm personally pulling for a Sam Bradford comeback, I just can't buy into him staying healthy for an entire season until he actually does it for the first time since 2012.
3. New York Giants, 6-10: The Giants are on track for a third straight season leading the league in injuries. The health situation at defensive end, safety and the offensive line is particularly troubling.
4. Washington, 5-11: RG3 isn't the only problem for the Redskins.
NFC NORTH
1. Green Bay, 12-4 (1): The loss of wide receiver Jordy Nelson (knee) stings and a young secondary must prove itself. Besides that, the Aaron Rodgers-led Packers are poised for another Super Bowl run.
2. Minnesota, 10-6 (6): Usually, the feel-good team of the offseason fails to make the playoffs like the 2014 New Orleans Saints and 2013 Miami Dolphins. The Vikings are poised to break that skid with running back Adrian Peterson returning to the field.
3. Detroit, 10-6: The early signs are positive for the Lions fielding a better rushing attack, but too many questions remain on the Ndamukong Suh-less defensive line for me to pencil Detroit back into the playoffs.
4. Chicago, 5-11: John Fox's reputation for quick turnarounds will be put to the test in his first season as Chicago's head coach.
NFC SOUTH
1. Carolina, 9-7 (4): I'm not as bullish as I was on the Panthers before wide receiver Kelvin Benjamin's season-ending knee injury. But with the division's other three teams in various states of rebuilding, Carolina should become the first team under the current conference format to win the NFC South three straight times.
2. Atlanta, 6-10: Although they've have made strides in reshaping their roster to new head coach Dan Quinn's liking, the Falcons aren't quite there yet.
3. New Orleans, 7-9: A future Pro Football Hall of Fame quarterback (Drew Brees) can only do so much. Efforts to upgrade the NFL's 31st-ranked defense are hitting a snag because of injuries and the Saints' decision to release their best pass rusher (Junior Galette) without having a proven replacement lined up.
4. Tampa Bay, 4-12: The Buccaneers could have more rookie starters than any other team, led by quarterback Jameis Winston. That means lots of growing pains for the NFL's worst team in 2014.
NFC WEST
1. Arizona, 10-6 (3): The 2014 Cardinals were seemingly headed toward a strong postseason run until Carson Palmer went down with a knee injury. Now that Palmer is back, the Cardinals should be headed toward their first division title since 2009.
2. Seattle, 10-6 (5): No team that lost in the Super Bowl has rebounded to win it the following season since the 1971-1972 Miami Dolphins. The Seahawks are talented enough to end the drought, but the defense may have to carry the squad (again) until a patchwork offensive line gets its act together.
3. St. Louis, 8-8: On sheer talent alone, the Rams have the makings of a top-five defense. There are far more questions on offense, most notably when running back Todd Gurley (knee) will be ready to play and how long it will take for the NFL's most inexperienced line to grow up.
4. San Francisco, 6-10: Few teams have ever experienced as rough an offseason as the 49ers between player departures, off-field trouble and other drama following head coach Jim Harbaugh's departure. A younger group of players as well as quarterback Colin Kaepernick must step up quickly to keep San Francisco a viable playoff contender under Harbaugh replacement Jim Tomsula.