NFL countdown: Packers vs. Rams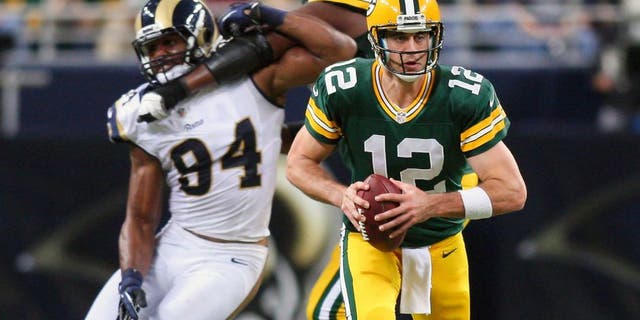 NEWYou can now listen to Fox News articles!
Since 2008, the Green Bay Packers and St. Louis Rams have played three times in the regular season, with quarterback Aaron Rodgers throwing a combined eight touchdowns and just one interception, the offense averaging 30 points a game and the Packers winning all three by an average margin of 16.7.
But St. Louis had a combined record of 3-12 when it played Green Bay in those games in 2012, 2011 and 2009, and it was winless at the time in the latter two seasons.
This Rams squad is different, better than those teams. The 2-2 record, which comprises impressive wins over Seattle and at Arizona and puzzling losses at Washington and versus Pittsburgh, is not indicative of how good they potentially can be, especially now that rookie running back Todd Gurley is healthy and in the backfield. With a dynamic rushing attack, a quarterback who doesn't turn the ball over much and one of the most intimidating defenses in the league, St. Louis is a dangerous opponent.
The Packers (4-0) are favored by 9.5 points at home Sunday against the Rams. Let's dig into the matchup a little bit and see if that line looks fair for this 12 p.m. CT game at Lambeau Field.
3 things to watch:
-- Todd Gurley. He's not a thing, but if you've listened to some of the early exaltation, you might believe he's more than human. Last week, in his second NFL game but first sustained action since suffering a knee injury in college, Gurley was an unstoppable force. Against the Cardinals, he carried 19 times for 146 yards (7.7 average per rush) and was indomitable in the fourth quarter; already he's earning comparisons to some of the NFL's greatest running backs. Green Bay's defense has performed admirably against the run in recent weeks, containing Seattle's Marshawn Lynch, controlling Kansas City's Jamaal Charles and completely corralling San Francisco's Carlos Hyde over the past three games (a combined 34 carries for 110 yards, or 3.2 average). But on the season, largely because of a Week 1 gashing by Chicago's Matt Forte, the Packers still rank 23rd in the NFL in rush defense and are allowing 4.8 yards per carry. Another week, another game Green Bay must prove it can stop the run.
-- Can the Packers get the best of Janoris Jenkins? The Rams' talented and instinctive cornerback likes to gamble. He's got two interceptions already this season, plus four pass breakups, but his risk-taking can be exploited, especially by offensive players as smart as Rodgers and his receivers. If Jordy Nelson were playing, this would be a marquee matchup on the outside, but instead Jenkins will probably cover the veteran James Jones, who's not fast but has showed his craftiness and sure hands in becoming the Packers' leading receiver. Look for Jones to take a page out of Nelson's route-running book and try one of his patented double-moves; if the overeager Jenkins bites on the fake, Jones could be wide open with plenty of green space for a Rodgers deep bomb.
-- Will the Packers' ravenous pass rush keep racking up the sacks? Green Bay's defense has registered 13 sacks over the past two games and, with 17 on the season, is now tied with St. Louis for second in the NFL. Led by do-everything linebacker Clay Matthews (3.0 sacks) and edge rushers Julius Peppers (3.5) and Nick Perry (3.0), as well as disruptive defensive linemen Mike Daniels (2.5) and Jayrone Elliot (2.0), the Packers have been able to penetrate the pocket consistently and upset opposing offenses, which has resulted in errant throws and a pair of interceptions for cornerback Sam Shields in the past two games. They'll need to keep getting pressure on Sunday. The Rams' offensive line isn't considered great but it's only allowed six sacks this season, and quarterback Nick Foles is careful with the ball (one interception, one fumble, 96.5 passer rating).
2 things to remember:
-- The last time the Packers were 4-0 was 2011. That year, they started their Super Bowl-defending season 13-0, finished at 15-1 and lost in the divisional round of the playoffs. That team, which led the league in scoring, was powered by a historic passing offense. But it had its flaws, notably an unimposing ground game and a porous defense that allowed the most yards in the league and what was then the most passing yards ever. Nelson, Jones and Randall Cobb are some of the only current holdovers from that 2011 team, but now Nelson is out for the year, Jones is four years older and Cobb, who was just a rookie then, has a dinged-up shoulder. Still led by the peerless Rodgers, the aerial attack is different this season, less explosion and more precision. The Packers rank 21st in passing yards per game (237.0), but Rodgers leads the league in touchdowns (11) and has yet to throw an interception -- and, yes, as we all have heard plenty, he also hasn't thrown a pick at home since, like, the 1920s. In addition, the offense now is augmented by a robust running attack, with Eddie Lacy and James Starks, which ranks third in the NFL in rushing yards per game (136.3). St. Louis' run defense is ranked 26th and allowing 120.3 rushing yards per game; on the ground is where Green Bay can do its damage.
-- Tavon Austin is dangerous. The Rams' diminutive playmaker hadn't really lived up to the dynamic hype his first two seasons, but this year he's already scored four touchdowns (two receiving, one rushing, one returning) and leads the team in yards from scrimmage (215). As a punt returner, especially, he could threaten the Packers, given how punter Tim Masthay has struggled this season with distance and accuracy. Green Bay needs to know where No. 11 is on the field at all times.
1 key matchup:
Packers offensive line vs. Rams pass rush
Green Bay's offensive line has held up, but it's not often been pretty. Last week, the Packers gave up three sacks to the 49ers, and Rodgers' biggest pass plays came when he scrambled around and got outside the pocket. He's one of the best in football at doing that, but it's not something the team wants him to have to do regularly. And against the Rams, such franticness could have painful consequences. The Rams have a fearsome defensive line. From top to bottom, the unit has a ton of talent and they sub in often, wearing down opposing offensive lines with their speed, power and tenacity. With 10 sacks by defensive linemen, the Rams can get pressure from just their front four, something that's always caused problems for Rodgers. But St. Louis also likes to blitz from the secondary, as defensive backs have notched four sacks of their own. If the Rams can get pressure from only their defensive line, the Packers could be in trouble. But if they start bringing cornerbacks and safeties, Rodgers, who's also one of the best passing against blitzes, should pick them apart downfield.
Follow James Carlton on Twitter