NFL conference championship expert picks: Our predictions for both games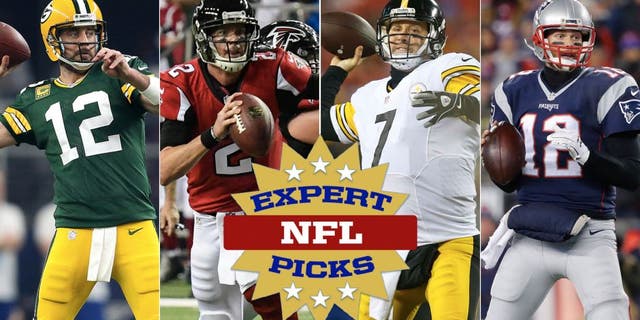 Chase, Smiley and WhatIf all went 3-1 for the top mark of divisional playoff weekend, meaning Brett still leads the race for second place with a one-game lead over WhatIf. Dieter and Lynch, our overall champion, each went 2-2.
On to conference championship weekend, where the Packers head to Atlanta to face the Falcons and Tom Brady's Patriots host Ben Roethlisberger's Steelers.
It's a pretty homogenous board this week. There was no love at all for the Packers in Atlanta. Only Chase picked the Steelers to swing the upset in Foxboro. As a result, Smiley has clinched at least a tie for second place -- he'd have to be wrong on the Super Bowl and WhatIf right for those two to finish tied.
Enjoy the games (watch the NFC Championship on FOX, with coverage starting at 1 p.m. ET). Let's get to the picks. (Mobile users flip to landscape mode to view.)
Participating this year:
-- €" Chris Chase, Dieter Kurtenbach, Andrew Lynch and Brett Smiley, FOX Sports writers;
-- " Peter Schrager, FOX Sports NFL insider (Note: Peter will not be participating for the playoffs);
-- " And WhatIfSports, FOX Sports' simulation engine for computer-generated picks.
Compete against the experts each week in Pro Pick'em.