NFL Combine: Whose stock is up and whose is down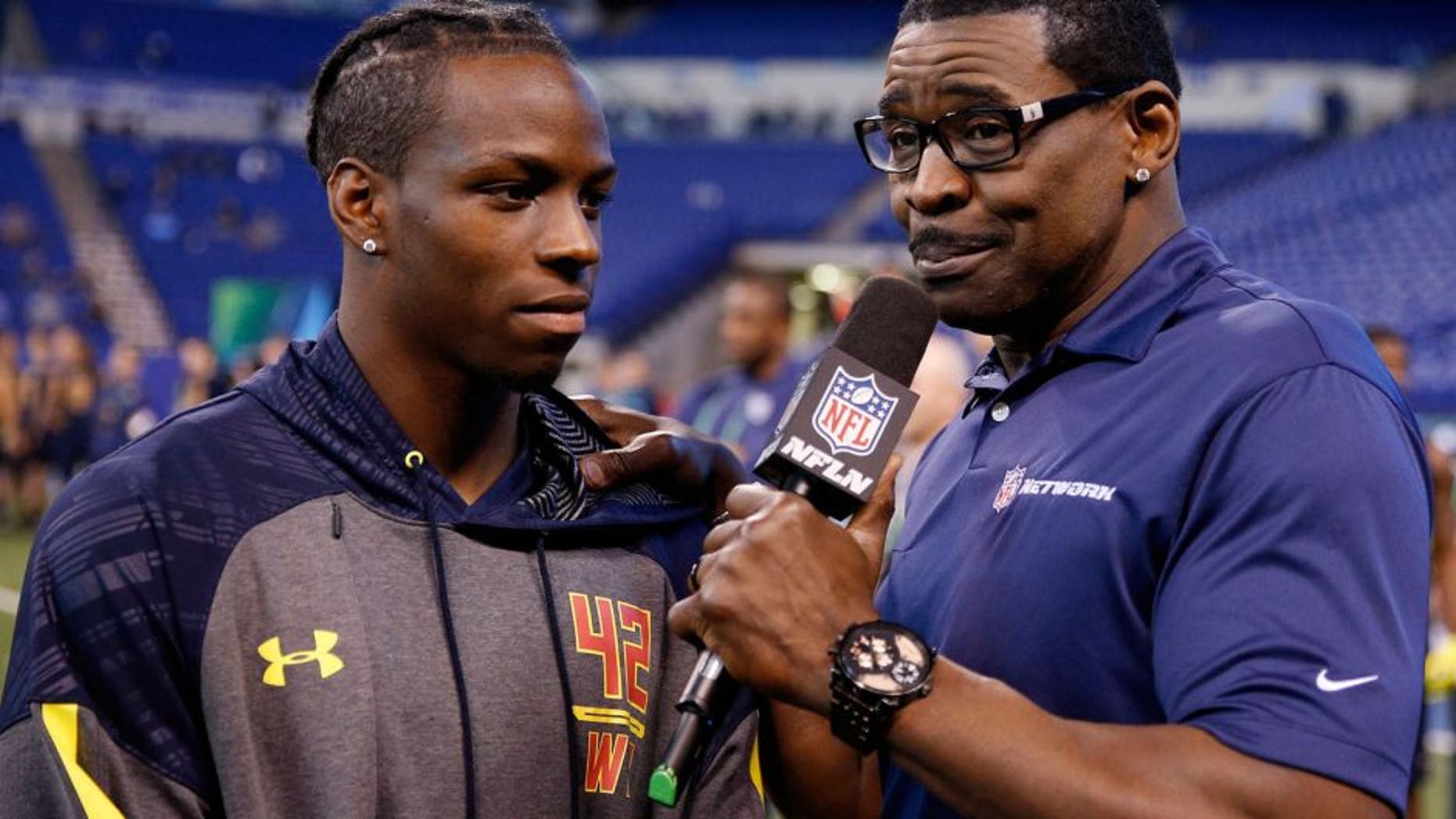 INDIANAPOLIS -- It's still pretty early at the Combine, but here some reactions from folks inside the NFL on the action here after two days of workouts.
STOCK UP
Garret Bolles, OT, Utah: Word out of Utah was that the former JC transfer probably could've used another year of developing more upper body strength, but he's allayed some of those concerns. Scouts LOVE his toughness and his feet. Proving he was the nation's top JC prospect two years ago for good reason. The 6-5, 297-pounder's athleticism was evident in drills and also with his 9-6 broad jump -- tops among all O-linemen -- and an impressive 4.95 40.
Alvin Kamara, RB, Tennessee: Tough he wasn't a featured back at Tennessee. Kamara's made a lot of big fans in the NFL scouting world. Earlier in the week he interviewed well, and on Friday he performed extremely well. He vertical jumped 39.5 inches and broad-jumped 10-9, displaying the type of explosiveness coaches say they like from his film.
Forrest Lamp, WKU, OG: He he ran a disappointing 5.00 in the 40, but scouts really liked how he performed in drills and his arms measured a little longer than they did at the Senior Bowl, going from 31 1/8 to 32 1/4. That probably doesn't change the perception that he must move inside to guard or center, but it certainly doesn't hurt. He also displayed excellent strength doing 34 bench reps at 225.
Chris Godwin, Penn State, WR: As the Nittany Lions emerged as one of the best stories in college football last season, it was Godwin's big-play, often-acrobatic catches that helped compliment dynamic RB Saquon Barkley. The question among scouts was Godwin's speed. Word was he was more of a high-4.5 guy. On Friday, I ran into Penn State recruiting staffer Andy Frank who told me he expected Godwin to run much faster than folks expected and go around 4.45. Godwin did better, blazing a 4.42. He also displayed his wheels, ranking among the fastest in both shuttles as well, to go along with those soft hands, body control and terrific ball skills.
Deshaun Watson, Clemson, QB: He showed up bigger than some probably thought at 6-2, 221. That's sturdy for a guy who had been in the 6-2, 205-210 range early on in his career at Clemson. By far the most successful college QB in this crop also was the most impressive passer, according to several observers we spoke with after Saturday's workout. For my money, Watson is the safest Top 10 pick of all the quarterbacks in this group, and I feel like he helped that relative to Mitch Trubisky and DeShone Kizer.
John Ross, Washington, WR: The biggest talk was surrounding Ross blazing a Combine record 4.22 40, breaking Chris Johnson's mark of 4.24. Problem was he injured his hamstring at the end of it, prompting one NFL insider to remark, "Going in here, I knew two things about John Ross: He's fast and he's fragile. And that's still all we know about him."
STOCK DOWN
Wayne Gallman, Clemson, RB: He runs hard and breaks a lot of tackles, but in a deep running back class he struggled to display the kind of explosiveness scouts were hoping to see, vertical-jumping just 29 inches and clocking a 4.6 40.
Corey Clement, Wisconsin, RB: The Badgers have cranked out plenty of good backs, but Clement was slower than Gallman, barely cracking 4.70, and looked stiff in position drills.
Isaiah Ford, Va. Tech, WR: Teammate Bucky Hodge was as explosive as he was hyped to be. Ford, though, only clocked a 4.6 and was inconsistent catching the ball, and probably passed up by several others in a wideout group that doesn't have any superstar talents but several really strong prospects in the late first to high third round.
The USC O-line: One NFL coach called it an embarrassing showing by the Trojan linemen, low-lighted by Damien Mama's plodding 5.84 40, and Chad Wheeler and Zach Banner weren't much better. Mama, a former heavily touted recruit, struggled moving in drills as well and like Banner left folks really concerned about his conditioning and work ethic.