NFC North Stock Market: Week 5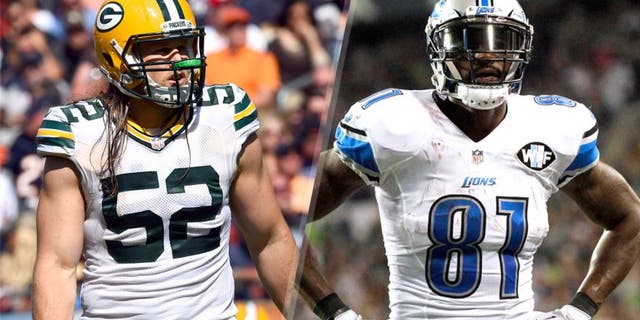 NEWYou can now listen to Fox News articles!
The NFL regular season is more volatile on a week-to-week basis than the Stock Market. A team that lost by several touchdowns one week can follow up with a blowout victory the next. Players who are responsible for the blame one week could be responsible for a game-winning play the next.
With Week 4 in the books, let's take a look at three NFC North players who saw their stock rise, and three NFC North players who saw it fall.
THREE UP
Martellus Bennett, tight end, Bears
Quarterback Jay Cutler rekindled his old chemistry with Bennett on Sunday, and the duo led Chicago to its first victory of the season. The big-bodied tight end was targeted a season-high 13 times against the Raiders. He finished the game with 11 catches for 83 yards and a touchdown, propelling the Bears to a 22-20 win. With wide receiver Alshon Jeffery out, Bennett has taken over as the team's top pass-catcher.
Clay Matthews, linebacker, Packers
The Packers seem to be getting by on the arm of quarterback Aaron Rodgers, but their defense is actually winning them games. Matthews is the biggest playmaker on Green Bay's defensive unit, and he helped stifle San Francisco's offense in a 17-3 win on Sunday. His sack on 49ers quarterback Colin Kaepernick was his third in the last two weeks. Matthews looks comfortable playing inside linebacker, and he hasn't lost a step as a pass-rusher.
Pernell McPhee, outside linebacker, Bears
The free agency acquisition of McPhee is starting to look like the first great personnel move made by the new regime in Chicago. The former reserve pass-rusher for the Ravens is now the Bears' best defender. After registering his first two sacks of the season in Week 3, McPhee took on a leadership role and guided the Bears to their first victory on Sunday. He did not record a sack against Oakland, but he intercepted Raiders quarterback Derek Carr and led the team with eight stops (one for a loss).
THREE DOWN
Calvin Johnson, wide receiver, Lions
Megatron might still get his 1,000-yard season as the leading receiver on a bad team, but it's clear that his impact on the game isn't what it once was. He has yet to produce a 100-yard game, as Detroit's offense has shown few signs of life. The once-dominant pass-catcher is sometimes handled with single-coverage now. Johnson had a chance to win the game against the Seahawks on Monday night, but safety Kam Chancellor preserved Seattle's 13-10 victory by punching the ball out of his hands just before it crossed the goal line.
Charles Johnson, wide receiver, Vikings
Coming into the 2015 season, the Vikings had high expectations for Johnson. However, after three games of piddling production, he sat out Week 4 with sore ribs. Stefon Diggs and Adam Thielen made the most of their reps in his absence. Diggs led the team with six catches for 87 yards in the 23-20 loss to the Broncos, and Thielen was not far behind with six catches for 70 yards. Minnesota may want to reconsider Johnson's role on offense when he comes back.
T.J. Clemmings, right tackle, Vikings
The Vikings couldn't catch the Broncos on Sunday because quarterback Teddy Bridgewater was constantly running for his life. Although Clemmings was not responsible for all seven of Denver's sacks, the right tackle allowed the most pressure in Week 4. The fourth-round rookie struggled to contain Broncos outside linebacker Von Miller, as expected. Clemmings will have to improve with the rest of Minnesota's offensive line. Otherwise, Bridgewater's passing game has no chance to take off this season.