Neymar keeping Barcelona humming in Messi's injury absence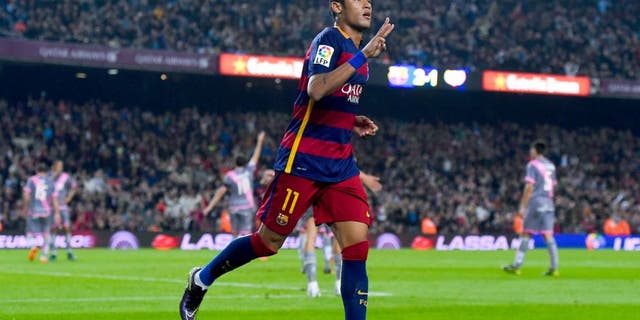 NEWYou can now listen to Fox News articles!
A couple of seasons ago, when Neymar was still a relative newcomer to La Liga, he offended the players of Rayo Vallecano. He also made a bad impression on a portion of a Spanish soccer public still curious about how closely matched was the actual talent of the flashy young Brazilian to the hype that had accompanied his move from Santos to Barcelona some six months earlier, in July 2013.
What was Neymar's act in bad taste? A funky dance routine, known as the 'Lepo Lepo,' he had performed with compatriot Dani Alves to celebrate the sixth goal in a rout of Rayo at Barca's Camp Nou.
The defeated team took it as gloating. It would not be the last time Neymar aroused the anger of opponents, and of those more puritanical observers -- Spain has many -- who like sportsmen to behave nobly to one another, who disliked Neymar on account of his perceived cocksureness, his irreverence, his provocative behavior.
Within the Atletico Madrid dressing room, for instance, there are a number of senior players who hold and harbor a belief that Neymar could do with learning some manners. Perhaps the Brazilian could consider tempering his brilliance on the ball with a little humility, with adding some sobriety to the showiness that is so fundamental, and thrillingly so, to his game.
We know a lot more about Neymar now. And La Liga was obliged to recognize him on Saturday night, at the end of another high-scoring Barcelona win over Rayo at Camp Nou. Neymar emerged as the leading scorer so far in the 2015-16 campaign, and as a 23-year-old with an impressively thick skin against outside pressures and criticisms.
Various legal probes into the finances behind his enormous transfer to Barcelona, and lately into his tax affairs, have apparently left him unworried. Or, at least those setbacks have bounced off his well-constructed suit of professional armor so effectively that the smile is always there. The talent does not hide. The coolness is evidently not an act but a genuine quality.
Neymar scored his fifth, sixth, seventh and eighth goals of the league campaign in the 5-2 win over a Rayo side whose reputation as a team never happy to be patronized, nor to cower in the face of clubs with budgets that tower over their own, was maintained. In fact, Rayo had led 1-0 for a period in the first half -- in spite of the eventual score line. For good measure, Neymar provided the cross from which Luis Suarez scored Barca's fifth.
Four goals in a match is the kind of tally Lionel Messi tends to supply. At the moment, Barcelona have no Messi, because of the muscle injury that will keep him out of action for at least another month.
Without Messi, they need a match-winner to present himself as reliable and magical as Messi usually is. Enter: Neymar. The Brazilian looks very different this autumn. That's partly to do with the latest hairstyle, close cropped, almost shaven, an image unlike the blowy, or styled cuts he normally favors.
He also looked very unlike Messi for the first two goals he converted against Rayo. They were both penalties. Messi has lately accumulated rather untidy record from the spot: the Argentinian has been, on average, missing, or seeing saved, about half of the last dozen penalties he has struck for Barcelona. Neymar is not perfect from 12 meters, but he was against Rayo. One struck low to goalkeeper Tono's left; the next, low, to Tono's right.
Who earned the penalties? Neymar, of course. In fact, he might have been awarded four penalty kicks on the night. None of the tumbles he took under challenges in the Rayo penalty area were dives or simulations of the sort that have earned him some of his fame as a provocative player.
Neymar did not do play-acting against Rayo, although there was one idiosyncratic jive after his third goal. When he left the field, he praised the competitive zeal, and ambition of his opponents: "I congratulate them on the very hard game they gave us," he said. "They are always tough." No gloating at all.
Rayo had alarmed Barcelona. Claudio Bravo made a number of sharp saves in between the away team scoring their first goal, for the shock lead, and their second, which brought them to 5-2 and eager for a third.
If Barcelonistas finished the evening warmed by the efficiency and confidence with which Neymar provided the sort of leadership Messi so often has, they also fretted at the fact Barca had let in two goals to take their total conceded in eight league matches into double figures. That's a standout statistic at the top of the table: Barcelona may have, in Neymar, the most prolific scorer -- but they are in the lower half of the division when it comes to how leaky they are at the back, with 11 conceded so far.
Compare Real Madrid, who maintained their mean streak, with a 3-0 win at home to Levante. Keylor Navas, the goalkeeper Madrid were ready to sell in late August, has let in just two goals all campaign. In his own way, Navas, replacement for the departed Iker Casillas, is Madrid's Neymar of 2015-16 so far: The star who looks ready and able to meet the task of filling the space vacated by an absent hero.