Neymar And Brazil's National Team Keep Tabs On LeBron James And NBA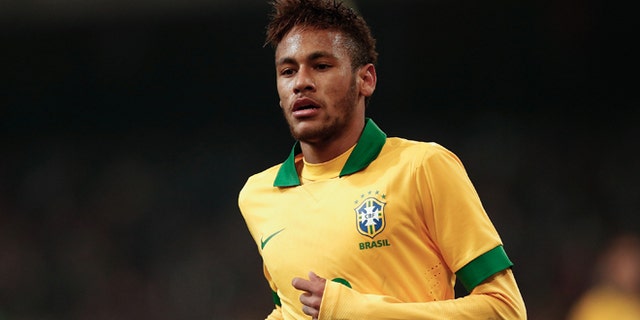 MIAMI (AP) – Brazil's soccer players are also savvy when it comes to basketball. They know all about LeBron James, who clearly crosses borders.
Neymar, the acclaimed Barcelona striker, and several of his Brazilian teammates took time off from training for their exhibition game against Honduras to watch the Miami Heat play the Milwaukee Bucks on Tuesday night.
"I'm a fan of LeBron James and it was a pleasure to come here to watch the game," Neymar said. "I felt like a kid."
Neymar is starting to draw LeBron-like attention on the international stage as next year's World Cup draws closer for host Brazil. It's a showcase Brazil hopes will culminate with a sixth world title.
"It is a big responsibility," he said. "I will do everything possible to finish on top. We know that is everyone's dream."
Not having to take part in the South American qualifiers because it is the host country, Brazil has played 11 exhibitions this year. In June, Brazil also hosted the Confederations Cup and defeated reigning World Cup champion Spain 3-0 in the final.
For Brazil, Saturday night's match against Honduras at Sun Life Stadium will be the first of a two-game North American stop to end the year. Brazil also will play Chile on Tuesday in Toronto.
"This is another opportunity to evaluate the players that have been called for these two games and give us a better indication who will be selected for the World Cup," Brazil manager Luiz Felipe Scolari said before the team left for Miami.
Scolari also has called up Chelsea defender David Luiz and his Premier League club teammate William, Barcelona defender Daniel Alves, Paris Saint Germain defender Thiago Silva and AC Milan forward Robinho.
"It's a privilege and a dream to play for the national team," William said. "We are all here working hard for Saturday's match."
Scolari guided Brazil during a previous stint from 2001 through its fifth World Cup championship in 2002. He took exception to the notion by some that Honduras will provide an insufficient test.
"If you remember well, they beat us in Copa America," Scolari said, referring to Honduras' 2-0 victory over Brazil in the 2001 regional tournament. "Everybody was upset with me. I was upset with myself, too. I don't accept that Honduras is an easy opponent. I respect their team."
Honduras qualified for its second consecutive World Cup, finishing third in the CONCACAF regional group.
Manager Luis Fernando Suarez has summoned two players from England for the Brazil game — forward Wilson Palacios (Stoke City) and Maynor Figueroa (Hull City).
Like Brazil, Honduras will have a second North American exhibition stop on Tuesday — World Cup-bound Ecuador in Houston.
Follow us on twitter.com/foxnewslatino
Like us at facebook.com/foxnewslatino