Newlywed Chad Knaus says wife brings 'good balance' to his life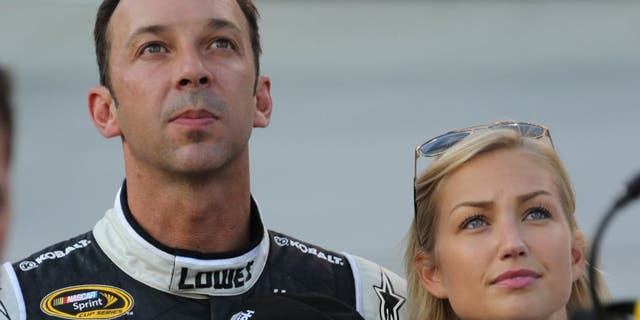 NEWYou can now listen to Fox News articles!
Widely known as one of the hardest-working people in the Sprint Cup Series garage, Chad Knaus apparently hasn't slowed down a whole lot since tying the knot with former Miss Sprint Cup Brooke Werner in late August.
Knaus, a six-time Sprint Cup champion crew chief at Hendrick Motorsports with driver Jimmie Johnson, is enjoying life as a married man, however.
"Brooke is a great teammate. She really is," Knaus told FOXSports.com during the final day of the Charlotte Motor Speedway Media Tour presented by Technocom. "She understands what it is that I have to do to perform day in and day out. It's a great thing, because she's just got a completely different perspective on life than what I do. So it's been nice. It really is.
"She's a great teammate, great partner, a huge supporter of mine. She doesn't complain about when I have to work, we do a lot of fun things together, so it's been great."
As for any surprises that nearly five months of matrimony have brought his way, Knaus indicated it's been a pretty smooth ride. In fact, Brooke --" a former Miss Vermont USA who stepped down from her role as Miss Sprint Cup in March 2014 -- seems like the perfect complement to her workaholic hubby.
"It's actually so far been fairly easy, to be honest with you, because communication's pretty good, we like each other, we have fun, we have similar likes," Knaus said. "She brings good balance to me because she is more of an artsy-type person and she enjoys painting and singing and acting and drawing and stuff like that. That's something that I'm not too familiar with and it means a different perspective on life, so I like that. It's neat. Jimmie (Johnson) and (wife) Chandra own an art gallery, so there's a unique connection there which is always kind of fun. So it's been a lot of fun."
Even though Brooke served as Miss Sprint Cup for more than a year, Knaus said she's actually not too much of a NASCAR buff.
"She's pretty green went it comes to racing," he said. "She was only in motorsports for a season and a half or so, so her racing knowledge is limited, for sure, but I can tell you she enjoys watching the 48 team and what it is that we do."