New York Knicks' Carmelo Anthony Scores Big Over New Rivals the Brooklyn Nets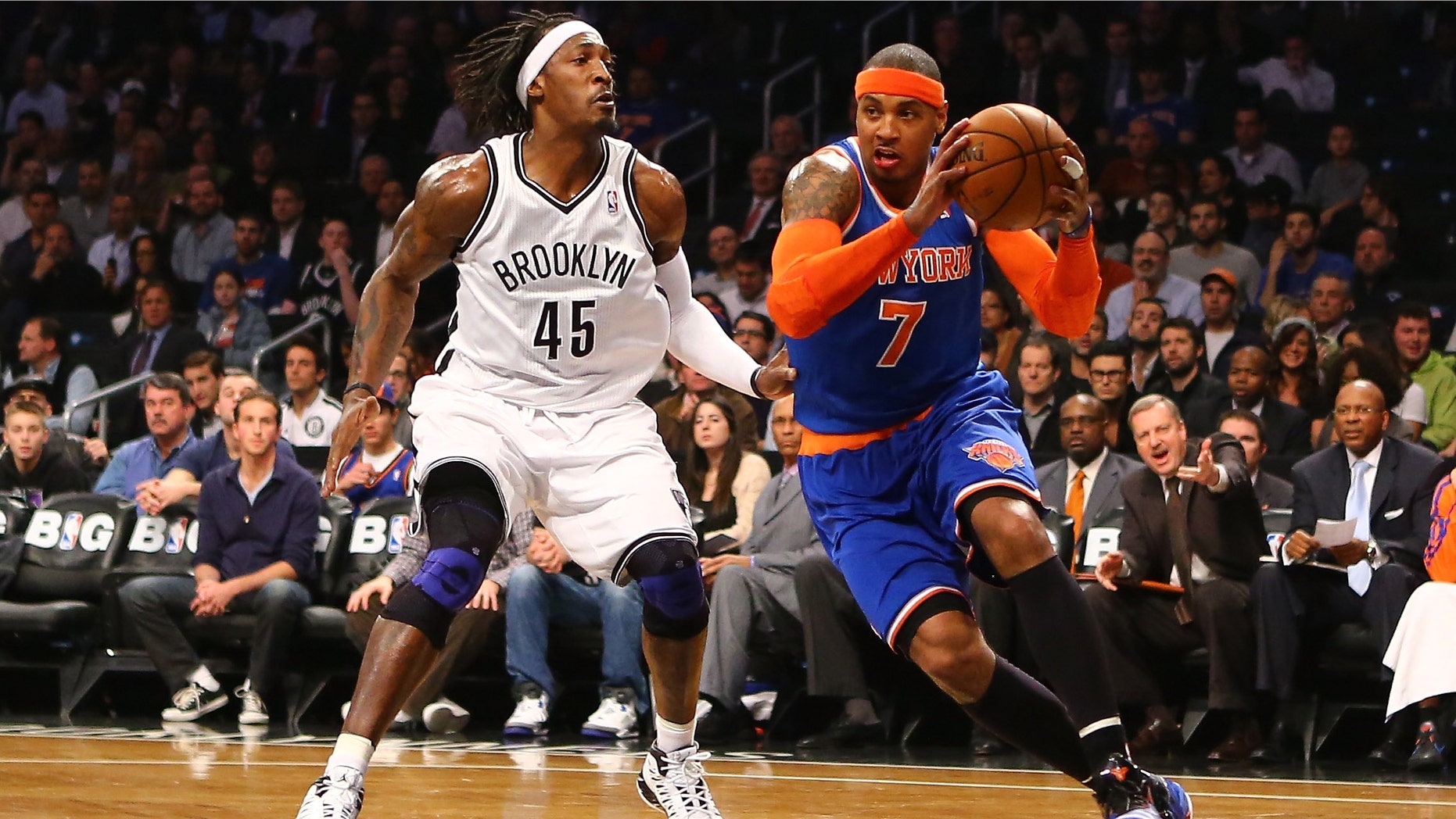 NEW YORK – It's official: the Knicks-Nets rivalry is on.
"I hate him," Brooklyn Nets guard Deron Williams said of New York Knicks player Jason Kidd and his tie breaking 3-pointer Tuesday night.
While Williams may have been kidding (the point guards are friends), similar sentiments arose among Nets fans as Carmelo Anthony scored a season-high 45 points helping the Knicks rally from an early 17-point hole to beat Brooklyn 100-97.
Kidd finished with 18 points against his former team, who used to dominate the Knicks when he played in New Jersey. He pumped his fist afterward in what he said was as much emotion as he shows, though denied taking any special pleasure in beating the Nets.
"I'm a competitor. I want to win," he said.
Now the series is tied at 1-1 since the Nets moved to Brooklyn, both games coming down to the tense final minutes.
"It is (a rivalry). I mean, after that first game, we might as well accept that," Anthony said. "It is what it is. They're on our division, we see them four times a year. It is a rivalry. It's great for New York to have that in Brooklyn and in Manhattan. When we come here it's a battle. When they come there, it's going to be a battle. We expect that."
It is a rivalry. It's great for New York to have that in Brooklyn and in Manhattan. When we come here it's a battle. When they come there, it's going to be a battle.
Andray Blatche scored 23 points in place of Brook Lopez, who missed his sixth straight game with a sprained right foot. Williams added 18 points and 10 assists, and Reggie Evans grabbed 18 rebounds, but the Nets lost their fifth straight.
Gerald Wallace scored 17 points, but both he and Williams missed potential tying 3-pointers on the last possession after Kidd broke a 97-all tie with his 3-pointer from the left side while being fouled by Jerry Stackhouse.
Kidd missed the free throw in an otherwise terrific effort for the 39-year-old point guard who helped carry the Knicks while fellow point guard Raymond Felton was struggling through a 3-for-12 night. Kidd had six rebounds and six assists, playing 38 minutes.
There were wild swings in momentum and crowd support in the second half, once the Knicks had gotten themselves untracked after the Nets threatened to run them off the floor in the first quarter.
The crowd was loud and energetic, the players and fans eventually matching the playoff-like intensity from the first meeting, a 96-89 Nets victory in overtime here on Nov. 26. That had left both teams tied atop the Atlantic Division at 9-4, but the Knicks have since gone 7-1 to surge to the top of the Eastern Conference, while Brooklyn has gone 2-5.
It occasionally felt like a Knicks home game, with "MVP! MVP!" chants for Anthony — which the Knicks think he deserves — and a black-and-orange dressed Spike Lee sitting courtside and yelling at the referees.
"He's had some pretty good games under my tutelage but I just think tonight he wanted it so badly, man," Knicks coach Mike Woodson said. "He made shot after shot."
The Brooklyn native never wanted to play in New Jersey, preferring instead a trade to the Knicks, and Kidd eventually wanted out after leading the Nets to two NBA Finals but never the local popularity of the Knicks.
But despite their efforts, the Nets had plenty of chances to send their fans home happy.
"This was a winnable game," Nets coach Avery Johnson said, "but we just couldn't quite close it."
The Nets scored the first five points, gave up a 3-pointer to Kidd, then outscored the Knicks 16-2 over the next five-plus minutes to open a 21-5 lead on Blatche's layup with 4:29 left in the first quarter. Brooklyn hit nine of its first 11 shots, led by as much as 17 and was ahead 30-16 going to the second. Blatche had 12 points on 6-of-7 shooting in eight minutes.
The Nets still led by 16 with 4:49 remaining in the half, but Anthony nailed a jumper and 3-pointer, triggering an 18-6 run to end the half that he capped with a layup with 1.8 seconds left, bringing the Knicks within 53-49 as they headed to the locker room.
The Knicks scored the first five points of the second half to take their first lead, but Williams quickly put the Nets back ahead and Blatche helped them stay there. Brooklyn was back up by nine late in the third quarter before settling for a 79-74 lead.
Brooklyn held the lead until Kidd tied it a 91 on a 3-pointer with 4:01 to play. The Nets lost a potential go-ahead basket when Blatche's tip in was ruled an offensive violation, and Anthony tipped in his own miss to give New York a 93-91 edge with 2:47 to play.
The Nets tied it again at 95 when Wallace — who just moments before had banged knees hard with J.R. Smith and could barely stand — tipped in a miss. Two free throws by Anthony followed by Joe Johnson's basket set the stage for Kidd's go-ahead shot.
Based on reporting by the Associated Press.
Follow us on twitter.com/foxnewslatino
Like us at facebook.com/foxnewslatino