New York Giants star Odell Beckham Jr. accused of paying woman for sex: report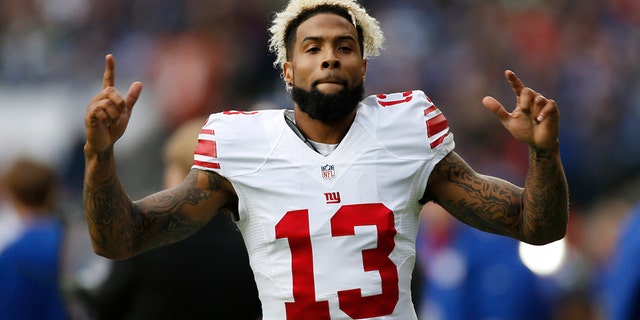 New York Giants wide receiver Odell Beckham Jr. is being accused of attempting to pay a woman for sex, by a man already suing the athlete for $15 million over an alleged assault back in January, according to a report.
TMZ Sports reported Tuesday that new court documents filed by Ishmael Temple, a former friend of Beckham's, claim there's evidence to prove that the star player offered to pay a woman for sex.
Temple's attorney sent emails to Beckham's legal team claiming to "have evidence of your client offering $1k to sleep with a girl from Arizona visiting L.A. known to my client."
Temple's attorney Emmanuel Nsahlai points out in the email exchange that the allegation to "solicit prostitution" is a felony, the New York Post reported.
"I believe its a felony, but you are free to look that up yourself," he says.
NEW YORK GIANTS STAR ODELL BECKHAM JR. APPEARS WITH POSSIBLE DRUGS IN VIRAL VIDEO
Temple's attorney also accuses the player of drug use, according to the report.
Beckham has vehemently denied the allegations through his attorney.
The new accusations come after Temple initially sued Beckham for $15 million over an alleged assault. He claims he suffered serious injuries, including broken teeth, when Beckham ordered his employees to attack him, TMZ Sports reported.
Beckham also denied being involved in any violent assault.