New York Giants LB Jon Beason reflects on what it's like to have his passion taken away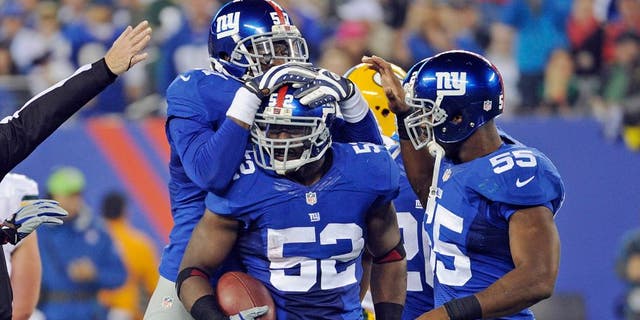 For some NFL players, football is their one true passion. You've seen stars of the past have trouble walking away from the game even when all signs point in that direction. Just look at Brett Favre's final few years in the league. New York Giants linebacker Jon Beason is another human being who is built in that mold.
In 2014, a serious toe injury forced Beason to miss the majority of the regular season. Beason was also forced to miss most of the team's offseason program. The result was a world without football for a player who has centered his life around the game.
When speaking to reporters on Thursday, Beason was asked if he can relate to what Giants wide receiver Victor Cruz is currently going through as he attempts to make a comeback from a gruesome patella tendon injury. What transpired was an honest and insightful look into what Beason and many other NFL players go through when they are forced to miss an extended period due to injury.
'I think there are some benefits to having something you love taken away from you," Beason told reporters, per Big Blue Interactive. "In my situation, maybe one too many, I will say. I think when you can step back and see how the games just keep going. Someone else takes your position, and the games are still sold out, fans are still crazy about the Giants. You thought you were a big part of the equation and then you realize you are really just paying rent. I think there are some benefits in that, having it taken away from you, and I think you value it when you get it back. I look forward to him (Cruz) having a huge season this year."
Both Beason and Cruz have avoided the dreaded PUP list, and both players will be participating in training camp's opening practice on Friday. Cruz will most likely be eased into things, but Beason expects to be a full participant.
(h/t Big Blue Interactive)