New Year's resolutions: Eight things Tom Jensen would like to see in NASCAR in 2016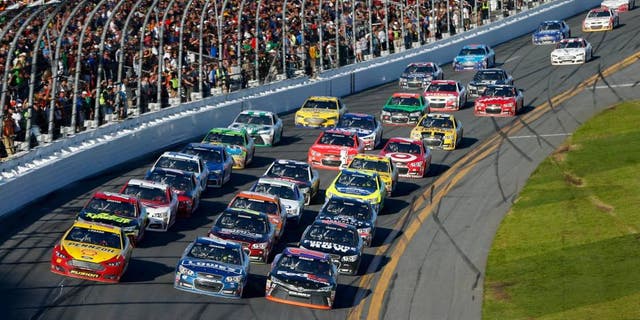 NEWYou can now listen to Fox News articles!
This time of year, everybody is making New Year's resolutions -- lose weight, be nicer, make more money, learn to speak Portuguese, etc. I'm no exception, so here are eight New Year's resolutions that I'd like to see become reality in NASCAR for 2016.
8. No rules changes to the cars: For the fourth consecutive year, the NASCAR Sprint Cup Series cars will have a new aero package in 2016. Constant changes cost team owners millions of dollars. Let's keep the cars the same for two years in a row and see if it works next year as well as this year.
7. Consistency in restarts: There were far too many restart debacles in 2015, most noticeably at the end of the fall Talladega race. However NASCAR wants to police restarts, they need to do it consistently, for all 36 races.
6. New tracks added to the Chase: The latest format for the Chase for the NASCAR Sprint Cup has produced huge drama over the last two seasons, which is great. When NASCAR puts together the 2017 schedule late this summer, let's hope they build on that drama by adding at least one new Chase race. Like at, maybe, Watkins Glen or Sonoma.
5. Give team owners some security: Much was written in 2015 at the attempts by team owners to get more security for their multi-million dollar investments. No one knows for sure what exactly such an arrangement would look like, but the owners deserve more of a stake in the sport than they have now.
4. New winners: Yeah, the big dogs dominate NASCAR, but it's fun when a driver wins for the first time or a smaller team steals a victory. There are a whole lot of underdogs out there who could shake things up with just one win.
3. Less rain: I flippin' hate rain on race day. Hate it, hate it, hate it. Please, Mother Nature, no more weather debacles like we had at Bristol, Daytona and Phoenix, among others.
2. Good final season for Stewart: Love him or hate him, Tony Stewart is one of the best race-car drivers of all-time. And even though he can be a royal PITA if you catch him at a bad time, he is also one of the most interesting and opinionated interviews in NASCAR. He has a genuine passion for all forms of motorsports, that few others have. In his final season, he deserves to have some moments of glory.
1. More hate: There was a song in the 1960s that went, "What the world needs now is love, sweet love, it's the only thing that there's just too little of." OK for the world, maybe, but not in NASCAR. In NASCAR, you need hate. Racing is at its most compelling when two championship-caliber drivers are royally pissed off at each other and all hell breaks loose. Last year, it was Matt Kenseth vs. Joey Logano. In 2013, it was Kenseth against Brad Keselowski and Jeff Gordon against Keselowski, too. Who will step up and be a troublemaker in 2016? I can't wait to find out.