New XFL commissioner says league will require its players to stand for national anthem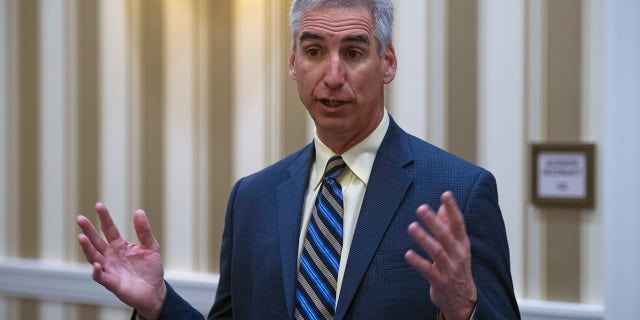 NEWYou can now listen to Fox News articles!
Top NCAA executive Oliver Luck is leaving his post to become the commissioner of a reboot of the XFL, professional wrestling mogul Vince McMahon announced Tuesday.
Luck, who is a former NFL quarterback and father of Indianapolis Colts star Andrew Luck, will start his new gig July 1 with the league set to launch in 2020.
He said that the XFL will allow him to reimagine how football is played on the field and delivered to fans.
"Opportunities like this come along very infrequently," Luck told the Associated Press. "You've got Vince, who is a visionary. A well-capitalized effort. A guy who has passion for the game, but realizes that there are others who have lived and breathed the game for decades who he was able to bring on board.
He said he wants to deliver great football, which he said has been "one of the failings of the original league."
During the launch announcement in January, McMahon made it a point to draw a hard line on national anthem rules, saying it would be "appropriate" that future XFL players stand for the "Star-Spangled Banner." Luck appeared to agree with McMahon on that point.
"We respect individual freedoms. But we will require our players to stand for the national anthem," Luck told Bleacher Report.
McMahon previously said in January that the national anthem controversy didn't impact his decision to restart the XFL. He added that the XFL wouldn't be a platform for political or social issues.
Luck, 58, was the West Virginia University athletic director for four years before joining the NCAA in 2014. As executive vice president of Regulatory Affairs and Strategic Partnerships, he helped the organization investigate possible NCAA infractions.
"Oliver Luck has been a key member of my leadership team and he has done a superb job at the NCAA over the last three years," NCAA President Mark Emmert said in a statement. "His vision and insight have been invaluable to our schools and the national office. Oliver's values and leadership skills helped keep the Association focused on supporting student-athletes."
He also was the first president and general manager of Major League Soccer's Houston Dynamo.
The XFL plans to have eight league-owned teams, 40-man rosters and a 10-week regular season schedule while the NFL is in its offseason.
McMahon is investing $100 million into the XFL's restart, which folded in 2001 after one season.
The Associated Press contributed to this report.