New Voice, New Language At New York Thoroughbred Racing Tracks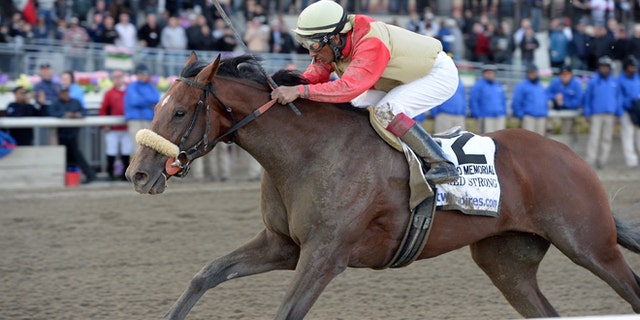 NEWYou can now listen to Fox News articles!
It happened very quietly last week: A press release from the New York Racing Association announced that the Panama-born Luis Grandison had been hired full time to provide calls in Spanish at Aqueduct Racetrack in Queens, Belmont Park and Saratoga Springs.
Turns out the NYRA is the first racetrack operator in the United States to offer year-round Spanish-language race calls, which seems long overdue given the popularity of horse racing among Latinos.
Grandison, 57, originally studied journalism at the University of Panama. "I started out being a political reporter there," he told Fox News Latino. But after a friend invited him to see a race at the Presidente Remón Hippodrome he fell in love with the sport; he started calling races in 1978.
"There's only one racetrack to speak of in the entire country," Grandison told Fox News Latino, "but there are more than 20 Panamanian jockeys in the U.S."
NYRA president and CEO, Chris Kay, said in a press release, "Luis is a talented and enthusiastic individual, and we are thrilled to hire him."
He added, "Our sport has a very large and dedicated following in the Hispanic and Latino communities, and this important initiative will help enhance and personalize the guest experience for our Spanish speaking fan base."
The association wasted no time putting Grandison – who has worked before with the NYRA, doing occasional Spanish-language broadcasts – to work: This past weekend, he got to call the Wood Memorial Stakes, the most important event on the Aqueduct calendar.
Asked what the major difference was between English- and Spanish-language calls of horse races is, Grandison answered, "Maybe the main difference is that in Spanish there's a little more emotion. We live the races a little bit more."
According to the NYRA release, Grandison's calls will be available at the association's tracks, on its website, as an option on Racetrack Television Network simulcasts, as well as to residential subscribers to the DISH Network.