New US women's soccer coach Tom Sermanni set for debut against Scotland with echoes of home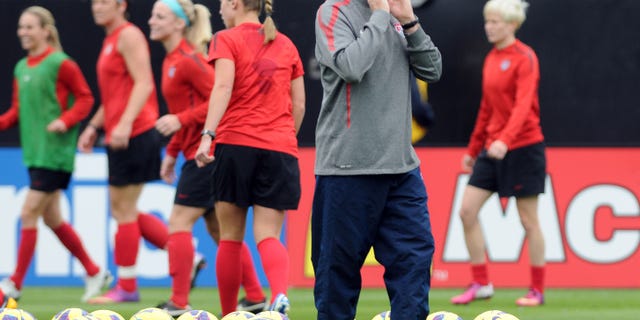 JACKSONVILLE, Fla. – The opponent will be no stranger. The accent will have a familiar ring.
Tom Sermanni makes his debut as coach of the U.S. women's soccer team Saturday when the Americans play Scotland in an exhibition game at the home of the Jacksonville Jaguars.
Sermanni was born in Scotland and spent the last eight years as Australia's coach, leading the Matildas to the quarterfinals of the last two Women's World Cups. He was hired by the U.S. Soccer Federation in October.
"If you had an ideal opponent to play against in your debut with a new team, you'd take the country you've come from," he said. "So this is a nice way for me to start."
And he'll get to see more of Scots awfully soon. The teams have a rematch Wednesday in Nashville, Tenn., at the home of the Tennessee Titans.
Sermanni inherits a powerful team. He has called up 17 of the 18 players who helped the U.S. win the gold medal at the London Olympics. He'll also have several players with previous national team experience and a handful of young players.
Two of the best of the Olympic veterans are Abby Wambach, the 2012 FIFA Women's World Player of the Year, and Alex Morgan, the 2012 U.S. Soccer Female Athlete of the Year. They combined for 55 goals last season, matching a 21-year-old U.S. record for most goals by two players in a calendar year.
At 32, Wambach hasn't shown any signs of slowing down. She's encouraged by Sermanni's hire.
"We're still trying to feel each other out in terms of what his methods are, exactly what his coaching philosophy is, how he runs a practice and things like that," said Wambach, a former University of Florida standout. "It's interesting because it's different and that can be good for an older player like me, to get just a little bit of a change-up, something to rededicate yourself, to remotivate yourself to play bigger, to be better.
"Coach has definitely motivated the players on this team. Our goals are set fairly high and that's the expectation moving forward."
The only other time the U.S. played Scotland was in 2002 when Wambach and Mia Hamm had hat tricks in an 8-2 romp in Columbus, Ohio.
"This Scotland team is tough," Wambach said. "We've only played them that one time, but we don't take any team too lightly. This is the beginning phase of us preparing for 2015."
The Americans finished 2012 with a 28-1-3 record, scoring 120 goals and allowing only 21. The defeat was a 1-0 loss to Japan last March in Portugal.
Whether the U.S. can match last year's record could depend on how quickly Sermanni and the players adjust to each other.
"We've had one tactical meeting last night and we still don't know our formations yet," said veteran goalkeeper Hope Solo, who is expected to miss Saturday's game because of a calf strain. "It's going to be important for us to learn how to adapt and make changes on the field and learn new styles.
"We're your typical American team that likes to play 4-4-2. It's going to take some time to make these adjustments, but we're open to a new style."
Sermanni, however, is not exactly coming in cold.
"I've coached against a number of these players in previous years and I think that's helped in coming here," he said. "You don't feel like a complete stranger. You've got some homework to do, but not as much as if you had never seen them play before."