New Orleans Saints amaze with improbable 'butt interception'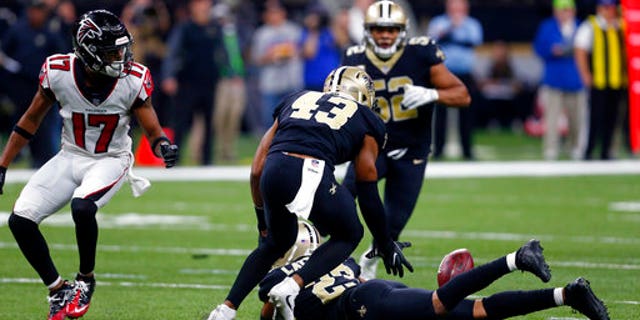 Five years ago, the Jets had the Buttfumble. Last week, the Panthers scored on the Buttcatch as Damiere Byrd got both cheeks inbounds for a touchdown before landing on the end line.
Now say hello to the Buttpick.
With a third-and-10 from his own 48 with 57 seconds to go in the first half, Falcons QB Matt Ryan threw a high-but-catchable pass to Marvin Hall.
The ball bounced off Hall's fingertips and landed on the backside of Saints CB Marshon Lattimore, who was face-down on the ground.
As teammates Marcus Williams and Craig Robertson dove over him, Lattimore reached back and grabbed the ball for an interception.