New Nats infielder Daniel Murphy talks about playing against the Mets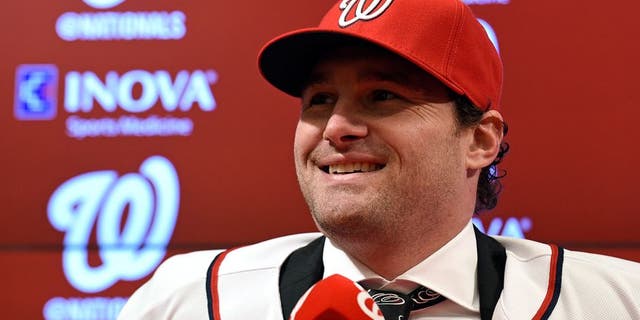 The Washington Nationals have officially signed former New York Mets infielder Daniel Murphy.
During his introductory press conference, the 30-year-old was asked about playing against the Mets 19 times per season against the only team he's ever played for.
"I got a lot of congratulatory texts from the guys I used to play with, David [Wright], Jake deGrom. Even the manager, Terry Collins, reached out to me," Murphy told the media, including True Jersey. "I enjoyed my time in New York. It was a lot of fun. Some great relationships were made. But my wife and I are really excited about the relationships we're going to be able to make here and the opportunity I think we're going to be able to put ourselves in for 2016.
"As far as playing against them 19 times next year, I think the fact that we'll be able to play against them in spring training should help to alleviate some of that, what will happen in the regular season."
Murphy, of course, was the postseason hero for the Mets in 2015. The NLCS MVP hit .328/.391/.724 in 14 playoff games, including an astounding stretch of six straight games with a home run -- an MLB record.
"I think first and foremost as a group, being able to win eight ballgames in the postseason was a lot of fun," Murphy said. "To be able to win the division series and win the National League Championship Series, from a group aspect, words would fall well short of how much fun that was and what I feel like that meant to the group."
Overall in 2015, Murphy slashed .281/.322/.449 with 14 homers and 73 RBI.