New Mexico St. no match for new-look Florida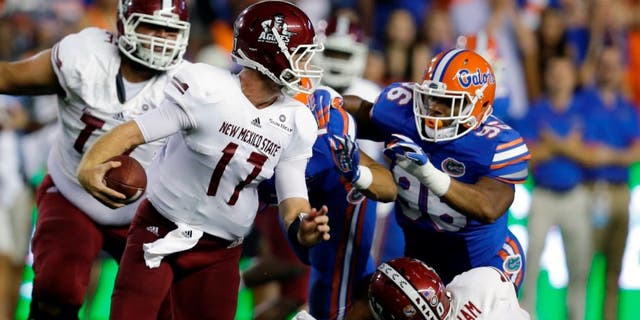 NEWYou can now listen to Fox News articles!
GAINESVILLE, Fla. -- Will Grier accounted for three touchdowns, Treon Harris threw for two more and Florida overwhelmed New Mexico State 61-13 Saturday night. It was most points scored in school history by a new coach in his first game.
The victory also extended the Gators' winning streak in season openers to 26, which is now the longest in the nation after Nebraska's 29-year run ended with a loss to Brigham Young earlier in the day.
The Aggies lost their 11th consecutive game, falling to 5-32 since the start of the 2012 season.
Grier and Harris were nearly perfect on the night, finishing a combined 29-of-36 passing for 379 yards and four touchdowns.
Grier completed 15 of 17 passes for 164 yards and two touchdowns to C'yontai Lewis. The redshirt freshman also ran for a score. Grier fumbled on a sack, giving the Aggies great field position and setting up their first score. But he was otherwise mistake-free in his college debut.
Harris completed 14 of 19 passes for 215 yards and two scores. The sophomore played the first three series, completing all seven of his passes for 119 yards and a touchdown. Harris returned late in the third quarter and misfired on his second attempt.
Jim McElwain likely will let the competition play out another week. After all, there's not really too much that can be garnered from playing against one of the worst teams in major college football over the last three years.