New-look Warriors re-signing at least a couple of their free agents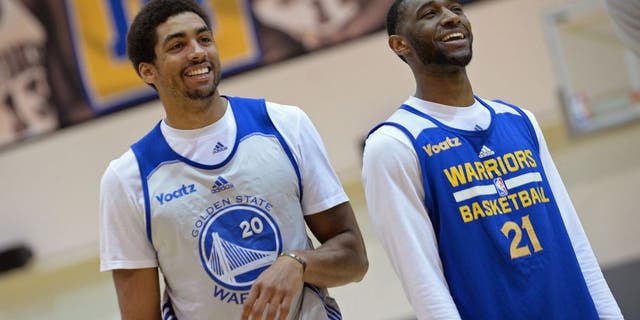 NEWYou can now listen to Fox News articles!
After adding Kevin Durant, the Golden State Warriors have been waving goodbye to their free agents left and right. But not all of them are leaving.
The Warriors will keep at least two of their eight free agents, re-signing backups Ian Clark and James Michael McAdoo to minimum-salary deals.
Clark, a third-year guard out of Belmont, played 66 games in his first season for Golden State, averaging 3.6 points in 8.8 minutes. McAdoo, a second-year forward out of North Carolina, averaged 2.9 points and 1.4 rebounds in 41 games. Both were undrafted free agents.
That gives the Warriors a bench of Andre Iguodala, Shaun Livingston, David West, Clark, McAdoo, Kevon Looney (who missed almost all of his rookie season due to injury) and rookies Damian Jones and Patrick McCaw. To go with a starting five of Kevin Durant, Steph Curry, Klay Thompson, Draymond Green and Zaza Pachulia.
The Warriors also are reported to have interest in David Lee and Ray Allen.
The odd men out included free agents Harrison Barnes (Mavs), Festus Ezeli (Blazers), Leandro Barbosa (Suns), Brandon Rush (T-wolves) and Marreese Speights, who accepted a minimum-salary deal from the Clippers. Anderson Varejao still is unsigned.