New GM says Colts will meet 'high standards' for winning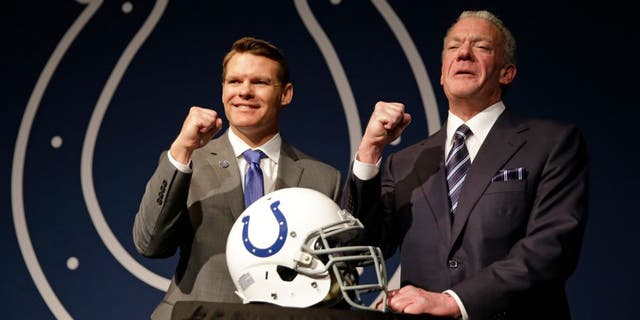 INDIANAPOLIS -- Chris Ballard understands his next mission.
Eight-win seasons won't satisfy Indianapolis Colts owner Jim Irsay, and fans won't put up with more excuses for missing the playoffs.
So less than 24 hours after being hired as the Colts' general manager, Ballard arrived in town Monday with a vision for how he intends to move forward.
"We're going to work together as an organization to develop a winning culture that will compete for championships year in and year out," Ballard said at his introductory news conference.
"It will never be about one person. It will take all of us to come together as one. We will set high standards in the organization and we will establish winning as our edge."
Those are precisely the words Irsay wanted to hear after dealing with five erratic seasons under former GM Ryan Grigson.
Ballard's resume suggests he understands the art of a turnaround, too.
As a player at the University of Wisconsin, he played a role in helping to turn the Badgers from a perennial also-ran to perennial contender under then-coach Barry Alvarez.
As a scout and front-office executive with the Chicago Bears, he was part of an organization that won one NFC championship and played in two conference title games in 12 seasons.
As director of player personnel and director of football operations with Kansas City, he helped the Chiefs reach the playoffs three times in four seasons and earn the AFC's No. 2 seed this past season, all without an elite quarterback.
To Irsay, it seemed like a perfect pairing. Irsay interviewed six candidates last week before making the offer to Ballard.
"I was thinking about this and I think I can say it with some expertise and some wisdom, I really feel that Chris is the best (GM) candidate that's come along in the 21st Century," he said. "That's how impressed we were with him."
Now Ballard must demonstrate he can exceed the hype.
First, he must prove he can avoid the kind of draft busts, failed trades, expensive free-agent flameouts and even internal personal disputes that came to define Grigson's tenure. Irsay fired Grigson on Jan. 21 .
Things are already off to a promising start.
Coach Chuck Pagano issued a statement Sunday night saying he looked forward to working with Ballard -- a contrast to the private clashes between himself and Grigson that first made it into the public forum during the 2015 season. Pagano also appeared to be at ease during the news conference.
Ballard, meanwhile, acknowledged he would "own" his mistakes and threw his full-fledged support behind Pagano to remain the coach in 2017, as Irsay had already promised.
"There was no other option. It was Chuck Pagano," Ballard said when asked about the coaching situation.
"Chuck Pagano is a good football coach in the NFL -- three 11-5 seasons, went to the AFC championship game. It's tough to win in this league, and he's won 49 games."
The good news is Ballard already has an offensive foundation in place with quarterback Andrew Luck and Pro Bowl receiver T.Y. Hilton signed to long-term contracts and a young offensive line that made significant improvement over the final month of the 2016 season.
Ballard also believes in a defense-first philosophy, something else Irsay appreciates.
And Ballard will have an opportunity to show everyone he means it between now and the NFL draft.
Changes will be made on a defense that was ranked No. 30 last season.
Robert Mathis, the franchise's career sacks leader, has already retired. Erik Walden, last season's sacks leader, and playmaking safety Mike Adams can become unrestricted free agents in March.
Indy also could save roughly $13 million against the salary cap if it releases linebacker D'Qwell Jackson, oft-injured defensive tackle Art Jones and cornerback Patrick Robinson.
But Ballard dropped no hints about his formal plans Monday, saying he wants to watch all 16 of last season's games and meet with his new staff first.
"I think it's not just the knowledge and experience and that he has all the traits necessary to be a GM, but it's the communication skills to get that across," Irsay said.
"I think he speaks their language and nothing gets lost in translation, and I think that's really important."