New England Revolution's Juan Agudelo is ready to burst onto U.S. soccer scene. Again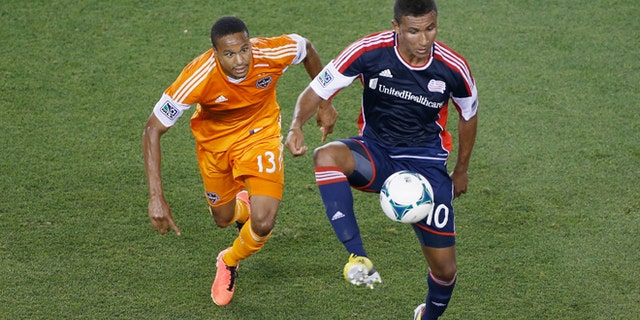 Only six days shy of his 18th birthday, Juan Agudelo burst onto the scene in dramatic fashion, scoring in the 85th minute of his international debut in a 1-0 United States victory over South Africa in the Nelson Mandela Challenge in November 2010, becoming the youngest player to find the back of the net for the red, white and blue.
Given that eye-popping debut and the overall talent demonstrated by the Colombian-born striker, there have been great expectations. The reality, however, hasn't quite matched, at least not yet.
"I'm young," said Agudelo, who is back with the New England Revolution and Major League Soccer after a short stint in Europe. He spoke to Fox News Latino from the Revs preseason training camp in Tucson, Ariz., a couple of weeks before the Revs' season opener on Sunday, Mar. 8 against Seattle Sounders FC.
"I need some playing time and experience, although I feel I have had a lot of experience as a young player. It is important to get playing time. [That's] the main reason why I came back."
The list of prospects who have excited talk about the next superstar is a long one, among them Freddy Adu, Santino Quaranta, Jozy Altidore, Bobby Convey and Diego Fagundez.
Some work out, many don't.
"It's a little unfair," said Agudelo's New England Revolution coach, Jay Heaps, about the expectations thrown on the shoulders of young players. "But Juan had success with the national team. Juan was signed young with the New York Red Bulls Academy, so he obviously had some expectations placed on him. It's important as a player to be able to separate yourself from that."
He added, "The thing we try to ingrain in our guys is to really focus on the things that they can control. I think any time you get mixed up in what expectations are of what people wanting you to be, you're going to get lost."
You might say the 6-1, 183-lb. Agudelo got a bit lost.
After breaking in with the national side, in 2011 he got significant minutes (12 starts over 27 appearances) with the New York Red Bulls, scoring six goals and assisting two others.
In 2012, Agudelo was primed for a big year.
In March, he was a member of the national team that was trying to qualify for the London Summer Olympics, but he suffered a torn meniscus that kept him out of the last two matches of the tournament in which the U.S. was eliminated.
With the Red Bulls that year, head coach Hans Backe didn't have a history of starting young players or rookies during his three-year tenure with the club, and with the legendary Thierry Henry and the team's high-scorer, Kenny Cooper, in the rotation ahead of him, it was going to be difficult to crack the lineup.
"It was really frustrating," Agudelo said. "Other players, a special player like Thierry Henry telling me that I should be playing and things like that. That stuck to my head. In order for me to improve, [I had] to go somewhere to play, and unfortunately I had to do what was the best for my career ... although I held New York deeply in my heart."
Agudelo asked for a trade, and as the saying goes, be careful what you wish for.
He was dealt across country to Chivas USA, a franchise that had come to serve as the Devil's Island of MLS. He scored only five times in 26 games over parts of two seasons.
Once a favorite of U.S. national coach Jürgen Klinsmann – accruing 18 international appearances over two years – he fell off Klinsmann's radar due to lack of playing time, and when he finally did get onto the field, he performed below his potential.
But in 2013 he was traded again, this time to the Revolution, and in New England, Agudelo thrived, connecting for seven goals in only 14 appearances.
Then the English Premier League beckoned. Stoke City signed him, but there was one problem: Agudelo could not obtain a U.K. work permit. He was loaned out to the Dutch team FC Utrecht.
Ironically, Agudelo heeded Klinsmann's wishes to have American players to play in Europe, but rules and regulations got in the way.
"It's just unfortunate that a team wants you, and there are rules out there that prevent a team from wanting the player they want," he told FNL. "That's how life is, but you've got to move on from it. Yeah, it was frustrating, but it wasn't like a death situation. I'm young. I have a lot of time to keep trying. So I decided to come back to a special team."
For Agudelo, that special team is the Revolution.
A couple of years older and wiser, he says that his short-term goals are now "to get as many 90 minutes as I could this season. Long-term goals would be hopefully winning MLS Cup and bonuses like the national team call-ups. Good perks."
So returning to the national team wasn't necessarily at the top of Agudelo's priority list.
"It's a goal that everybody has in the back of your head," he said. "You've got to focus on the little things, which is consistently playing with your club team."
Asked what he learned about himself during the lean years, Agudelo replied, "I learned ... what makes me happy is just playing, no matter what, no matter where. Getting back on the field just makes me happy."
And that means playing wherever the Revs need him, which fits into Heaps' plans because Agudelo has proven to be highly versatile.
Agudelo certainly sounded content as the Revs go through their final preseason preparations in Arizona. "Things are going great," he said. "Things are going smooth. I feel very comfortable. It's a familiar place."
He is only 22 and American strikers have a history of being late bloomers.
Heaps feels that the sky is the limit for Agudelo.
"I think he's hungry," he said. "He has experienced some ups and downs in his career. That humbles you, but it also makes you hungry. When a player is released from a team, they are hungry for that opportunity. When they are given that opportunity, they are focused and they have a red line set that they can create their own limit. Juan, because he is so talented, I look at him as someone if he does everything right and continues to get better, he's certainly going to be someone come the next World Cup who is going to be talked about for the U.S."