New Baylor offense shows significant change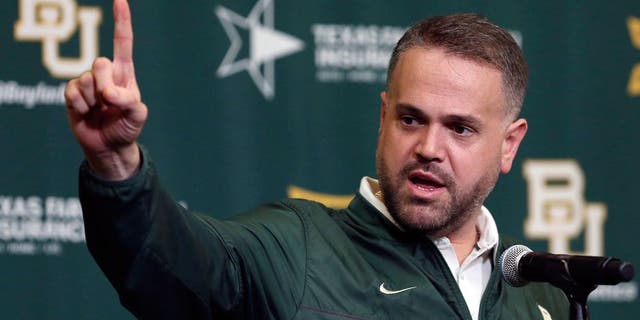 WACO, Texas (AP) -- While the first public glimpse at Baylor's new offense was vanilla by design, there were very clear indications during the Bears' spring game that some things will be drastically different under new coach Matt Rhule.
Bears fans and Big 12 opponents better get used to seeing Zach Smith and other quarterbacks line up under center at times in I-formation sets with fullbacks and tight ends. That all but never happened during the last regime.
Take one play in particular during the Green and Gold game Saturday, when true freshman quarterback Charlie Brewer threw a 23-yard touchdown pass to Ishmail Wainright , the four-year basketball letter-winner now a 6-foot-5, 235-pound tight end in his first organized football since his freshman year in high school.
"You saw a little bit of I-formation that keeps me happy, and then you saw the other stuff that makes everyone else happy," Rhule said, with a smile. "That's why I called the touchdown to Wainright, so you can see that you can be explosive from the I-formation."
Rhule, whose Temple team had consecutive 10-win seasons and won the American Athletic Conference title in 2016, knows things are different in the high-scoring, big-play Big 12. He will do whatever it takes to win games, and "one of the things I want to do is be multiple. I want people to have to defend so many different things."
Baylor will still spread it out and take shots down the field. Smith, now a sophomore who finished last season as the starter, tried a deep throw on the second play of the modified scrimmage that ended spring practice.
In December, Rhule took over a program reeling from the sexual assault scandal that cost head coach Art Briles his job last May. The world's largest Baptist university is facing several federal lawsuits from women who say the school for years ignored or mishandled reports of sexual and physical assault, some against football players.
Rhule's coaching staff includes six of his assistants from Temple and two others from NFL staffs. He didn't keep any of the assistants from Briles' staff that were retained last season to work with interim coach Jim Grobe.
Among the significant changes on offense is having an actual playbook. Under Briles, and his son, Kendal, who was the offensive coordinator through last season, players learned plays by watching video and then running them repeatedly in practice without any pages to study.
"It's a lot different. … The first few weeks was really hard coming in and trying to learn all this offense, and it's completely new, and going under center and stuff," Smith said. "Now it's getting where it's almost second nature."
Asked how much the Bears would be under center, Smith initially said he wasn't sure. When someone guessed half the time, the quarterback responded, "I'd say maybe 35 percent. I don't know."
Definitely more than ever in the past nine seasons under Briles.
MISSING THE ACTION
Six projected defensive starters didn't take part in the game. Returning senior starting nickelback Travon Blanchard missed all of spring practice while suspended because of allegations of violence and threats by him against a former girlfriend. The others were injured, including linebacker Taylor Young, the team's top returning tackler after 93 stops in nine games as a junior last season. Among those sitting out on offense was leading rusher Terence Williams (1,048 yards rushing, 11 TDs last season).
SPECIAL SCORE
Clint Lewis has been around Baylor football for half of his life, and on Saturday the 41-year-old born with Down syndrome scored a touchdown for the Bears. Lewis, in full uniform, was on the field to start the fourth quarter. On a play specifically for him, he was handed the ball and ran 29 yards for a touchdown -- with offensive and defensive players alike leading him to the end zone. Lewis has been a constant presence around the program for more than two decades, during practice and leading the team on the field for games.
NEW PRESIDENT
Linda Livingstone, who this week was named Baylor's new president, was recognized on the field during a break in the first half. She will be the first female later in the university's 172-year history and takes in June.