Nevada vets combat Pac-12 reputation in preparing to face young Washington State team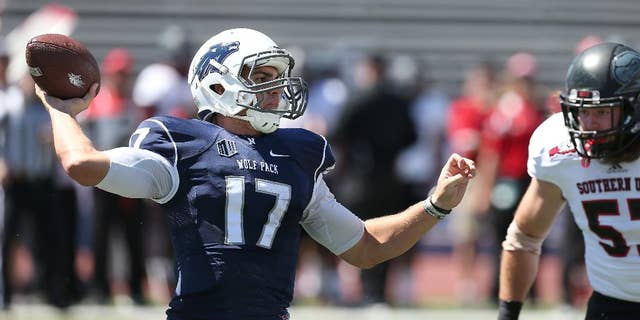 RENO, Nev. – Nevada's seniors set out to spread a unified message to younger teammates in a shortened week leading up to Friday night's matchup with Washington State: Don't fear the big boys.
"They kind of have that Pac-12 intimidation factor going for them," said Wolf Pack defensive end Brock Hekking. "We've tried to reach out to the younger guys and get them to realize we've faced Pac-12 opponents before ... and won. There's no need to have that fear."
Maybe easier said than done given the scary numbers Washington State senior quarterback Connor Halliday and his fleet of speedy receivers put up week in and week out.
Halliday was 40-of-56 for 532 yards and five touchdowns in last week's 41-38 season-opening loss to Rutgers in Seattle.
"They are an explosive team," second-year Nevada coach Brian Polian said. "We'll definitely have our hands full."
Nevada counters with senior quarterback Cody Fajardo, who passed for 303 yards and ran for 68 in Saturday's 29-19 season-opening win over Southern Utah.
Hekking made his first start in Nevada's last win over a Pac-12 opponent, at California in 2012. But he remembers his debut as a freshman the year before when he "absolutely" was intimidated and blew an assignment on his second play, leading to a 69-yard touchdown in a 69-20 loss at Oregon.
"They had me on the wheel route — 'Brock, you go the wheel route,'" Hekking said. "And as soon as they said 'hike,' everything just froze. I saw the quarterback so I just ran after him. They threw it over, scored a touchdown. Got yelled at."
"Once you get that out of your system, things flow a little bit better. ... I wish someone would have reached out to me when I was young and told me that."
Washington State coach Mike Leach said he was glad 16 Cougars who had never started before got significant playing time last week. He said inexperience in the defensive backfield is his biggest concern.
"Most of them played pretty good for their first time," Leach said. "We've got a lot of people we've got to break in but we're definitely better. ... (Nevada's) guys are an older team."
Things to watch as Nevada hosts Washington State:
QUALITY QUARTERBACKS: Leach said Halliday proved himself one of the best quarterbacks in the nation last year when he led Washington State to its first bowl game in a decade, passing for a school-record 4,597 yards and 34 touchdowns.
Fajardo's 371 yards of total offense last week leave him 32 shy of joining Colin Kaepernick (2007-10) and David Neill (1998-01) in Nevada's 10,000 yard club. He completed 68 percent of his passes last year for 2,668 yards with 13 touchdowns and only three interceptions.
RUNNING COUGARS, NOT: Washington State only ran the ball eight times last week and Polian expects more of the same.
"They are going to do what they do," he said.
He hopes his rushing attack can keep the Cougars' hurry-up offense off the field — at least in spurts — to give his defense a chance to catch its breath. "Obviously, we've got to try to slow them down ... try to make their offense go a long way and not give up explosives."
DON'T COUNT YOUR TOUCHDOWNS: Leach's last trip to Reno was with Texas Tech in a 35-19 victory in 2008 that was expected to be a shootout with Kaepernick going against a Texas Tech squad that featured wideout Michael Crabtree, now his 49ers teammate.
"It was a funny game," Leach said. "Supposed to be a huge offensive shootout and both defenses played extremely well."
SHAKING UP SECONDARY: Washington State's defense gave up a long touchdown pass on Rutger's first play from scrimmage last week, and coaches have decided to shake up the inexperienced secondary.
Defensive backs Tracy Clark and Teondray Caldwell are no longer in the starting lineup. Charleston White and Darius Lemora will start instead.
SCENIC ENVIRONMENT: Nevada is hoping to approach a sellout at 29,993-seat Mackay Stadium with a whiteout planned for the ESPN broadcast. "It's an interesting environment, sort of a scenic place," Leach said. "The locker room you literally come out in the crowd. You've got fans right beside you screaming and hollering."