Nets announce they've officially hired a GM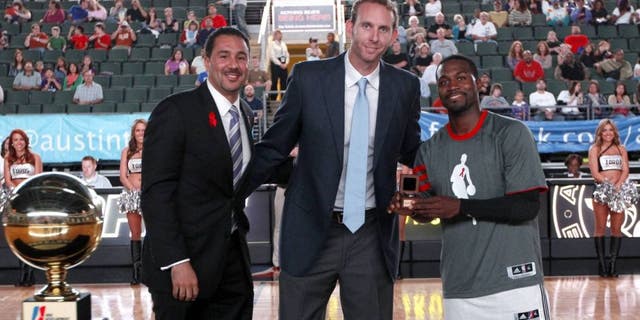 Nets owner Mikhail Prokhorov can now say confidently that he knows of Sean Marks.
Brooklyn hired the Spurs now former assistant general manager to fill their open GM position Thursday morning, the team announced in an official statement.
The announcement came only a day after the organization opened up its new practice facility in Brooklyn. During the opening press conference, Prokhorov was asked about Marks, with whom the Nets were reportedly negotiating. News had come out that Marks was leaning toward not accepting the job.
Prokhorov responded, "I have never heard this name before."
Now, apparently, he has.
Marks spent 13 years as an NBA player until 2011. He initially joined San Antonio as an assistant coach, but made the move to the front office shortly after. Adrian Wojnarowski of Yahoo! Sports reports he signed a four-year deal with Brooklyn.
Marks has no time to call to the parents to tell them the good news. He can't even set up his office. With the trade deadline only hours away, you have to imagine he's already on the phones. Brooklyn doesn't possess its own draft pick until 2019, and Marks will likely be trying his best to find ways to acquire some. At the very least, he'll be fielding calls on players like Thaddeus Young, Brook Lopez and Joe Johnson.
The Nets reassigned general manager Billy King within the organization about a month-and-a-half ago. It took them until the day of the trade deadline to hire a new GM.
The next step becomes hiring a new coach. Brooklyn has been playing with interim coach Tony Brown heading the team ever since it fired Lionel Hollins on the same day it essentially ousted King.