Nelson Cruz Homers in 4th Straight Game, Helps Keep Texas Rangers Undefeated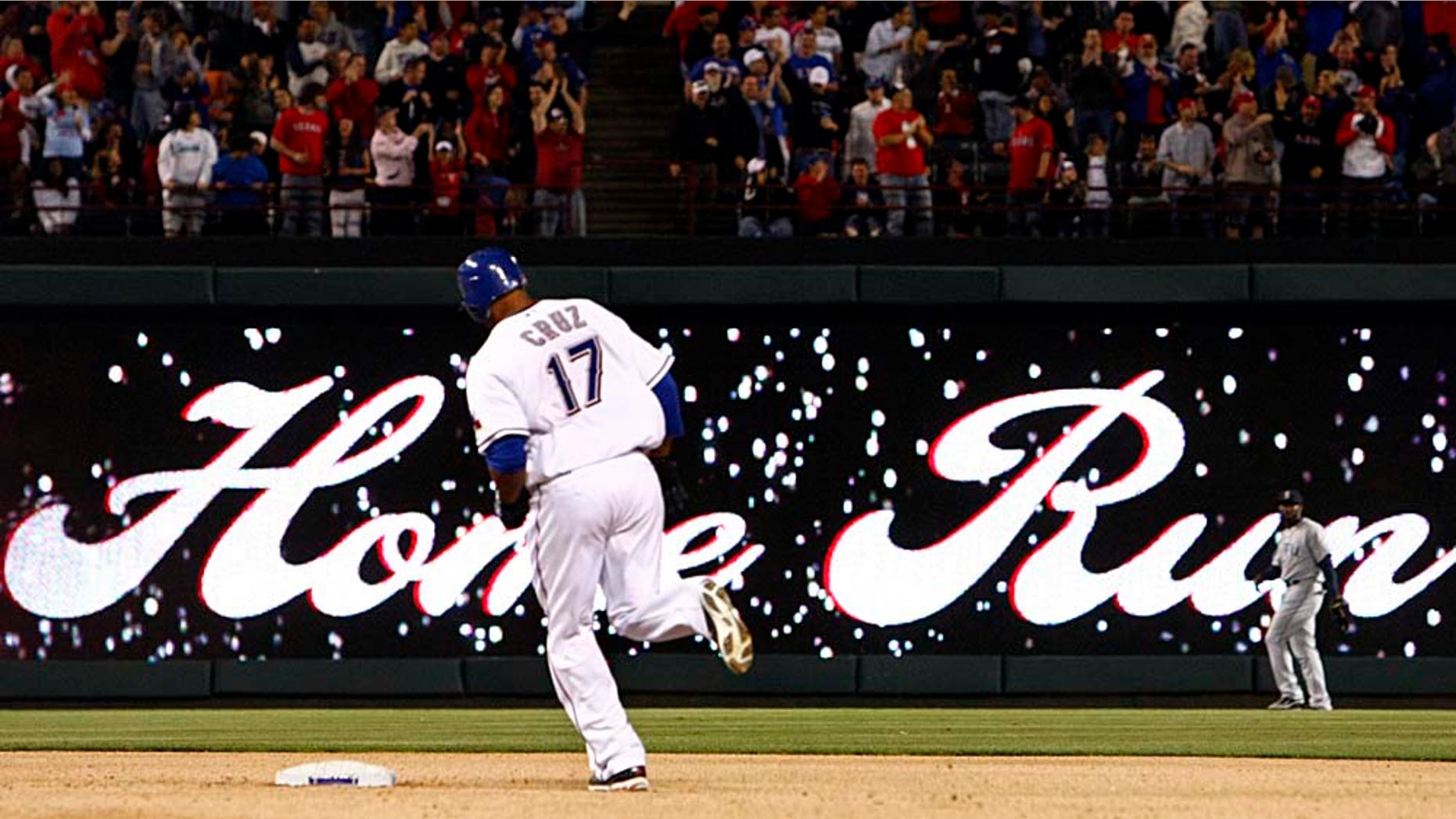 If you missed our MLB previews, click here for the American League and National League.
When you're hot, you're hot – and Nelson Cruz is scorching right now.
The Texas Rangers outfielder homered for the fourth straight game, becoming only the third player in baseball history to homer in the first four games of a season. The Rangers beat the Seattle Mariners Monday night 6-4.
The home runs in part have helped the team jump out to a 4-0 record, including a sweep of the Boston Red Sox, to start the 2011 campaign.
"We've got a solid offense," Rangers manager Ron Washington said. "Anybody in the lineup can get you. Tonight Elvis got us going. And Cruz came back and got another one. ... Anytime you've got that lineup, that's what it's all about."
Cruz went to the plate in the fourth inning guessing he'd get a first-pitch curve from Seattle starter Erik Bedard. Instead, Bedard threw something else off speed and Cruz adjusted with a drive over the center-field fence to give him four of Texas' 13 homers this season.
"In that at-bat I was thinking, hit the ball through the hole (at) second base hard, because he was throwing that curveball," Cruz said "I was hoping he would throw that so I could hit it the other way, but he threw me a changeup and I turned on it."
Cruz joined Willie Mays (1971) and Mark McGwire (1998) as the only players to go deep in each of their first four games of a season.
Elvis Andrus, who didn't homer last season, hit the seventh of his career off a cutter with nobody on in the first. When he ran down the dugout steps, his teammates remained seated with blank expressions. Washington was the first to offer congratulations, followed by the rest of the team.
"I knew they were going to do something. I knew they were going to plan something because it's been a little while since I hit the last one," Andrus said about the silent treatment.
Derek Holland pitched six effective innings for Texas (4-0), off to its best start since opening 7-0 in 1996.
Baltimore (4-0), Philadelphia and Cincinnati (both 3-0) are the other undefeated teams.
Holland (1-0) was given the No. 4 spot in the rotation out of spring training and he cemented his role by allowing three runs and seven hits with five strikeouts and one walk.
Neftali Feliz worked a perfect ninth for his first save.
Bedard (0-1) allowed five runs — three earned — and four hits over five innings in his first start in 20 months.
Bedard gave up two homers, but he struck out three and walked two in a positive step in his comeback from a series of shoulder injuries.
His previous start was July 25, 2009, before undergoing his third season-ending left shoulder surgery in a three-year span in August 2009. He missed all of last season.
"It's been a while," Bedard said. "I had a rough couple years with injuries and stuff and I was glad to be back on the mound."
Milton Bradley had three hits for the Mariners (2-2).
Gusty 20 mph wind made fly balls and popups a challenge for fielders. With two outs in the first, Rangers first baseman Mike Napoli was in foul territory lining up Bradley's popup. But the ball sailed fair and dropped between Napoli and second baseman Ian Kinsler, with Bradley being credited with a single.
The Rangers capitalized on Mariners right fielder Ichiro Suzuki's error to make it 3-0 in the second. After Napoli drew a two-out walk, Yorvit Torrealba's line drive to right kicked off the heel of Suzuki's glove.
Julio Borbon, the No. 9 hitter, followed with his two-run triple to right-center.
The Mariners rallied in the fourth on ex-Ranger Justin Smoak's RBI double and Miguel Olivo's run-scoring groundout, but Cruz's solo shot in the bottom half made it 4-2.
Chone Figgins' RBI groundout in the fifth pulled Seattle within 4-3, but Josh Hamilton's two-out RBI double in the fifth restored Texas' two-run pad.
Michael Young hit a leadoff double in the sixth and scored on Torrealba's double-play ball, making it 6-3.
Bradley doubled in the eighth against Arthur Rhodes and scored when Olivo singled with two outs.
"Our guys stayed in the fight, they stayed in it the whole way," Mariners manager Eric Wedge said.
Based on reporting by The Associated Press.
Check out National League and American League players who could help their teams get off to hot starts.
Follow us on twitter.com/foxnewslatino
Like us at facebook.com/foxnewslatino