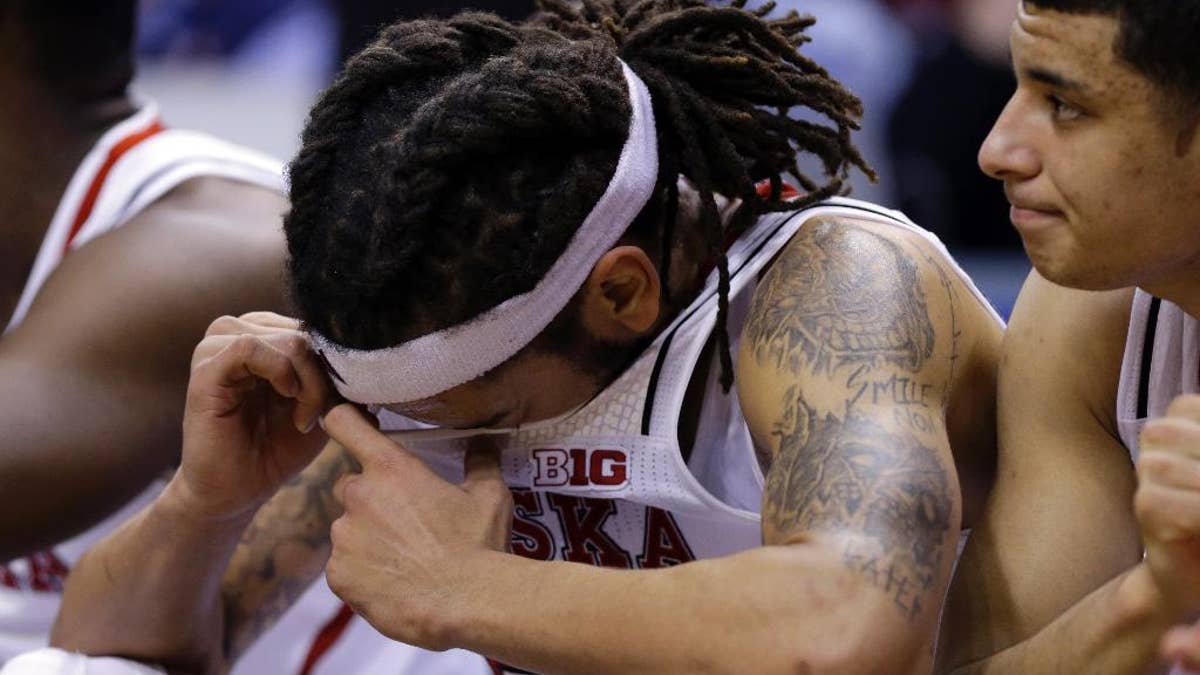 INDIANAPOLIS – There will be no quick moving on from a Big Ten tournament loss for Nebraska.
"Well, I'm a Catholic, we're not putting it behind us. We're going to live in it for a while," Nebraska coach Tim Miles said after the fourth-seeded Cornhuskers blew an 18-point second-half lead in a 71-67 loss to fifth-seeded Ohio State on Friday in the quarterfinals.
"At the end of the day, when you have a lead like that, you should be able to hold it, keep it and find a way to win, but unfortunately we weren't able to," Miles said. "Credit them, but at the end of the day, I'm going to put this one on us and me and not finding a better way to attack their pressure."
The Cornhuskers (19-12) trailed for all but the final minute of the first half against No. 24 Ohio State (25-8).
"I told our guys at halftime, I said, 'Look, with the nine turnovers we had, why don't we just go out and give them the ball nine times and let them try to score," Ohio State coach Thad Matta said. "And they took me literally, so we were down 18 points."
After LaQuinton Ross hit a jumper to make it 36-30 a 12-0 Nebraska run gave the Cornhuskers an 18-point lead with 13:45 to play.
"We opened up the second half and we had three fouls in two minutes and ten seconds, and we missed four straight free throws," Matta said. "You know, Aaron (Craft) missed a layup, Trey (McDonald) missed an attempt to dunk, and it was like, my gosh."
That's when the Buckeyes kicked it in.
Ross and Amedeo Della Valle scored the game's next nine points to cut Nebraska's lead to 48-39.
"We just kind of fell apart, which is really embarrassing on our part and unacceptable," Shields said.
Pitchford hit a 3-pointer to put Nebraska ahead 61-56. But after two free throws by Craft and two free throws by Shields, Della Valle hit a 3-pointer with 2:47 to play to pull Ohio State back within 63-61. Petteway fouled Ross on a dunk attempt, and Ross hit both free throws to tie the game at 63 with 1:52 to play.
Nebraska couldn't get a good look at the other end, then Petteway fouled out while defending Ross. His two free throws put Ohio State ahead 65-63.
Ross finished with career-highs in points (26) and rebounds (13) to lead Ohio State into a semifinal matchup Saturday with top-seeded and eighth-ranked Michigan.
Della Valle added 12 points for the Buckeyes.
Petteway led Nebraska with 20 points. Pitchford scored 15 and Shields added 12 points as the Cornhuskers fell to 1-3 in the Big Ten Tournament.
"I think our inexperience and being in a game of that magnitude, that high caliber where you just have to fight it out really hurt us," Nebraska coach Tim Miles said. "Hopefully it's something that we don't recreate. Hopefully it's not a symptom of something that's a larger problem. It was just one of those experiences that we just weren't quite ready for."