Near no-hitter shows Verlander not done just yet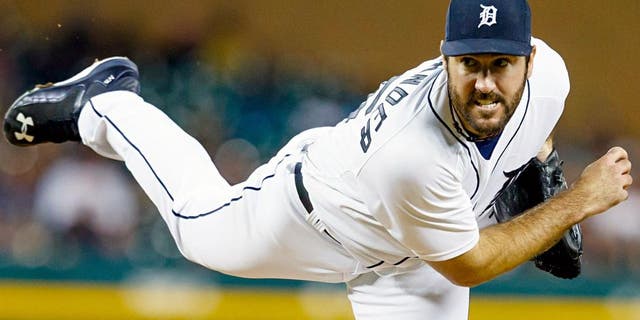 Justin Verlander lost a no-hitter in the ninth inning Wednesday night, the sort of thing that tinges mastery with unfulfillment.
Years from now, though, Verlander may view the one that wasn't as more meaningful than the two that were.
Verlander's no-hitters in 2007 and 2011 seemed inevitable, a pair of thunderbolts from a right arm that dominated the American League for just shy of a decade. But Verlander is 32 now, and three years removed from a season that could be described as "great."
Earlier this year, he was placed on the disabled list for the first time as a big leaguer. He didn't pitch in the majors this year until June 13. It used to be that the Detroit Tigers won nearly every time No. 35 took the mound; entering Wednesday, they were 2-10.
Steadily, though, he'd been getting better. He turned in three quality starts in a row, including seven shutout innings against the first-place Houston Astros. On Wednesday against the Angels, Verlander proved that he's still capable of greatness -- which matters more than having it in the first place.
Does the one-hit shutout mean Verlander is all the way back to his old self? No. But everything from his arm action, to his fastball velocity, to his mound demeanor, suggested that he can be a No. 1 starter for the Tigers in 2016. And that is more than sufficient for now.
The Tigers are about to miss the playoffs for the first time in five years -- which, paradoxically, made this performance all the more important. Detroit's Opening Day starter, David Price, is now the ace of the Toronto Blue Jays. No. 2 starter Anibal Sanchez, with roughly $40 million left on his contract, has regressed this year and is on the disabled list. Alfredo Simon, who leads the team in wins, will be a free agent at season's end.
New general manager Al Avila -- who's been on the job less than one month -- needs someone whose name can be written in ink on the Tigers' rotation depth chart for next year. In a development few would have forecasted one month ago, Verlander is that pitcher.
Sure, he missed out on history: Verlander was three outs from joining Hall of Famers Bob Feller, Sandy Koufax, and Nolan Ryan as the only pitchers who debuted after 1900 to throw three or more no-hitters.
Ryan is Verlander's idol, and reaching Cooperstown is a goal he's spoken about since the earliest days of his career. Verlander has much more to accomplish if he wishes to be enshrined among the game's legends, but now, for the first time in more than a year, there's a genuine expectation of more nights like this.
A no-hitter would have been nice, but the reclaimed identity is an awfully nice consolation prize.