NCAA Tournament Roundup: Wisconsin, Arizona set Saturday showdown in West Regional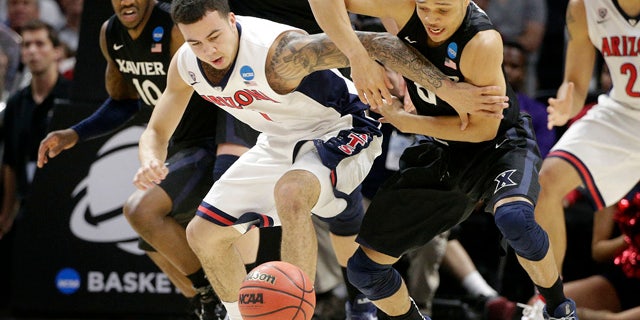 Half of the Elite Eight in the NCAA Men's Basketball Tournament was set Thursday night. Here's a complete recap of the action.
WEST REGION
WISCONSIN 79, NORTH CAROLINA 72
Sam Dekker scored a career-high 23 points, Frank Kaminsky added 19 and top-seeded Wisconsin rallied in the final 10 minutes to hold off North Carolina 79-72 on Thursday night and advance to the Elite Eight of the NCAA Tournament.
Reserve Zak Showalter scored six points in the Badgers' 19-7 run that sent them into the West Regional final Saturday against No. 2 seed Arizona.
Brice Johnson and Justin Jackson scored 15 points each for the fourth-seeded Tar Heels (26-12), who got within one point with 4:21 remaining but couldn't retake the lead they owned for much of the second half.
Marcus Paige hit consecutive 3-pointers that drew Carolina within one with 54 seconds to go, but Wisconsin (34-3) made all eight of its free throws -- four by Kaminsky -- over the closing seconds.
Paige added 12 points for the Tar Heels.
ARIZONA 68, XAVIER 60
LOS ANGELES (AP) -- T.J. McConnell scored 13 of his 17 points in the second half, freshman Stanley Johnson added 12 points, and second-seeded Arizona made a dominant late rally for its 14th straight victory.
Kaleb Tarczewski had 12 points and 12 rebounds as the second-seeded Wildcats (34-3) weathered a major scare from the sixth-seeded Musketeers (23-14) and clamped down defensively during a game-ending 19-7 run.
With its third Elite Eight berth in five years, Arizona gets another shot at its first Final Four under coach Sean Miller, who led Xavier for five years until 2009.
The Wildcats will face top-seeded Wisconsin (34-3) on Saturday at Staples Center in a rematch of last season's West final won by Wisconsin in overtime.
Matt Stainbrook had 17 points and 10 rebounds in his final game for Xavier, which fell just short of its first trip to the Elite Eight since 2008. Those Musketeers were coached by Miller and assistant Chris Mack, who replaced his boss.
------
MIDWEST REGION
KENTUCKY 78, WEST VIRGINIA 39
CLEVELAND (AP) -- Trey Lyles scored 14 points, Andrew Harrison added 13 and the unbeaten Wildcats, chasing history and a ninth national title, rolled into the Elite Eight.
Kentucky (37-0) advanced to Saturday's regional final to play third-seeded Notre Dame.
With stunning ease, the Wildcats built a 26-point lead in the first half over the Mountaineers (25-10), who led the nation in steals and figured their full-court press would at least bother Kentucky into some turnovers. West Virginia shot only 24.1 percent (13 of 54), including 2 of 15 from 3-point range.
West Virginia didn't eclipse 20 points until the 11:41 mark of the second half.
Juwan Staten scored 14 points to lead West Virginia.
NOTRE DAME 81, WICHITA STATE 70
CLEVELAND (AP) -- Demetrius Jackson scored 20 points and third-seeded Notre Dame dominated Wichita State to advance to the Elite Eight for the first time in 36 years.
The Irish (32-5) shot 75 percent (18 of 24) in the second half, easily pulling away from the seventh-seeded Shockers (30-5). Pat Connaughton added 16 points and 10 rebounds for Notre Dame and Jerian Grant had nine points and 11 assists as the Irish won their eighth straight.
Notre Dame will play top-ranked and unbeaten Kentucky on Saturday night with a Final Four spot on the line.
Fred VanVleet led Wichita State with 25 points, Darius Carter had 19 points and eight rebounds but guard Ron Baker had just nine points and went scoreless in the second half.